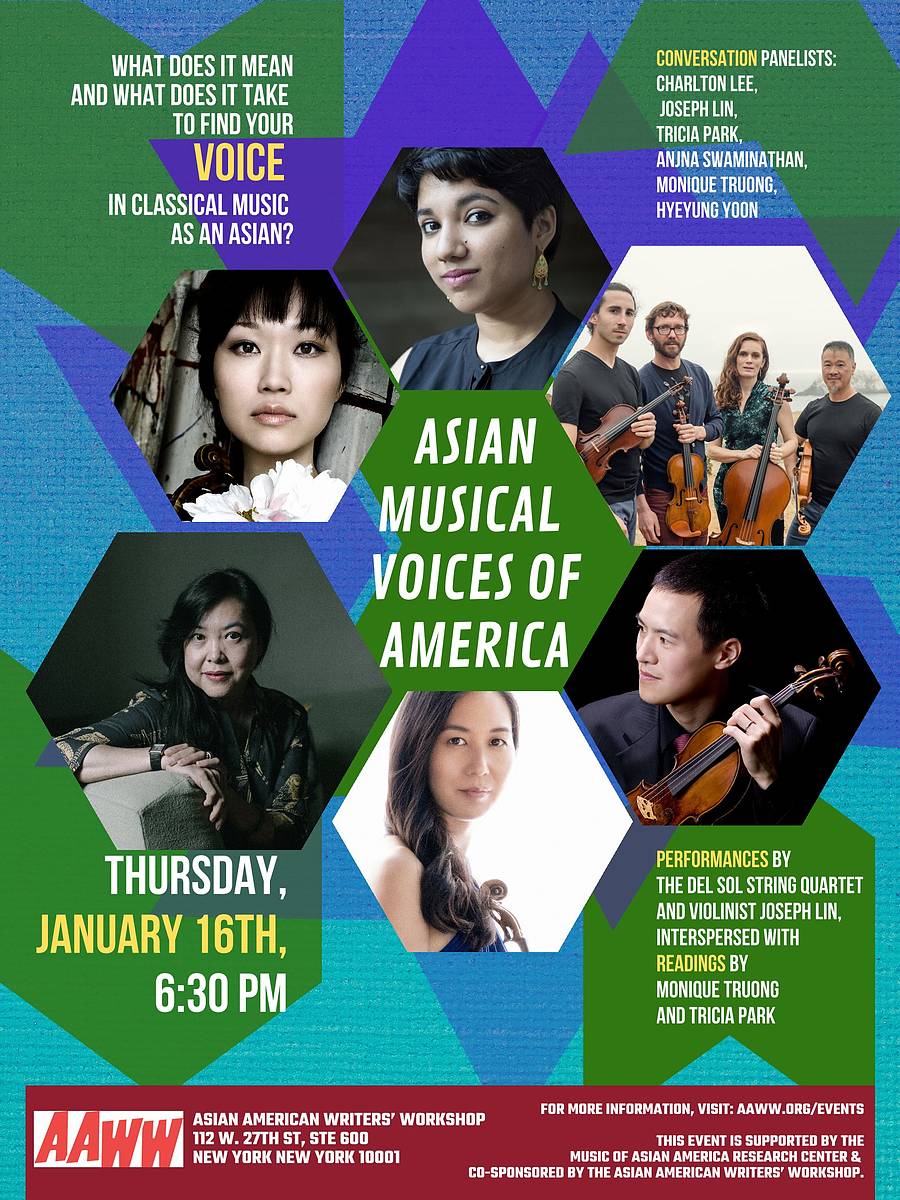 Performance
Presented by Asian Musical Voices of America: A Reading, Performance, & Panel
Thursday, January 16, 2020
6:30 – 9PM
Presented by the Asian Musical Voices of America, this event is supported by the Music of Asian America Research Center & co-sponsored by the Asian American Writers' Workshop.
Despite a presence in the world of classical music, the experiences of Asian classical musicians often go unexplored. The Asian Musical Voices of America is a platform where these stories can be shared by & for Asian diasporic musicians living & working in the United States. This event is the first gathering & will take place at the Asian American Writers' Workshop, a literary nonprofit that celebrates Asian diasporic literature & storytelling.
The event will feature Del Sol String Quartet performing works by Asian composers active in the United States & Joseph Lin will perform movements from J.S. Bach's Solo Violin works. Interwoven with the musical performances will be readings by acclaimed novelist & librettist, Monique Truong (The Sweetest Fruits, 2019) and Tricia Park, violinist and writer.
The panel following the performances will respond to the question, "What does it mean & what does it take to find your voice in classical music as an Asian?" Panelists will include lead organizer & founder of Asian Musical Voices of America, Hyeyung Yoon, a violinist of the former Chiara String Quartet. Hyeyung will be joined by Charlton Lee of the Del Sol Quartet, violinist Joseph Lin, violinist & writer Tricia Park, Monique Truong, author & librettist, & multidisciplinary artist & composer Anjna Swaminathan.
$5 Suggested Donation at the door.
No one will be turned away for lack of funds. All donations go to AAWW public programs. The Asian American Workshop is a national nonprofit dedicated to the creation, development, publication, & dissemination of Asian American literature.