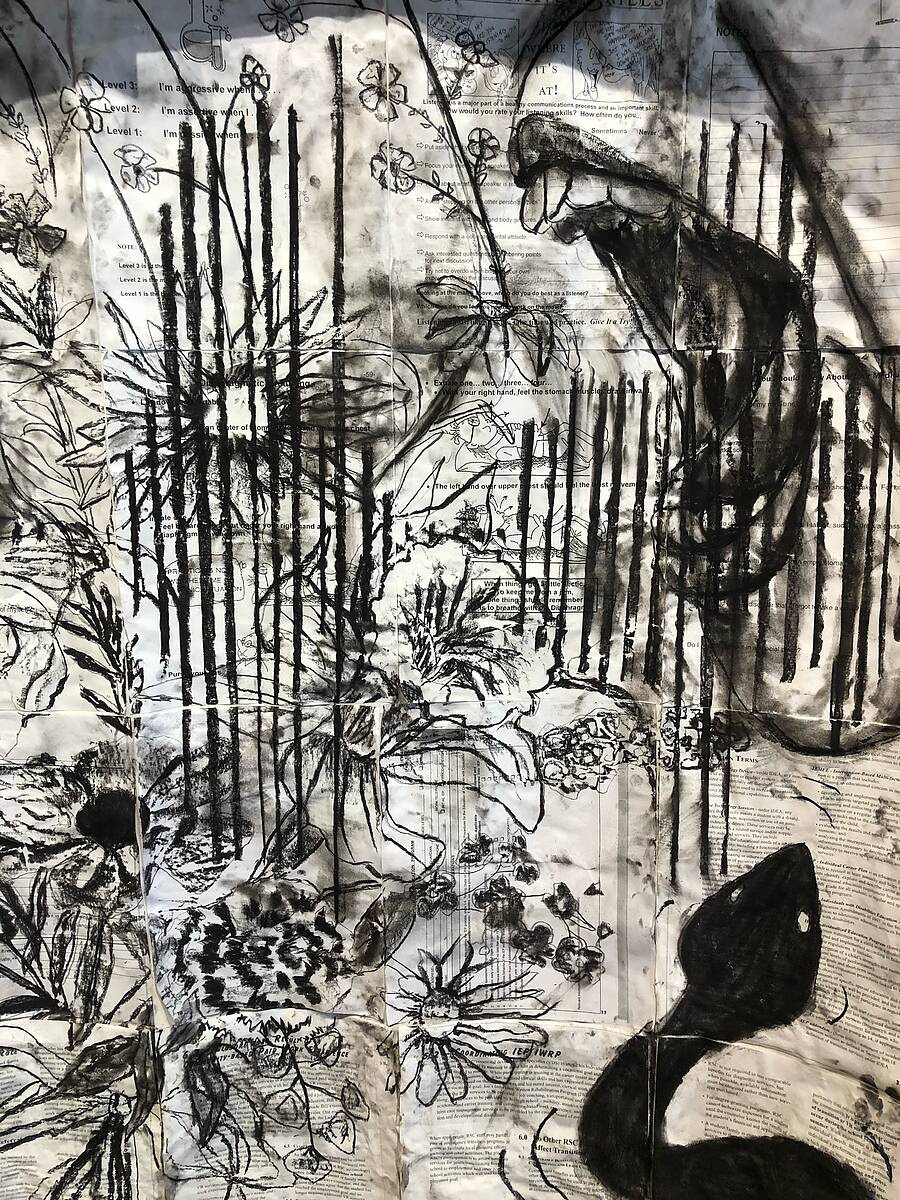 Panel Discussion/Talk
present/breath exhibition artists' talk with Chanika Svetvilas and Jennifer Lickers
Thursday, May 26, 2022
6:30 – 7:45PM
Jennifer Lickers (she/her) is a biracial First Nations artist with ties to both Detroit, Michigan and Six Nations, Ontario. She grew up in the Detroit area. As a child she had little contact with her indigenous family and information about her native identity was formed through old photos of the west and one sided history books. Beliefs of the vanishing race theory started to surface early in her childhood. She often lived in two worlds. During the school year, she spent her time between Dearborn and Detroit. During the summer, she was with her grandparents on Six Nations Reserve in Ontario. The space between two cultures is the focus of her work.
Jennifer's present/breath Artist Statement: Jennifer's present/breath Artist Statement: Growing up outside the indigenous community, a lot of my Indigenous identity was projected onto me through old images like Curtis Edward photos and things like that, and there is this myth that native people are no longer there. I want to show that we are here, and so these drawings are all of my currently living relatives.
Except for my grandparents - they are here (in the last drawing) through a spiritual connection, between with me and my grandmother. When I went to make my piece, and I had everything ready and set up to make it, I couldn't – there was this block there. So I stopped. I drew my kids, instead (the one by last drawing). And the next morning, I could hear my grandma say, it's ok to draw me, just hang me next to your son – because she and my son were very close. I felt I had this permission to go ahead and draw them.
I drew my grandparents separate from the residential school, because I really wanted to free them from the residential school. My grandmother would have definitely not wanted me to put her image alongside the residential school, because she did as much as she could to separate herself from that.
Strawberries have a very spiritual connection with indigenous people, they are the first berries of the season, they represent birth and renewal and the new year, the first celebration. They represent health and life. I think of this whole body of work as a healing process for indigenous people. Residential schools are a very small portion of our history, and there is so much more that defines us. I think of the strawberry as this healing, rebirth, and renewal, because I really do believe that Indigenous people are in a renaissance right now. The culture, the language, is alive and is coming back.
I took an anthropology course, and there were circles and squares and diamonds to represent family trees. There was something very beautiful about that visual imagery. With the strawberries and their root systems, I was thinking about that kind of code, symbolizing family trees and rebirth and history. I saw the botanical drawings, and that's what drew me in – oh, I need the plant with the roots, for when you think about history from generation to generation, it all affects everything. The residential school affected how my grandmother parented, how my father parented, it affected how I parented, and that is what I was thinking about with the botanical drawings.
Chanika Svetvilas (she/her/hers) is an interdisciplinary artist based in Princeton, NJ who utilizes lived experience to create safe spaces, to disrupt stereotypes, and to reflect on contemporary issues. She has presented her interdisciplinary work at ABC NoRio, Brooklyn Public Library, Westbeth Gallery, Denver International Airport, Asian Arts Initiative, Islip Art Museum, Jamaica Center for Arts and Learning, and more. She is curator for the annual exhibition, Unique Minds: Creative Voices, at Princeton University and presented by the Graduate Student Government Mental Health Initiative. Svetvilas is also co-founder of ThaiLinks and Thai Takes, the first biennial Thai film festival in New York City. For more information, visit chanikasvetvilas.com.
Chanika's present/breath Artist Statement: As someone who self-identifies with an invisible disability of bipolarness, I search for ways to describe my way of being. My presence of mind fluctuates, meanders, collides with memories and is not always present when medical treatment has pulled me away from myself instead of providing care. I use charcoal to describe my lived experience as a transformative material that in its activated form is used to absorb chemicals after a stomach is pumped from a drug overdose and as a tool that allows me to leave my mark including my mistakes. I use my own voice in text layered and smeared over medical ones juxtaposed with images like a rebus puzzle. My prescription bottle sculptures use humor and whimsy to convey the ironies of the alienation of treatment and healthcare disparities. To disrupt the alienation, I invite viewers to embrace themselves and write a self-affirmation on a reflective speech balloon to share with others as part of a community that is present in the gallery.
Live Captioning provided.
More details on the wider present/breath event series: https://www.petrakuppers.com/presentbreath
Wider EcoSomatics Event Series: https://petrakuppersfiction.wordpress.com/ecosomatics-symposium/
This event is part of the closing events of the EcoSomatics symposia series hosted by the University of Michigan.