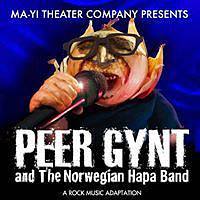 Peer Gynt and The Norwegian Hapa Band at Ma-Yi Theater
January 17 – February 11, 2017
6 – 7PM
PEER GYNT & THE NORWEGIAN HAPA BAND—
JANUARY 17, 2017 – FEBRUARY 11, 2017
A ROCK MUSIC ADAPTATION – Peer is a brash young man on a journey to discover his ultimate self in this rock music odyssey about risk, reinvention and going roundabout. Ma-Yi Theater Company's remaking of Ibsen's classic verse drama asks what it means when we sacrifice everything to be most fully ourselves.
Written by Michi Barall Music by Paul Lieber and Matt Park Orchestration by Chad Raines Musical Direction by Harrison Beck Directed and originally conceived by Jack Tamburri based on the play, Peer Gynt, by Henrik Ibsen
Producing Artistic Director: RALPH B. PEÑA
ALLIANCE MEMBERS CAN USE DISCOUNT CODE peer25 FOR $25 tickets.
Performance Schedule:
Tuesday - Saturday at 8pm
Saturday at 2pm
Sunday at 5pm
Previews: January 17th - 21st
Opening: January 22nd
About A.R.T./New York Theaters
The A.R.T./New York Theatres are a project of the Alliance of Resident Theatres/New York (A.R.T./New York), which provide state-of-the-art, accessible venues at subsidized rental rates, plus free access to top-line technical equipment, so that the city's small and emerging theatre companies can continue to experiment, grow, and produce new works. Founded in 1972, A.R.T./New York is the leading service and advocacy organization for New York City's 375+ nonprofit theatres, with a mission to assist member theatres in managing their companies effectively so that they may realize their rich artistic visions and serve their diverse audiences well. We accomplish this through a comprehensive roster of real estate, financial, educational, and community-building programs, as well as research, advocacy, and field-wide initiatives that seek to improve the long-term health and sustainability of the industry. Over the years, A.R.T./New York has received numerous honors, including an Obie Award, an Innovative Theatre Award, a New York City Mayor's Award for Arts & Culture, and a Tony Honor for Excellence in the Theatre. For more information, please visit www.art-newyork.org.
***For further information, please visit here
Organized by
Ma-Yi Theater Company