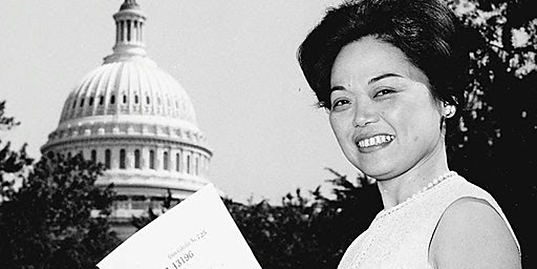 Panel Discussion/Talk
Patsy Takemoto Mink, First Woman of Color in Congress
Thursday, May 12, 2022
3 – 4:30PM
Professor Judy Tzu-Chun Wu and co-author Wendy Mink, Fierce and Fearless: Patsy Takemoto Mink, First Woman of Color in Congress converse…
About this event
UCI Humanities Center - Virtual EventIdeas with Impact: humanities research meets today's global challengesPatsy Takemoto Mink, First Woman of Color in Congress
Professor Judy Tzu-Chun Wu and co-author Wendy Mink, Fierce and Fearless: Patsy Takemoto Mink, First Woman of Color in Congress (New York University Press, 2022) in conversation with documentary filmmakers Kimberlee Bassford and Renee Tajima-Peña.
Judy Tzu-Chun Wu is a professor of Asian American Studies at the University of California, Irvine and the director of the Humanities Center. She authored Dr. Mom Chung of the Fair-Haired Bastards: the Life of a Wartime Celebrity (University of California Press, 2005) and Radicals on the Road: Internationalism, Orientalism, and Feminism during the Vietnam Era (Cornell University Press, 2013). She is the co-president of the Berkshire Conference of Women Historians.
Gwendolyn Mink was Professor of Politics at the University of California, Santa Cruz and Professor of Women and Gender Studies at Smith College. An independent scholar, she is the author and editor of many books, most recently co-author of Ensuring Poverty: Welfare Reform in Feminist Perspective.
Kimberlee Bassford is a documentary filmmaker from Hawai'i who combines her love for storytelling with her background in journalism to bring the underrepresented stories of girls and women to the world. She is best known for her documentaries Winning Girl (2014, The World Channel), Patsy Mink: Ahead of the Majority (2008, PBS) and Cheerleader (2003, HBO Family).
Video: We Need to Talk: Patsy Mink Changed Everything for Women in Sports
https://247sports.com/high-school/washington/Video/We-Need-to-Talk-Patsy-Mink-Changed-Everything-for-Women-in-Sport-11075014/
Oscar-nominated filmmaker Renee Tajima-Peña has chronicled the Asian American experience as Series Producer of Asian Americans, producer/director of My America…or Honk if You Love Buddha, and Who Killed Vincent Chin? (with Christine Choy), and the May 19 Project that she co-founded with Jeff Chang. Tajima-Peña's films screened at the Cannes Film Festival, New York Film Festival, Sundance Film Festival and Whitney Biennial. She was awarded two Peabody's, the Guggenheim Fellowship, the USA Broad Fellowship, and the Alpert Award in the Arts. In 2005 she launched the Graduate Program in Social Documentation at the UC Santa Cruz and at UCLA is currently a professor of Asian American Studies and the director of the Center for EthnoCommunications, and holds an endowed chair in Japanese American studies.