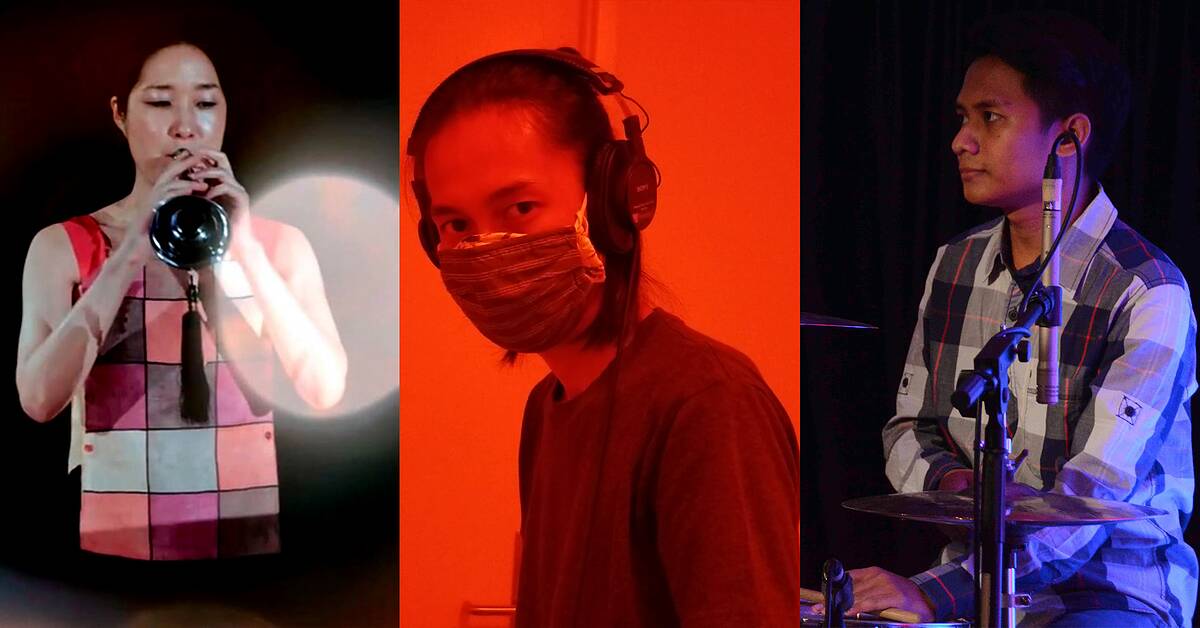 Concert
Paradise Laboratory: DERELICT PORTENT by Jay Afrisando with gamin and Okvan Pramudya
Saturday, July 23, 2022

CRS (Center for Remembering & Sharing) presents DERELICT PORTENT, a solo music and multimedia concert by Jay Afrisando. Also on the bill are gamin (Korean winds) and Okvan Pramudya (percussion). Derelict Portent showcases Jay Afrisando's works in music composition and multimedia arts aimed to raise the awareness of aural diversity (diversity of hearing profiles), acoustic ecology, and everyday wonders often neglected.
Through multisensory approaches, Jay invites us to rethink our co-existence with other human beings, other living beings, and the whole universe. His solo concert will show his interdisciplinary approaches, including improvised and collaborative compositions, participatory piece, field recording work, and experimental films.
This event is supported in part by Jerome Foundation through Jerome Hill Artist Fellowship 2021-2022.
Jerome Foundation logo
Tickets are $20 and are available online through eventbrite.com and at the door for cash only, if not sold out. All patrons must show proof of vaccination at the door in order to be admitted, no exceptions. In addition, masks must be worn throughout.
PARADISE LABORATORY is a playground for sonic and visual experimentation. Conceived of during the pandemic by the renowned Korean traditional multi-instrumentalist, curator, and scholar gamin, Paradise Laboratory provides musical artists with opportunities to rehearse, record, film, and perform with other musical, visual, and dance artists in an experimental, process-oriented, and artist-centered fashion.
ABOUT THE ARTISTS
Jay Afrisando is an award-winning multimedia artist, music composer, researcher, and educator. Employing multisensory approaches, he shares awareness of aural diversity, acoustic ecology, and everyday technological interactions. His works invite others to (re)examine our notions of living entities, ecosystems, and technology. He challenges conventional artistic disciplines and boundaries using various approaches, including video, spatial audio, fixed media, improvisation, and various collaborative methods.
He is a Jerome Hill Artist Fellow 2021-22. He also received the Ambassador's Award for Excellence 2019 by the Ambassador of the Republic of Indonesia for the United States and the 2016 Minnesota Emerging Composer Award by the American Composers Forum. He is also a OneBeat Fellow 2015 and a Cultural Partnership Initiative Fellow at the 2014 International Fellowship in Study of Korean Music at the National Gugak Center.
He has published various works, including a book chapter "Music-making in Aurally Diverse Communities" in Aural Diversity (Routledge, 2022—forthcoming) and a telematic improvisational film "Expanding the Frame Live" in collaboration with Lee Noble (Walker Art Center's Bentson Mediatheque, 2021).
gamin is a Korean-born NYC-based multi-instrumentalist specializing in traditional Korean wind instruments. She tours the world performing both traditional Korean music and cross-disciplinary collaborations. She is a scholar and designated Yisuja, official holder of Korea's Important Intangible Cultural Asset No. 46. From 2000 to 2010, gamin was the principal player at the National Gugak Orchestra. gamin has received several cultural exchange program grants, including Artist-in-Residence at the Asian Cultural Council, and has collaborated in cross-cultural improvisation with world-acclaimed musicians, presenting premieres at Roulette Theater, New School, and Metropolitan Museum. gamin was featured artist at the Silkroad concert, Seoul, 2018, performing on-stage with the founder, Yo-Yo Ma. For 2020, gamin was selected as artist-in-residency at the HERE Arts Center, NYC, and her album "Nong" was released by Innova Records. gamin's Carnegie Hall solo début, accompanied by Nangye Gugak Orchestra, scheduled for March 2020, was postponed by Covid 19.
"Gamin is one of the most celebrated piri, taepyeongso and saengwhang performers in Korea today." — Silkroad
Okvan Pramudya is a drummer who was born and raised in Indonesia. He first learned to play drums at the age of seven and began playing with bands since junior high school. In 2010, he moved to Yogyakarta to pursue his bachelor's degree at Gadjah Mada University. In Yogyakarta, he formed a band called Airbatu and released an album with the band. Besides, he also joined Solo Big Band, Jay & Gatra Wardaya, and Aditya Ong Trio as drummer. In 2020, he moved to the United States and started working for the Consulate General of the Republic of Indonesia in New York at the Division of Culture.