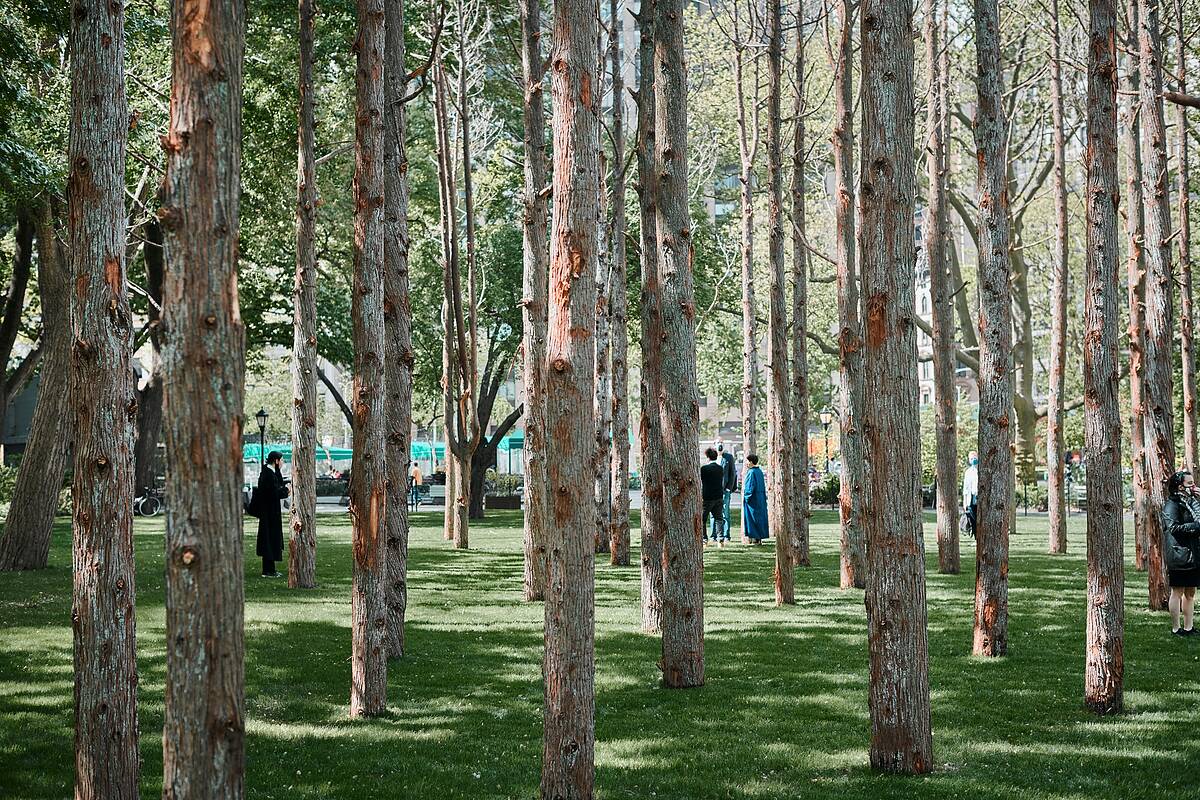 Panel Discussion/Talk
Pairings: Maya Lin's Ghost Forest
Thursday, October 21, 2021
5 – 6PM
Join us for our first in-person art outing! We'll visit Maya Lin's Ghost Forest (May 10—November 14, 2021) installation at Madison Square Park to experience the work firsthand and engage in conversation. Lin has replanted 49 towering Atlantic white cedar trees from the region of the Pine Barrens of New Jersey which has been subject to climate change. The public artwork transforms the urban landscape and speaks to environmental concerns. Immediately following the talk, a reception will follow (location TBD).
Maya Lin (b. 1959, Athens, OH; lives/works: New York City) is best known for large-scale environmental artworks, memorials, and architectural works that focus on the environment and how we relate to the landscape.
Two educators, Angela Garcia and Maya Jeffereis, will guide participants in looking closely at works of art and dive deep into conversation. Come open to sharing your responses to the works, learning something you perhaps didn't know, and meaningfully connecting with others.
Angela Garcia is an independent art historian and educator with 20 years of experience creating and leading engaging experiences and conversations with art. She has lectured and facilitated conversations at The Museum of Modern Art, Solomon R. Guggenheim Museum, The Metropolitan Museum of Art, El Museo del Barrio, Morris Jumel Mansion among other academic, and cultural institutions.
Maya Jeffereis is a Brooklyn-based artist, educator, and museum consultant with 15 years of experience working in the arts. She believes art offers us the opportunity to deeply know ourselves, to think critically about the world around us, and to meaningfully connect with others. Maya has taught at The Museum of Modern Art, Solomon R. Guggenheim Museum, The Shed, and Hunter College, among other institutions.
Where: Madison Square Park, New York, NY. We will send meeting instructions upon registration.
*Weather and Covid safety permitting.