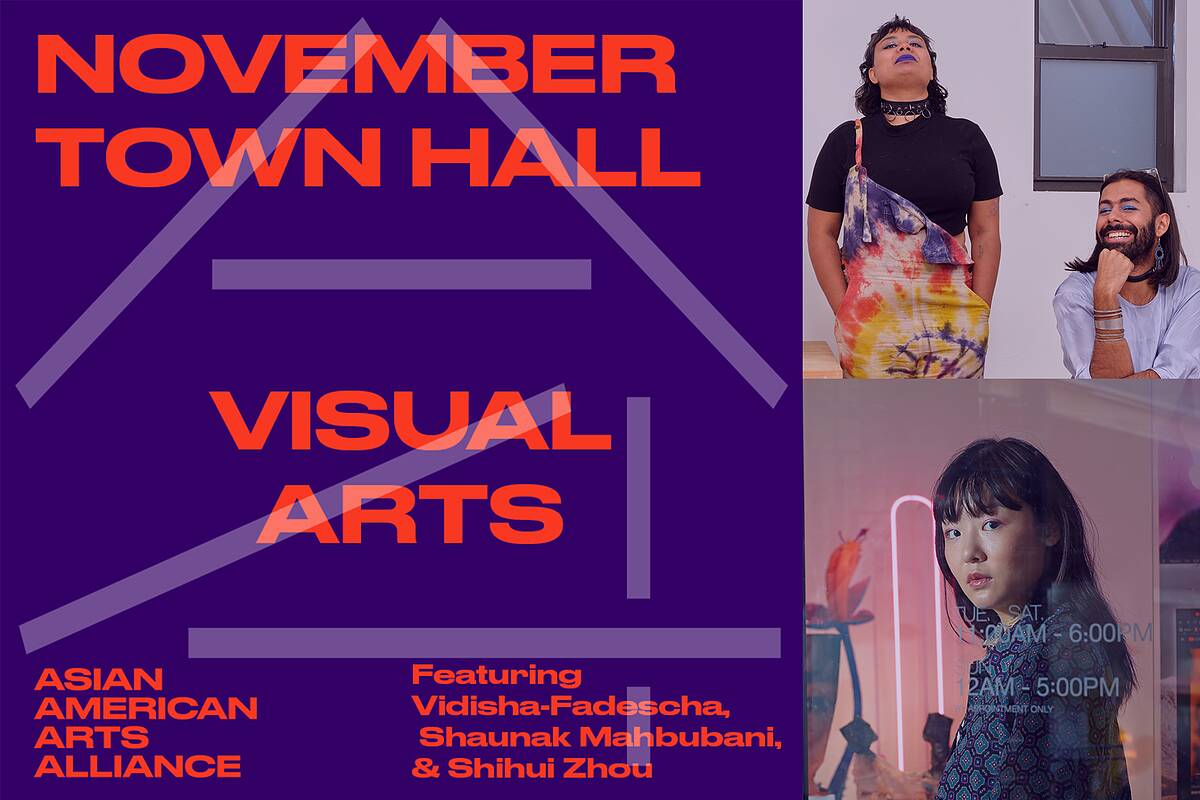 Town Hall
November Town Hall: Visual Arts
Tuesday, November 16, 2021
6:30 – 8:15PM
Join the Asian American Arts Alliance for our November Town Hall, highlighting visual arts practitioners!
Learn about the diverse and exciting creative arts projects and opportunities coming out of the Asian American visual arts community during Town Hall's rapid-fire line-up of 60-second pitches, and meet our featured presenters Shihui Zhou, founder of Latitude Gallery and artist/curator duo Vidisha-Fadescha and Shaunak Mahbubani of After Party Collective!
Sign up to pitch and share an upcoming project or exhibition, promote an event, ask for help, find collaborators and venues for your work, inform others about an opportunity or residency, or simply introduce yourselves and your work to the community. Bring something to share for our post-pitch potluck!
Featured Presenters:
Visual artist, gallerist, and curator, Shihui Zhou was born and raised in China, where she attended Tsinghua University in Beijing for her BA in Art and Design. Moving to the United States for graduate study, Zhou worked closely under American visual artist Nick Cave at The School of the Art Institute of Chicago. Zhou is also an alumnus of Textile Arts Center Artist Residency and ChaShaMa ChaNorth Residency program. Shihui's works have been shown in the US and overseas, as well featured in The New York Times and other well-known art publications. She has curated many exhibitions in New York. At the beginning of the year 2020, Zhou founded LATITUDE Gallery New York committed to ensuring opportunities for young Asian artists and curators in New York. Zhou is now living in Brooklyn, NY, USA.
After Party Collective, formed by artist-curator duo Vidisha-Fadescha and Shaunak Mahbubani, acts in the intersections between curatorial and performance practices. Expanding the Party as a site for critical praxis they produce spaces of embodied thinking to create momentum towards affirmation of trans * , intersex, and gender-deviant bodies. Through recent projects — Queer Futures Potluck Party at Goethe-Institute New Delhi, video work Some Dance to Remember, Some Dance to Forget, Trans * Futures Archive at ISCP NY, Party at the End of Gender Normativity at Wienwoche Vienna, publication co-curated with Party Office Consent of the Governed: Race, Constitution and Kink, and upcoming exhibition DANCE TRANS * REVOLUTION at apexart NY — they are energizing choreographies of collectivity, agency, legality, and pleasure.
Pitches:
Jingjing Tian
Mary Anne & Frank
Website: www.jingjingtian.space
IG: @mydarlingjingjing
Jessica Shen
Doors We Open
Website: www.doorsweopen.com
IG: @doorsweopen
Sean Chee
Photographer
Website: www.cheesean.com
IG: @seancheesecake
Nirmal Raja
Aesthetics of Loss
Website: www.nirmalraja.com
IG: @nirmal.raja
Steven Abraham
The Here & There Co.
Website: www.thehereandthere.co
IG: @thehereandthereco
Rey Jeong
Social Practice Artist
Website: www.reyjeong.com
IG: @rey_jeong
Katie Gee Salisbury
Half-Caste Woman
Website: www.katiegeesalisbury.com
IG: @kayteesal
Iftikhar Dadi
Sato Yamamoto
Home Room: Live & In Person
Website: www.satoartist.com
www.chashama.org/event/home-room-live-and-in-person
IG: @sat.13th
FB: @satocotosa
Emeral Liu
Double Happiness
IG/TW: @e.a.liu
Takaya Abdou Lloyd
Hapa
Website: www.takayalloyd.com/hapatheshow
IG/FB/TW: @takayalloyd
Linda Sok
Salt Water Deluge
Website: www.linda-sok.com
IG: @lendasok
Georges Bridges
Film Lab
Website: www.film-lab.org
IG/TW: @asamfilmlab
FB: @asianamericanfilmlab
Chemin Hsiao
2021 Open Call for Artist Banners
Website: www.cheminart.com
IG: @cheminhsiaoart
Joseph Fraia
Livein: The Lifestyle Magazine
Website: www.livein-magazine.com
IG/TW: @livein_magazine
FB: @magazine.livein
Jocelyn Shu
81 Chapters
IG: @shu_jocelyn
---
You don't have to pitch to attend—RSVP to enjoy the potluck, presentations, and company of fellow artists and organizers!
RSVP is required. This event is free and open to the public.
Town Hall is A4's bi-monthly community gathering event that features performances, pitches, and a virtual networking space! We welcome artists of all disciplines (musicians, actors, filmmakers, poets, visual artists—anyone with a creative fire and joy for the arts), as well as arts organizations, to pitch upcoming projects, find collaborators, or discover new opportunities in a lively space. The catch? You have 60 seconds to deliver your pitch!