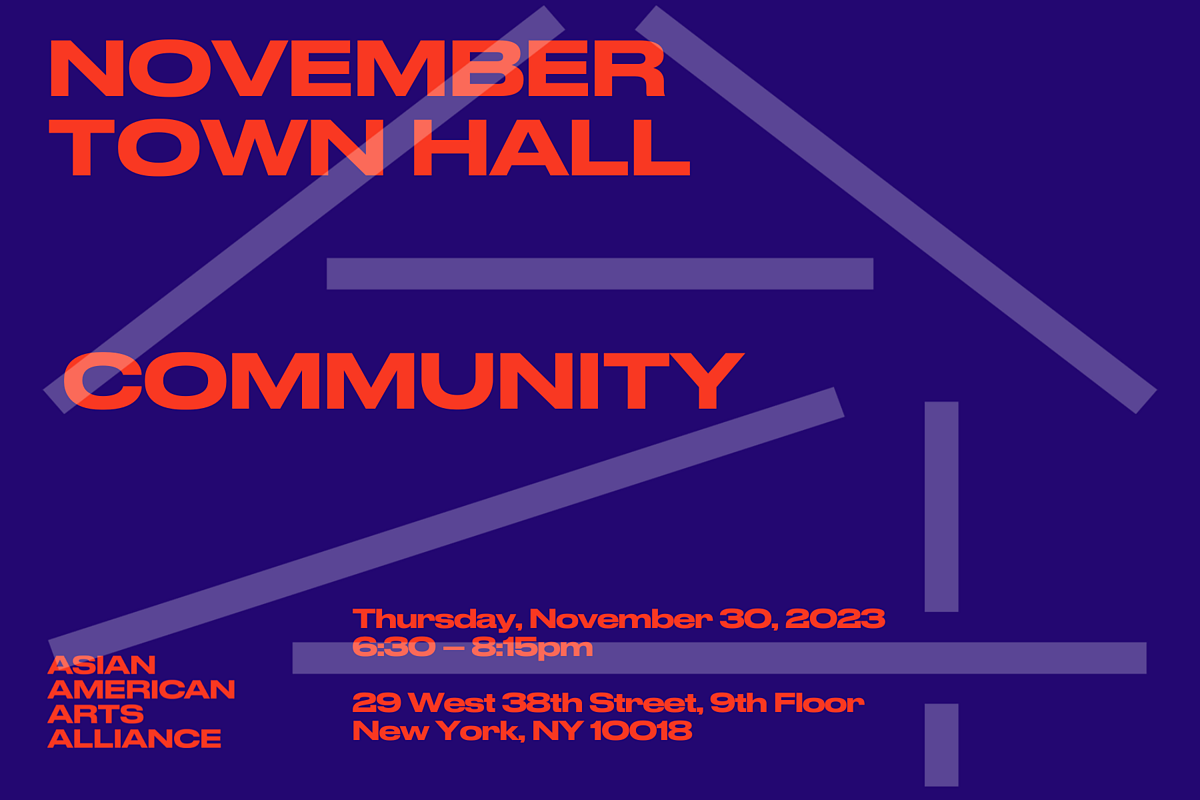 Town Hall
November Town Hall: Community
Thursday, November 30, 2023
6:30 – 8:15PM
Asian American Arts Alliance (A4) welcomes you to attend and participate in November's Town Hall on the theme of "community" in celebration of our 40th anniversary. We'll be hosting you in A4's office in Midtown, Manhattan.
Since we're celebrating a big milestone, we're doing things a little differently. In lieu of featured presenters, A4 will present a special screening of a short film (~7min) followed by 2-min pitches. We are inviting pitch participants to share a project deeply rooted in the community; you may be moved to present how you reflect community in your work or how A4's community has impacted you as an artist, organizer, or arts worker.
After the pitches, we'll enjoy a potluck meal, so please bring something to share; homemade or store-bought goods are welcome. Tell us what you're bringing when you RSVP. A4 will provide drinks and dessert.
This event is FREE and open to the public. RSVP is required to pitch and/or attend, but you do not have to pitch to attend.
Accessibility: The building is ADA accessible. Please find A4's Accessibility Notes on our website here.
If you need CART Transcription, ASL interpretation, large print, or any other accommodations for this event, please email jlee@aaartsalliance.org at least one week before this event.
To keep everyone safe and healthy, if you are not feeling well or have been exposed to COVID-19, please stay home. We will provide masks.
Interested in pitching? Please carefully read about the pitch process below.
About the Pitch Process
A4 Town Halls are a forum to share an upcoming project or exhibition, promote an event or opportunity, find collaborators and venues, or simply introduce yourself to the community. There are two ways to pitch at an A4 Town Hall: a two-minute pitch which requires pre-registering, and a thirty-second pitch which you can sign up for at the event.
Two-minute pitches
You must complete the below steps in order to reserve your two-minute pitch slot.
Register for a "Pitch" ticket (either with or without a donation), and
Complete this pitch form with details about your pitch at least three days before the event
If you do not complete the form by the deadline, you risk not being included in the line-up.
In your pitch form, please include any images, video, or slides you would like presented during your pitch. We encourage you to share your website and social handles so that we can promote on the event page and in the slides – which we share with all attendees after the event.
Slides will be presented in the order in which they are uploaded. If you would like to ensure your slides appear in the correct order, please number them. We recommend no more than 20 slides. A4 Staff will be compiling and driving the master slideshow. Presenters will not be able to use their devices to present.
This time we are capping the two-minute pitches to 18 total presenters on a first come, first served basis. If we reach capacity, and you would like to be put on the waitlist, please email jlee@aaartsalliance.org.
We will send the pitch order to all presenters by the morning of the event.
Thirty-second pitches
After the two-minute pitches, we invite anyone from the audience to provide a thirty-second pitch. This requires signing up at the event via an online form we provide.
About A4's Town Hall
Town Hall is A4's bi-monthly community gathering event that features presentations, pitches, and power networking! We welcome artists of all disciplines, as well as arts organizations, to pitch upcoming projects, find collaborators, or discover new opportunities in a lively space.
Two-minute pitches:
Anjor Khadlikar
Website: www.eastlinetheatre.org
Sammy Yuen
Website: www.sammyyuen.com
IG: @sammynycart
Paul Jochico
Website: www.pauljochico.substack.com
IG: @kapwayoga, @pjinmotion
Georges Bridges
Asian American Film Lab, Inc.
Website: www.film-lab.org
IG: @AsAmFilmLab
Nancy Ma
Website: www.littlemoisttugboat.com
IG: @iamnancyma
Jiemin Yang
Website: www.jieminyang.art
IG: @jiemin.art
Veronica Dang
Website: www.iVeronicaDang.com
IG: @iveronicadang
Avani Patel
Website: www.avanirpatel.com
IG: @unique_avani
Cindy Xu
Website: www.cindyxu.net
IG: @cindyx.xu
Xixi Wang
IG: @asiansforsexpositivity
Tati Nguyen
Website: www.tatinguyen.com
IG: @nguyen.tati
Beata Moon
Website: www.beatamoon.com
Louise Yeung
Website: www.sunkenpress.com
IG: @lhyeung125
Ayo Ohs
Website: www.ayoohs.com/current
IG: @thesilentunseenproject
Chanel Matsunami Govreau
Website: www.chanelmatsunami.art
IG: @chanelmatsunami, @unblendedproject
Eli T
Website: www.tuneintoeli.com
IG: @tuneintoeli
Ayano Ishimura
IG: @ayanoishimura
30-sec pitches:
To add after the event
Organized by
Justine Lee
Contact
jlee@aaartsalliance.org