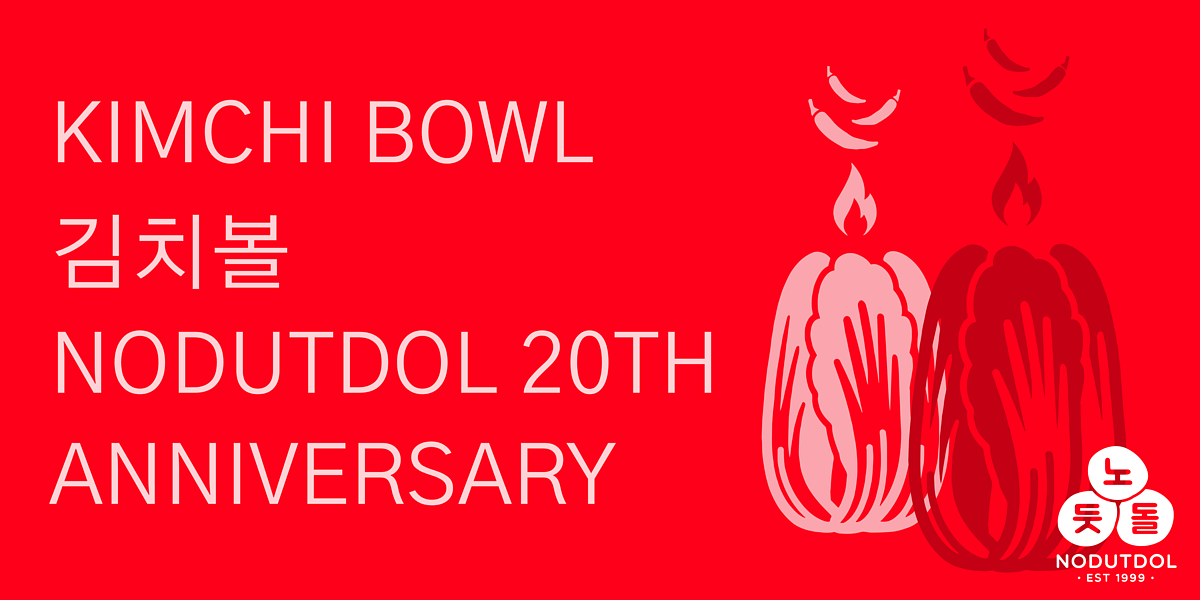 Fundraiser
Notudol's Kimchi Bowl 2019
Saturday, December 7, 2019
7 – 10PM
Nodutdol for Korean Community Development invites you to celebrate our 20th anniversary with us at Kimchi Bowl, our annual fundraiser/celebration!!!
Kimchi Bowl Tickets are $25 if you order online and $30 at the door (though no one will be turned away for lack of funds).
In honor of our 20 years of work, we are making homemade vegan kimchi.
If you preorder, one 24 fl oz jar can be yours with a donation of $15. Your gift can be picked up at the Kimchi Bowl. Please add a note if you need to make alternative pick up arrangements. Kimchi will also be available at the event for a $20 donation.
Nodutdol invites you to join us for activities and presentations while enjoying drinks and kimchi fusion dishes like kimchi tacos, homemade kimchi mandu (dumplings), and more!
Kimchi Bowl is Nodutdol's annual fundraiser and the only one we hold for general operating support. This annual celebration and fundraiser will bring the community together to gather and unify for the upcoming challenges in 2020–and to celebrate our 20 years of activism for peace and unification, as well as our work with both local and international efforts for social justice.
Don't miss this event! Your donation ticket includes food and a complimentary drink. And if you can't make it, please consider donating to support our work.
Since 1999, Nodutdol has been working to bridge divisions created by war, nation, gender, sexual orientation, language, class, and generation among Koreans and to empower our community to address the injustices we and other people of color face here and abroad. We bring delegations of Korean American activists to both sides of the Korean homeland, while making our voices heard on issues ranging from free trade to war and militarism, and supporting community allies in work against police brutality, for racial justice and workers' rights here in the U.S.
This is Nodutdol's 20th anniversary year! So help us celebrate 20 years of "fermenting resistance" with kimchi, great beverages, activities and sharing!!
Contact
nodutdol@nodutdol.org