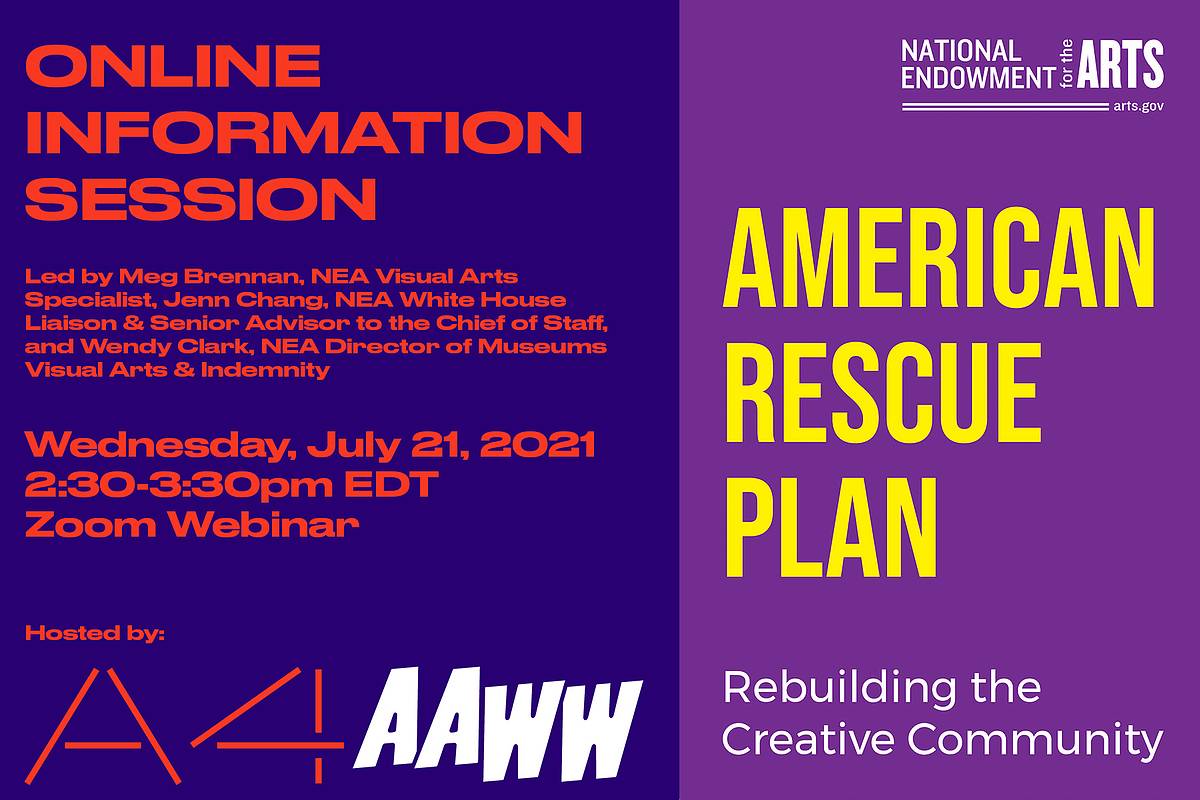 Webinar
National Endowment for the Arts American Rescue Plan Information Session
Wednesday, July 21, 2021
2:30 – 3:30PM
The Asian American Arts Alliance (A4) and the Asian American Writers' Workshop are hosting an information session and live Q&A for the National Endowment for the Arts American Rescue Plan Grants, which provides funds to eligible 501c3 arts and culture organizations, regardless of whether they have received federal funding in the past.
The session will be led by Meg Brennan, NEA's Visual Arts Specialist, Jenn Chang, NEA's White House Liaison and Senior Advisor to the Chief of Staff, and Wendy Clark, NEA's Director of Museums Visual Arts & Indemnity. They will review how to apply for the Rescue Plan funding through two programs:
Grants to Organizations
Grants to Local Arts Agencies for Subgranting
Organizations that serve underserved populations, have small and medium-sized budgets, support rural to urban communities, and organizations applying for federal support through the Arts Endowment for the first time are especially encouraged to apply.
The American Rescue Plan Act of 2021 is designed the fuel the nation's recovery the the devastating economic health effects of the COVID-19 pandemic. Funds allocated to the National Endowment for the Arts ("Arts Endowment") in this historic legislation represent a significant commitment to the arts and a recognition of the value of the arts and culture sector to the nation's economy and recovery.
The Arts Endowment will competitively award Rescue Plan funds to eligible 501c3 organizations nationwide for operating costs. These funds are intended to help support jobs in the arts sector, keep the doors open to arts organizations nationwide, and assist the field in its response to and recovery from the COVID-19 pandemic.
RSVP is required to attend the Zoom webinar.
Closed captioning via REV.com will be provided. This info session will be recorded and the content will be available on A4's Youtube and Facebook pages 48 hours after the webinar.
A Zoom link will be sent to all registered attendees.
Learn more about American Rescue Plan grants and apply here: https://www.arts.gov/grants/american-rescue-plan-grants