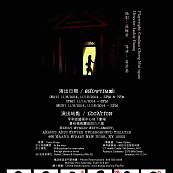 Murder In San Jose
November 8 – November 16, 2014
3PM
Four Seas Players opens their 45th Season with an award-winning psychological thriller MURDER IN SAN JOSE, written by Chong Mui-ngam and directed by Jackie Huang, performed in Cantonese Chinese with English subtitles.
Jealousy. Guilt. Paranoia. This intense psychological thriller will draw you into the hidden conflicts of three protagonists as it probes the layers of human emotions and relationships, between husband and wife, between old friends. An unexpected visit triggers a series of tragic events, exposing dark secrets. These irreversible turns quickly plunge into a spiral of suspicion, manipulation and humiliation. The play premiered in Hong Kong to rave reviews and has had three sold-out runs. It swept four major awards at the 2009 Hong Kong Drama Awards, including Best Script, Best Director and Best Actress.
Chong Mui-ngam is a five-time Best Script Award winner in the Hong Kong Drama Awards. In 2003 she was given the Outstanding Young Playwright Award by the Hong Kong Federation of Drama Societies. In 2004, she received the Lee Hysan Foundation Fellowship by the Asian Cultural Council which enabled her to study in the US for one year. In 2011, she was given the Best Artist Award (Theatre) by the Hong Kong Arts Development Council.
Four Seas Players was established as a community outreach program for old and new Chinese immigrants of different generations. It cultivates an interest in and appreciation for the performing arts, through artistic involvement, thus nurtures a harmony of spirits in the Chinese community.
Warning: This play contains foul language and violence. Parental guidance is advised.
Tags
Organized by
Four Seas Players
Contact
fourseasplayers@yahoo.com