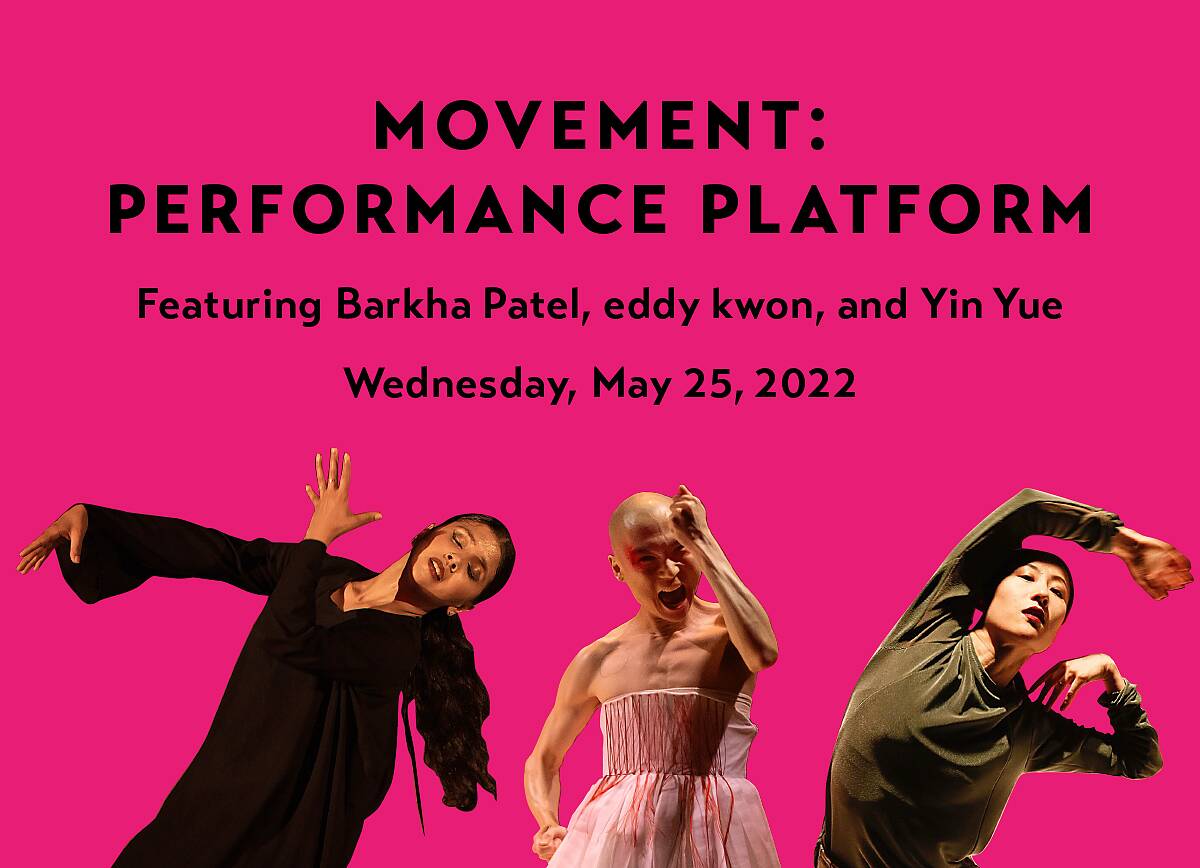 Performance
MOVEMENT: Performance Platform
Wednesday, May 25, 2022
7:30 – 8:50PM
MOVEMENT: Performance Platform features work by three dynamic artists: eddy kwon, Barkha Patel, and Yin Yue, who are expanding the possibilities of dance.
In the wake of heightened anti-Asian sentiment and amid escalating global polarization and violence, what might the embodied experience of dance offer? How are choreographers shaping new directions forward through somatic knowing and exploring—ways of understanding and investigating through one's body, its wisdom, and its archive of memories? What might we dance toward?
eddy kwon's interdisciplinary solo "UMMA-YA" (Korean for MAMA-YA) draws from the spiritual matter of Korean folk, traditional, and shamanic performance traditions to tell the story of a young boy who learns that he will be a mother. With choreography inspired by Japanese Butoh and Korean shamanic ritual, "UMMA-YA" incorporates storytelling that blends autobiography with mythology, exploring transformation and transgression, queer ritual and trans ancestry, and the impact of colonialism and imperialism on spirituality.
Barkha Patel's emotive solo "Bound" is inspired by the poetry of Lal Ded, a fourteenth-century Kashmiri poetess. Featuring Patel's imaginative expansions of the Indian classical dance form Kathak, the work expresses a desire for spiritual clarity and transcendence when confronting the five limitations of anger, attachment, desire, greed, and illusion.
Yin Yue showcases her signature movement language called FoCo Technique™, which draws from contemporary dance as well as Chinese classical and folk dance, in the premiere of "Ember," commissioned by Asia Society Museum, New York. The piece is built through an artistic process of developing encounters and mergers among four dancers, including Yue, exploring how people relate to one another and the possibilities that interdependence offers in a diverse society.
Experience the performance in person at Asia Society Museum, New York, or online via the live stream on May 25 at 7:30 p.m. ET.
To experience in person at Asia Society Museum: Tickets are free, but reservation is required.
To experience online: Tune in to Asia Society's Facebook or YouTube page on May 25 at 7:30 p.m. ET. No registration required.
As part of its plan for coming together again safely, Asia Society requires masks and proof of full Covid-19 vaccination for all visitors and staff.