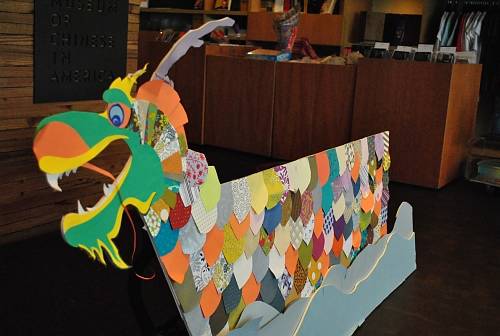 MOCAFAMILY: Dragon Boat Family Festival!
Saturday, June 27, 2015
12 – 4PM
Paddle away with us! Celebrate the Dragon Boat Festival (端午节) with MOCA, and find out what a poet, zongzi, and dragon boats have in common.
Tickets: $10 per person. $8 for all MOCA Dual and Individual Level Members. Free for MOCA Family Level Members and above, children under 2, and Cool Culture families.
RSVP: Space is limited, advance online purchase recommended.
FESTIVAL SCHEDULE
Readings, Demonstrations, and More…
Warm Up with Paddles Up! – 2pm Get energized with Asian American Federation's Alpha andWomen in Canoe as you explore the roles of dragon boat team members through an interactive activity that will keep you on your feet. Learn from experienced dragon boat racers and explore authentic equipment.
Zongzi Wrapping + Tasting – 12-4pm Learn why zongzi, delicious pyramid-shaped rice balls wrapped in bamboo leaves, are eaten during the Dragon Boat Festival. Practice drying + folding bamboo leaves, filling them with rice, and tying them together with string. Then tickle your tastebuds with a piece of mouthwatering zongzi!
Count Along with Gordon & Li Li – 12-1:30pm Count forwards and backwards in Mandarin with Michele Wong McSween, author of the popular Gordon & Li Li series. Enjoy learning simple, everyday numbers in Mandarin, which you can use to count down to the big race! Afterwards, create a dancing dragon puppet to count along with you.
Design Away with Mike Quon – 12-3pm Work with Visiting Artist Mike Quon as you experiment with mixed media to design your very own dragon boat paddle using traditional and contemporary patterns.
Rest + Play – 12-4pm A space for parents + caretakers to rest while their children play! Relax while kids enjoy free play with books, blocks, and more!
Drop-In Arts and Crafts – 12-4pm
Whatever Floats Your Boat Design a floatable dragon boat from natural and everyday materials. Will your boat be seaworthy? Race it in the water to find out— races held every half hour!
Go Team, Go! Show your team spirit by creating a colorful team banner and a fun cheer to go along with it! Use it to root your friends on during the dragon boat races.
Positively Potpourri Stuff and tie a festive fabric sachet (xiang bao) with dried flowers and herbs that are sure to please the senses. Use it as a good luck charm!
Gallery Activities
Creepy Crawly Bug Hunt – 1pm & 2:30pm The Dragon Boat Festival, also called the Double Fifth Festival, is considered one of the unluckiest days of the year. Join MOCA on a gallery hunt to drive away the five poisonous pests and protect the museum. Bring your xiang bao for good luck!
Legends Story Time – 12:30pm & 3pm Travel back in time over 2,000 years as you follow Qu Yuan, an honorable poet, through his journeys, and learn how the Dragon Boat Festival came to be.
Organized by
a4 - Network Admin