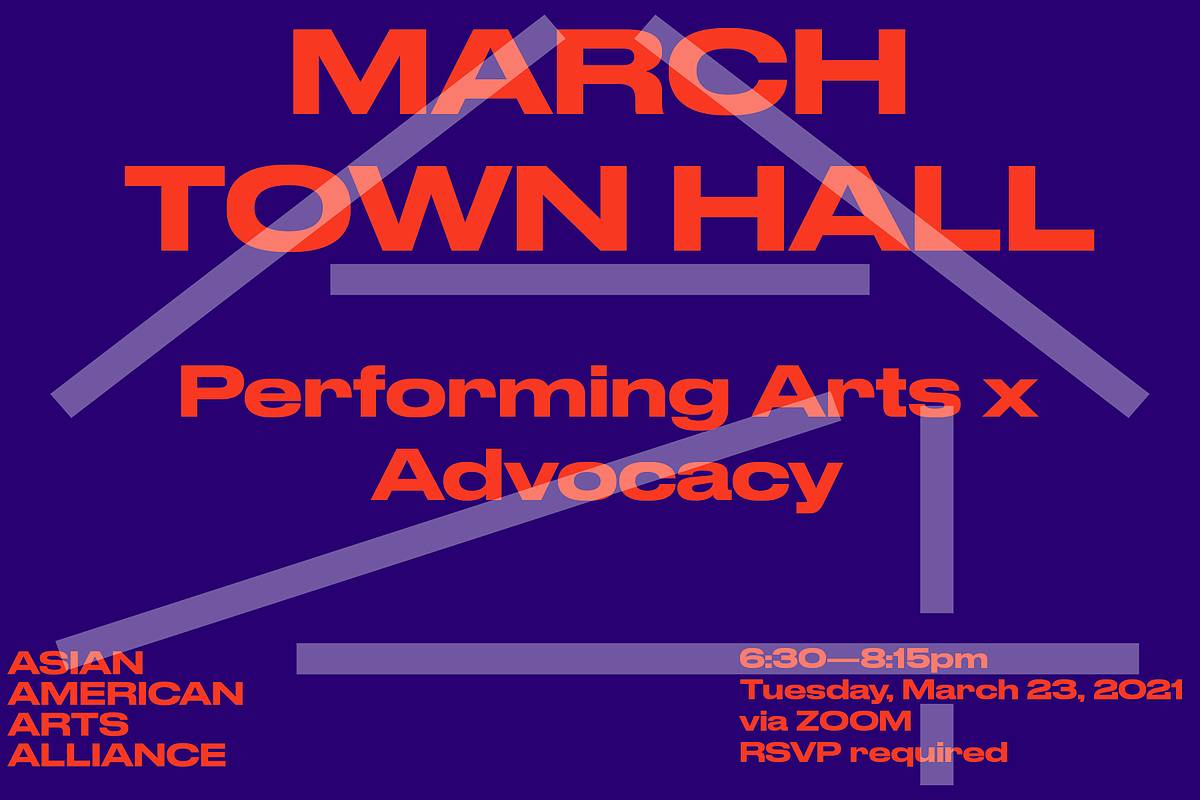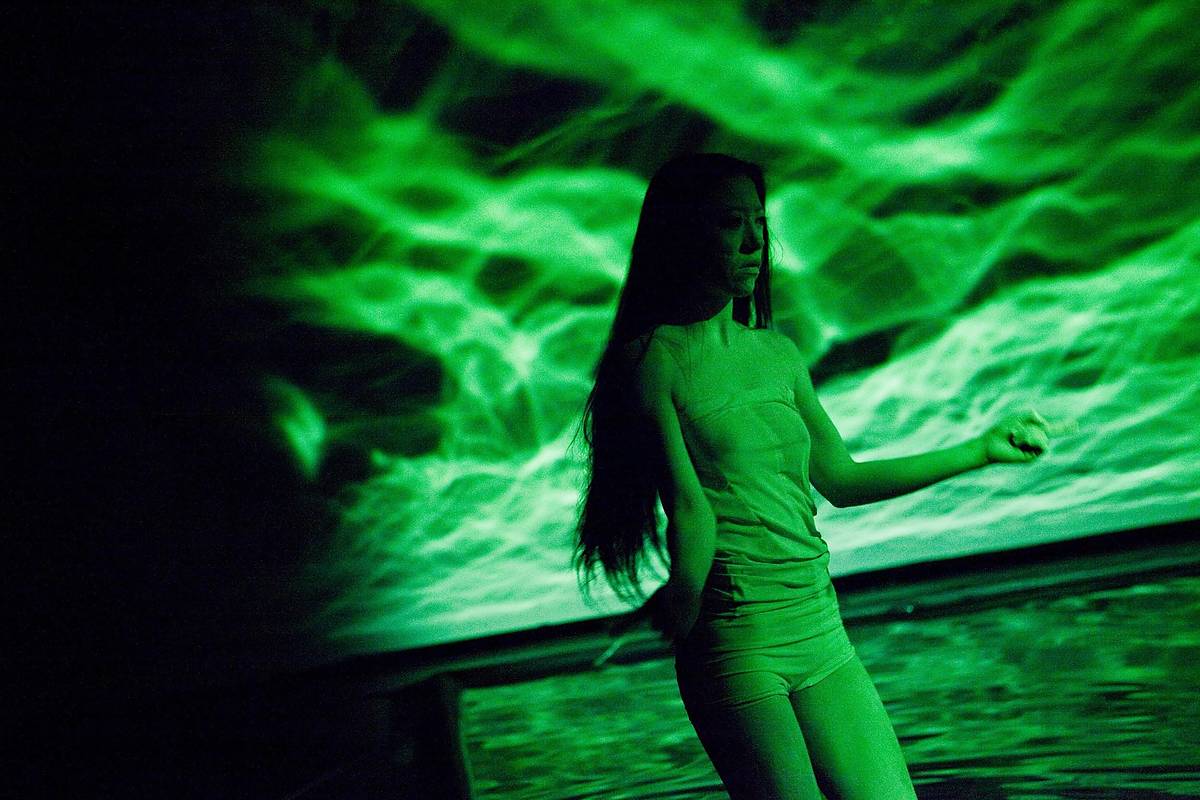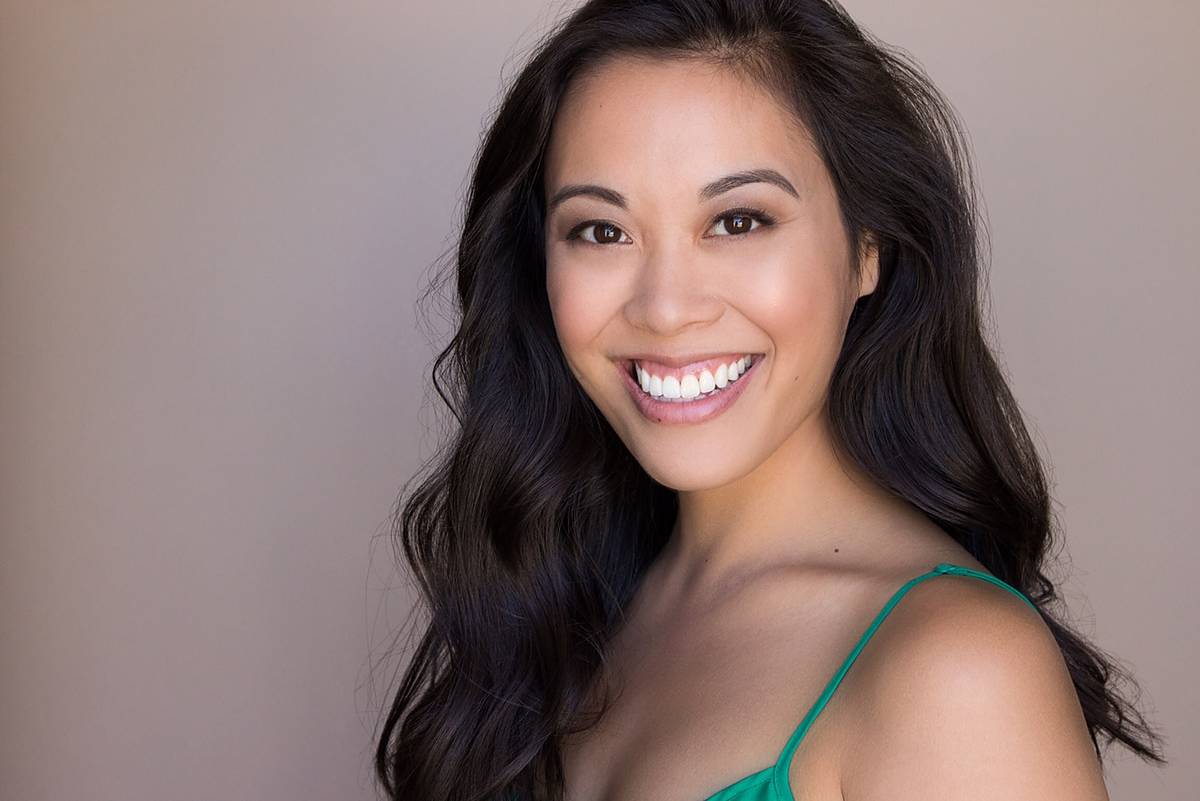 Town Hall
March Town Hall: Performing Arts x Advocacy
Tuesday, March 23, 2021
6:30 – 8:15PM
The Asian American Arts Alliance (A4) invites you to participate in our March Town Hall: Performing Arts x Advocacy.
The performing arts sector has been hit hard due to the pandemic. With its reliance on the magic of live in-person performances, collaborations, stage set-ups, and rehearsals, about 45% * of performing artists have been shut out of work with many more losing the resources required to create new work. Performing artists must reimagine new avenues of producing and performing traditional in-person productions.
We invite dancers, musicians, theater artists, producers, stage designers, and more to join us in hearing from our featured presenters who are leading the way in grassroots advocacy on behalf of performing artists. And, pitch projects, find new opportunities, and/or learn from each other during this extraordinary time.
We'll spotlight your pitches during the Town Hall rapid-fire line-up of 60-second pitches. Each pitch is 60 seconds long, though we are happy to make accommodations as needed!
Featured Presenters:
Co-founder and Co-Artistic Director of LEIMAY Ensemble Ximena Garnica will discuss recent performance projects and her new initiative, Cultural Solidarity Fund, a coalition of arts organizations that support individual artists and cultural workers with microgrants.
Co-founder and Director of Talent Outreach and Diversity, Equity, & Inclusion of Be An #ArtsHero, Brooke Ishibashi, will share more about the mission of this intersectional grassroots campaign to push the Senate to allocate proportionate relief to the Arts & culture sector.
Pitches:
Mai Lê HÔ, LayeRhythm Productions Inc.
www.layerhythm.org
FB/TW/IG: @LayeRhythm, @mailegrooves
Jay Julio, Sound Off! Music for Bail
www.musicforbail.com
FB: @musicforbail
IG: @soundoff.musicforbail
Mikeeh Zwirner, Virtual Culture
https://www.virtualculture.nyc/
IG: @virtualculturenyc
Xiang Gao, Shanghai Sonatas
http://shanghaisonatas.com/
FB/IG: @udmpcs
Jessica Park, Korean American Story ROAR Slam
http://koreanamericanstory.org/
FB: KoreanAmericanStoryOrg
TW: @KA_Story
IG: @koreanamericanstory
Josue Caceres, Pandemusic
www.pandemusic.tv
FB/IG/YT: @pandemusicnyc
Nisha Pradeep, Takajum Dance
www.takajum.com
FB/IG: @takajumdance
Donna Walker-Kuhne, Signature Theatre
https://signaturetheatre.org/
FB: signaturetheatrecompany
TW: @signaturetheatr
IG: @signaturetheatre
Ashley Chang, The ABC Digest
www.theabcdigest.com
IG: @theabcdigest
Natasha Sinha, Amplifying Activists Together
TW: @AmplifyingAT
Ya Yun Teng, Crazy Talented Asians & Friends
www.flushingtownhall.org
FB: flushingtownhall
TW: @flushingtwnhall
IG: @flushing_town_hall
Eileen Cheong, The Sun is Still There
www.eileencheong.com
FB: elementalhealingarts
IG: @remedy_inks
Ramon Gil, Kumospace
http://www.kumospace.com
FB: Kumospace
Amelia Lim & Farah Jabir, Ingrained NY
Email: ingrained.ny@gmail.com
Marisa Hamamoto, Infinite Flow Dance
www.marisahamamoto.com
FB/TW/IG: @marisahamamoto
James Boo, Self Evident: Asian America's Stories
https://selfevidentshow.com
FB/TW/IG: @selfevidentshow
Rob Laqui, The Industry Standard Group
www.theindustrystandardgroup.com
FB: TISG.Fund
TW/IG: @tisg_fund
Kaoru Ikeda, MoustacheCat Dance
www.moustachecatdance.org
FB: moustachecatdance
TW/IG: @KaoruMCD
Cha See, See Lighting Foundation
seelightingfoundation.com
IG: @seelightingfoundation
We invite artists to sign up to share how your practice or thinking has transformed this year in ways that are outside-of-the box, experimental, or just new. How have you pivoted or found new ways of working? Let us know how you reshaped your projects or simply ask for advice, find collaborators and resources for your work, and introduce yourself to the community.
We'll spotlight your pitches during the Town Hall rapid-fire line-up of 60-second pitches. Each pitch is 60 seconds long, though we are happy to make accommodations as needed!
After the pitches and presentations, stick around for some virtual networking and conversation in Zoom breakout rooms with fellow attendees. Instead of our usual potluck, we're asking participants to share a resource that fits into the topics of this event. It can be a quote, a funding campaign, a social media post, a book, a song, or anything.
You don't need to pitch to attend—RSVP to enjoy the presentations, idea exchange, and the virtual company of fellow artists and organizers!
This event is FREE and open to the public. RSVP is required to pitch and/or attend. We'll send the Zoom meeting link to all registered attendees.
XIMENA GARNICA
Ximena Garnica is a Colombian-born immigrant artist based in Brooklyn, working in the visual and performing arts fields as a multidisciplinary artist, choreographer, director, curator, and teacher. With her partner, Japanese artist Shige Moriya, Ximena is the co-founder and co-artistic director of the arts organization LEIMAY and the multidisciplinary performance group the LEIMAY Ensemble. The word LEIMAY is a Japanese term symbolizing the moment of change as in the moment between darkness and the light of dawn, or the transition from one era to the other. She has been nominated for the USA Artists Fellowship and the Herb Alpert Award, and she was recently a Distinguished Visiting Professor at the University of California Riverside. Ximena is the Co Founder of the Cultural Solidarity Fund. She is a member of the leadership committee of the New York City Loft Tenants, and served for two years on the Junior Board of Dance/NYC. Her works have been presented at leading arts venues such as BAM, HERE, The Brooklyn Museum, Japan Society, The Czech Center New York, The New Museum, The Watermill Center, The Asian Museum of San Francisco, Carnegie Mellon University; and in large and small public spaces such as Times Square, NYRP Community Gardens, and NYC streets, among many other spaces in the US and abroad in Japan, Spain, France, the Netherlands, Mexico, and Colombia. Garnica and Moriya's practice is rooted in what they called "the entanglement", their values are centered on practicing harmony in the circulations of powers and through the act of creation they are constantly rediscovering their standing point. Through their projects and works, they offer the spectator multiple entry points to engage with questions of being, interdependence, and coexistence.
BROOKE ISHIBASHI
A fourth-generation Japanese American, Brooke Ishibashi hails from a showbiz family. As a professional actor/singer, she originated/developed the role of "Neary" in Cambodian Rock Band and is passionate about exploring anti-racism, social justice, and trans-generational trauma. Brooke has clowned with Taylor Mac at The Public, been plucked by DJ Nash and Pam Fryman to star in an NBC comedy, crashed American Idol as sketch character "AKIKO!" and performed at La Jolla Playhouse, Oregon Shakespeare Festival, Geffen Playhouse, Joe's Pub & many more. Brooke is a core member of Fair Wage Onstage and National Councilor for Actors' Equity Association. Brooke has a Black Belt in Tae Kwon Do.
Tags
Contact
pson@aaartsalliance.org