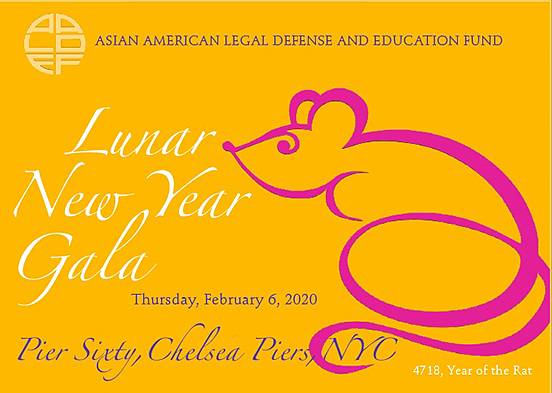 Fundraiser
AALDEF Lunar New Year Gala
Thursday, February 6, 2020
6PM
The Asian American Legal Defense and Education Fund (AALDEF) will hold its Lunar New Year Gala and Justice in Action Awards Ceremony on Thursday, February 6, 2020 at Pier Sixty, Chelsea Piers in New York City. The recipients of the 2020 Justice in Action Awards are William F. Lee, partner at WilmerHale, and Viet Thanh Nguyen, Pulitzer Prize-winning novelist.
The co-emcees for the evening are Juju Chang, Emmy Award-winning co-anchor of ABC News' "Nightline", and Sree Sreenivasan, Marshall R. Loeb Visiting Professor of Digital Innovation at Stony Brook University School of Journalism.
The AALDEF Justice in Action Awards recognize exceptional individuals for their outstanding achievements and efforts to advance social justice. Past award recipients include Congressman John Lewis, Yoko Ono, Preet Bharara, George Takei, David Henry Hwang, Neal Katyal, Aasif Mandvi, Mari Matsuda, Jessica Hagedorn, Mira Nair, BD Wong, and Fareed Zakaria, to name just a few.
Over 700 leaders of the civil rights, legal, business, and arts communities across the country are expected to attend AALDEF's lunar new year gala. The evening begins with a 6 p.m. cocktail reception and silent auction, followed by the Justice in Action Awards ceremony and a banquet dinner. Tables of ten, available at $25,000, $20,000, and $15,000, include a VIP reception. Individual tickets start at $1,500. To reserve tickets, please contact Shirley Ng at 212.966.5932 ext. 208 or sng@aaldef.org.
Organized by
Shirley Ng
Contact
sng@aaldef.org