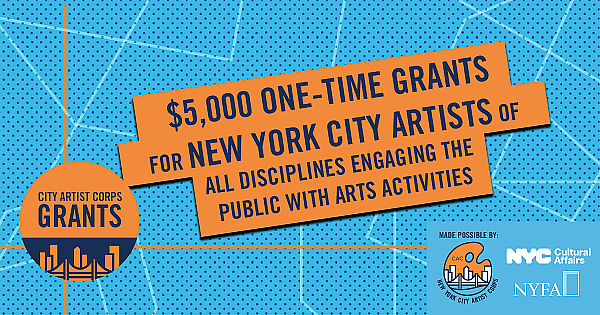 Webinar
LMCC's City Artist Corps Grants Information Session
Thursday, July 15, 2021
2 – 3PM
City Artist Corps Grants are intended to support NYC-based working individual artists of all disciplines who have been disproportionately impacted by COVID-19. In this information session, LMCC staff will provide an overview of the Program Guidelines with helpful information on eligibility requirements, the selection process and the application form. There will be time for questions and answers throughout the meeting.
This session will be presented with live captioning and ASL interpretation.
If you have any difficulties registering, please contact Flannery Winchester, Program Associate, Grants & Services, at CreativeEngagement@lmcc.net or call 212-219-9401 x119.
Find more information on City Artist Corps at: https://www.nyfa.org/awards-grants/city-artist-corps-grants.
For additional support, or if you have further questions, you can visit Frequently Asked Questions, Technical Assistance Schedule, and/or Translated Information.
Organized by
Flannery Winchester
Contact
CreativeEngagement@lmcc.net