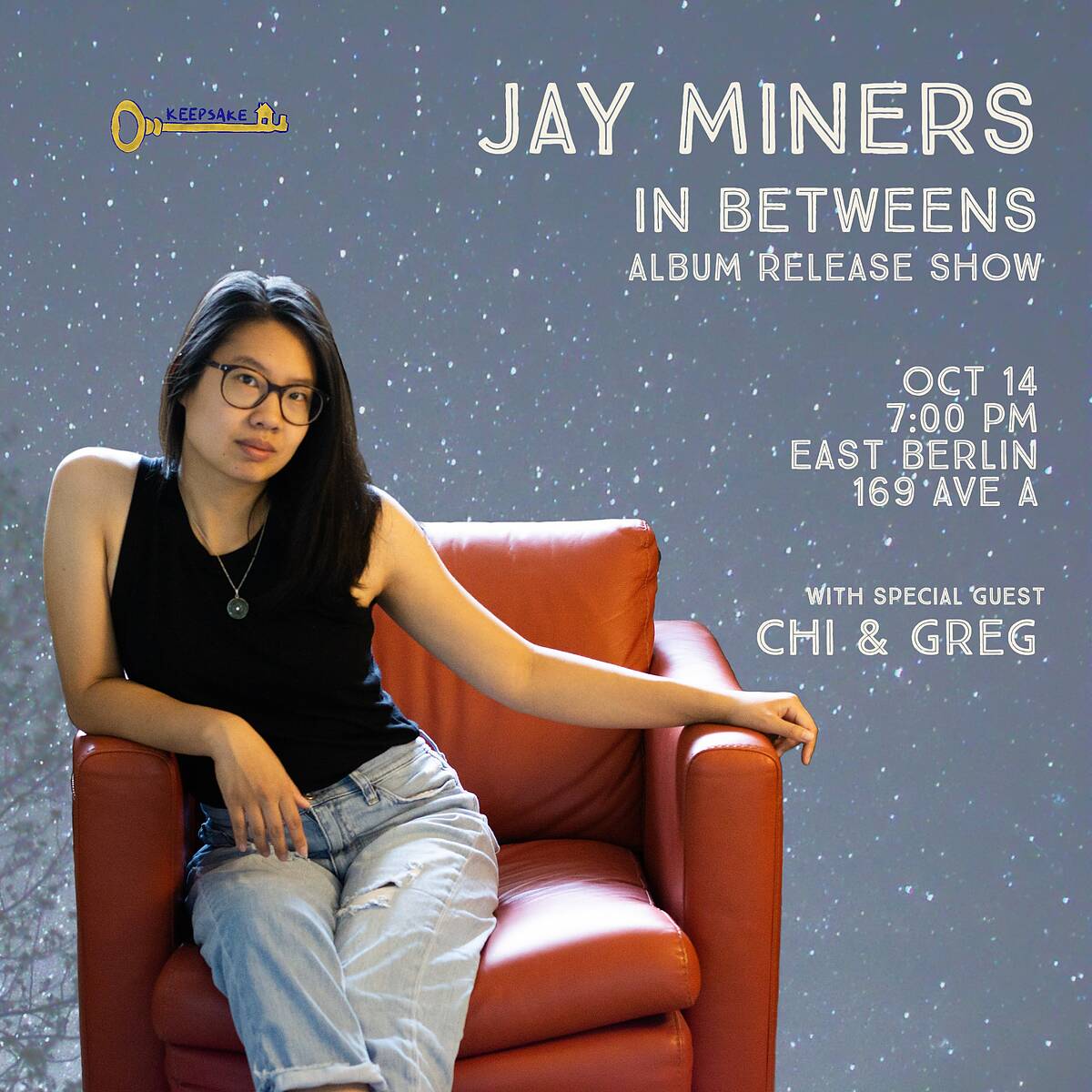 Concert
Keepsake House presents: Jay Miners In Betweens Album Release Show
Thursday, October 14, 2021
7PM
Celebrate the release of In Betweens, the debut LP from indie singer/songwriter and Keepsake House co-founder Jay Miners. Jay will perform every song on the new album and share parts of the song and herself with you along the way. Opening set by special guest and friends Chi & Greg.
Jay Miners is a born and raised New York City-based singer/songwriter. She is the artist of two EPs and a full-length album, "In Betweens," releasing on October 8, 2021. Inspired by her parents' old-soul records and the singer/songwriters of her generation, she quickly started to write songs at a young age. Jay's single "Real Love," released in February 2020 and written about our relationships with modern-day technology, gained early support from Spotify, making its way onto playlists including Fresh Finds and Fresh Finds: Indie. Her most recent EP, "The Art We Make," has been described to have "captured emotional beauty" (Modern Music Maker, 2018), as it explores her journey as a songwriter and themes of identity and coming of age. Jay is the Co-Founder and Show Director at Keepsake House. When she is not writing songs, she enjoys baking sweets and teaching music.
Chi & Greg are a Brooklyn-based duo made up of Chi Jieun Ko and Gregory Michael Ko. The two met in Los Angeles on January 8, 2013, while working at Liberty in North Korea, a nonprofit organization dedicated to rescuing and resettling North Korean refugees. They've been together ever since, and on September 20, 2020, they got married. With powerhouse vocals and emotional lyrics, these two tap into something deep below the surface. Their music creates space for pain and all the complexities that come with being human. In October 2016, they released their debut EP, "Small but Fortunate," under their previous band name, the Heartland Nomads. In 2018, they released an acoustic Christmas EP called "Act II." They have completed multiple cross-country tours independently, have worked closely with organizations like Sofar Sounds, and recently started a podcast called Gajeok about Korean Americans and their families.
Note: In accordance with the newest NYC Vaccine Mandate (Key to NYC), all artists performing at an indoor venue AND all guests attending any concert held indoors must provide proof of at least one dose of any COVID-19 vaccine alongside a valid photo ID. Only guests and performers with both items will be permitted inside the venue. If you have any questions, please email the venue at info@cibpresents.com and they will be happy to provide any further information you need.