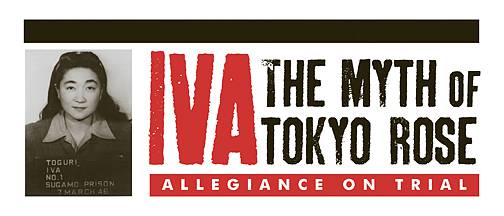 Iva: The Myth of Tokyo Rose
May 16 – May 17, 2013
7 – 4PM
For Asian Pacific American Heritage Month, the Asian American Arts Alliance and the Asian American Bar Association of New York (AABANY) present a captivating theatrical event, Iva: The Myth of Tokyo Rose, Allegiance on Trial.
This is a devised play inspired by the life of Iva Toguri, a Japanese American citizen who was accused of treason for allegedly broadcasting anti-American propaganda during World War II as the infamous "Tokyo Rose." This world premiere production examines issues of race and civil rights, engaging audiences in a powerful dialogue about social justice issues that resound to present day.
The adaptation will be fully staged and performed by a cast of professional actors with writer/co-director Soriya Chum and general manager/co-director Elena Chang of the Asian American Arts Alliance. Excerpts from the actual trial transcripts will be interspersed with period music, still photographs, and contemporaneous news reels.
The Thursday performance will be followed by an exclusive reception with members of the cast, crew, and special guests. The Friday performance will be geared toward high school and college students.
This is the second year that the Alliance and AABANY have innovatively collaborated together to bring to the stage a theatrical production based on Asian American legal history. In May 2012, "Revising Vincent: The Legacy of the Vincent Chin Case 30 Years Later" was performed at New York Law School to a large audience that included many members from community groups, followed by a talkback led by the Hon. Denny Chin and Dean Frank Wu who co-authored a trial re-enactment that formed the basis of the production. "Iva: The Myth of Tokyo Rose" seeks to build on the success of that first event and hopes to reach a wider audience and raise awareness of recurring issues and themes in the Asian American experience.
Tags
Organized by
a4 - Network Admin