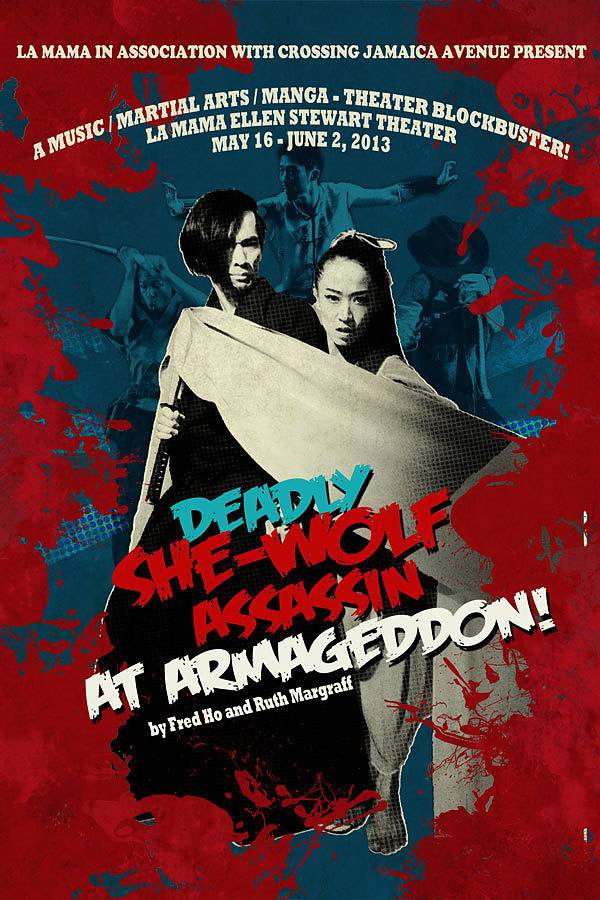 Fred Ho's Deadly She-Wolf Assassination at Armageddon
May 16 – June 2, 2013
7:30 – 9:30PM
Crossing Jamaica Avenue (CJA) cordially invites you to the world premier of DEADLY SHE-WOLF ASSASSIN AT ARMAGEDDON!, a new Martial Arts-Samurai Sword Fighting-Music/Theater Fantasy Action-Adventure composed by Fred Ho, written by Fred Ho and Ruth Margraff, and presented by La MaMa E.T.C. in association with CJA.
DEADLY SHE-WOLF ASSASSIN AT ARMAGEDDON! is a daring and imaginative homage to the 1970s Japanese raging cult manga and movies hit, Lone Wolf and Cub (Kozure Ookami), which has inspired many other adaptations and works in comic books and film over the past decades. The production explodes with a ferocious stylistic mix of Japanese Noh theater, modern-day anime and manga influences, unique multi-martial arts and sword fighting choreography and a glorious score fusing traditional Japanese music and soul-jazz.
Collaborating with director Sonoko Kawahara, martial arts choreographer Emmanuel Brown (from the Broadway production of Spider-Man: Turn Off the Dark), and samurai sword fighting choreographer Yoshi Amao, composer-creator-writer Fred Ho brings to the stage the world premiere of DEADLY SHE-WOLF ASSASSIN AT ARMAGEDDON!, his latest installment in the music-driven martial arts epics for which he has been recognized as both pioneer and its most innovative leader.
The production opens at La MaMa's Ellen Stewart Theater (66 East 4th Street between Bowery & 2nd Avenue) on Thursday, May 16th 2013, at 7:30pm and runs through Sunday, June 2nd 2013.
Registration:
Buy Tickets
Tags
Organized by
La MaMa and Crossing Jamaica Avenue
Contact
skawahara@corssingjamaicaavenue.org