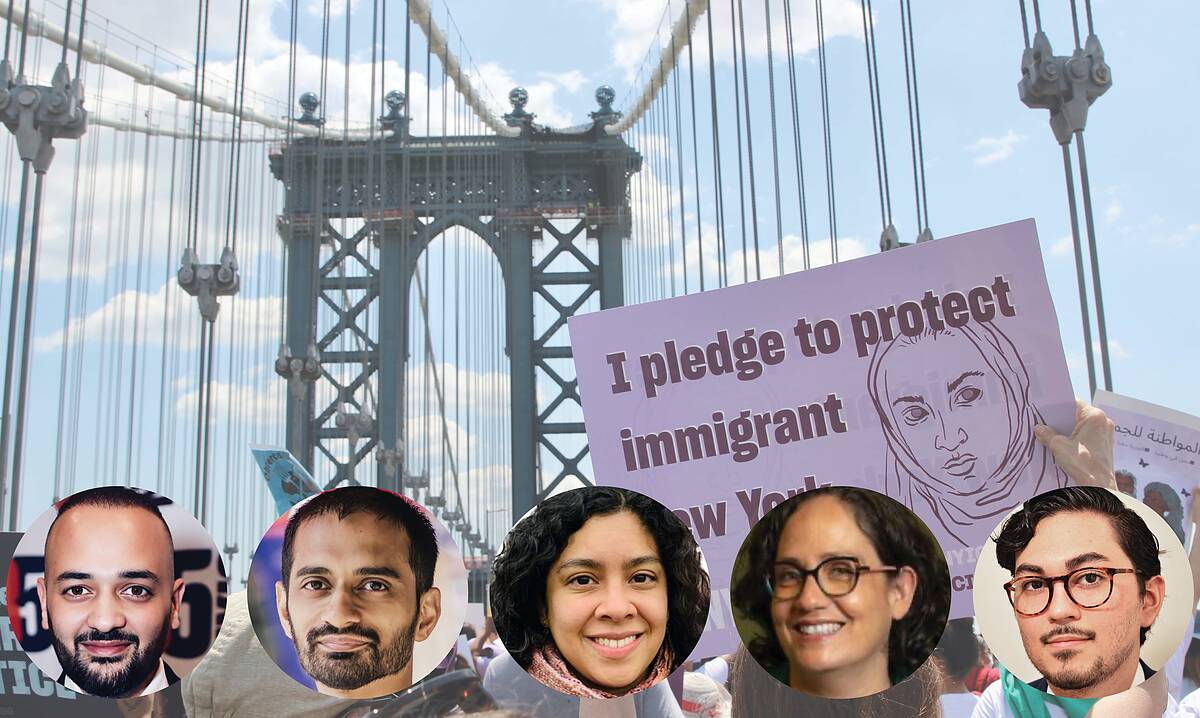 Panel Discussion/Talk
Immigration Activism in NYC Today
Tuesday, April 4, 2023
6:30 – 8:30PM
Join us for a timely discussion about the current state of the immigrant rights movement in NYC and how New York's immigrant communities are faring 20 years after the creation of ICE, or the U.S. Immigration and Customs Enforcement. The panel will explore how immigrant rights activists continue to grapple with post-9/11 immigration policies, including the Trump-era "Muslim Ban," as well as the recent arrival of asylum seekers from South America via southern states, and the ongoing threat of detention and deportation. How has New York negotiated its status as both a haven for immigrants and a site of anti-immigrant sentiment, past and present?
With Murad Awawdeh of the New York Immigration Coalition (NYIC); Fahd Ahmed of Desis Rising Up and Moving (DRUM); sociologist Carolina Bank Muñoz (Brooklyn College); Nilbia Coyote of New Immigrant Community Empowerment (NICE); and journalist Felipe De La Hoz (moderator).
Co-presented by the New York Immigration Coalition and part of the Museum's Activist New York program series.
About the Speakers:
Murad Awawdeh is a strategist, organizer, and advocacy expert currently serving as the Executive Director at the New York Immigration Coalition (NYIC). The son of Palestinian immigrants, Murad has dedicated over two decades of his life fighting for low-income communities of color across the State of New York. He grew up organizing to stop dangerous and hazardous developments in Sunset Park, Brooklyn, and engaging community residents to build power and bring transformational change to their neighborhoods. As the NYIC's Executive Vice President of Advocacy & Strategy he successfully led electoral, legislative, and policy campaigns at the federal, state and local levels, and mobilized hundreds of thousands of New Yorkers at demonstrations against anti-immigrant policies. As the Executive Vice President of NYIC Action, the NYIC's sister 501©4 political advocacy and action organization, he has successfully led grassroots electoral campaigns to elect progressive candidates. Murad has been featured in VICE and the Huffington Post, and was honored with a U.S Congressional Recognition, and Public Service Awards from the NYS Senate and Assembly.
Dr. Carolina Bank Muñoz's work focuses on immigration, labor, work, and Latin America. She is most recently the co-author of A People's Guide to New York City with Penny Lewis and Emily Tumpson Molina (UC Press, 2022). Her previous books include Walmart in the Global South with Bridget Kenny and Antonio Stecher (University of Texas Press, 2018), Building Power from Below: Chilean Workers Take on Walmart (Cornell ILR, 2017) and Transnational Tortillas: Race, Gender and Shop Floor Politics in Mexico and the United States (Cornell ILR 2008), which was awarded the Terry Book prize. Her current research project looks at Black migration to Chile and the politics of national identity. Apart from scholarly endeavors, she is Chair of her union chapter at Brooklyn College and is also active with the Immigrant Student Success Office (ISSO).
Fahd Ahmed came to the United States from Pakistan as an undocumented and working-class immigrant in 1991. He has been a grassroots organizer on the issues of racial profiling, immigrant justice, workers rights, educational justice, and national security over the last 23 years. Fahd has been active with DRUM (Desis Rising Up & Moving) since 2000, when he had family members facing deportation, as well as entrapment and incarceration as part of the War on Drugs. Fahd was co-lead organizer for DRUM's response after 9/11, including organizing more than 400 9/11 sweeps detainees and their families, and nearly 200 detainees from the NSEERS program. He is currently the Executive Director of DRUM, which mobilizes and builds the leadership of thousands of low-income, South Asian and Indo-Caribbean immigrants to lead social and policy change that impacts their own lives- from immigrant rights to education reform, civil rights, and worker's justice.
Nilbia Coyote is a community builder, advocate, organizer, and fighter for immigrant communities. She is an immigrant from Mexico and has over 18 years of experience building the individual and collective power of immigrant workers by recognizing their humanity, organizing with them through community education and enabling them to contribute to their communities while becoming self-sufficient. Nilbia believes in the strengths and skills of all workers regardless of their immigration status, creates programs to hone these, and pushes for dignity, wellbeing and belonging of our immigrant siblings. In 2022, Nilbia became the Executive Director of NICE, or New Immigrant Community Empowerment, which organizes impacted immigrant workers & newly arrived immigrants to fight for their dignity, worker rights & labor justice in NYC. Before working at NICE, Nilbia led and developed financial Know Your Rights projects for immigrant communities after the 2016 election; and participated for many years in community led efforts to organize the Mexican immigrant community, as well as to increase immigrant & workers rights after Hurricane Sandy among the day laborer population, and lastly, provide education, legal services and labor opportunities for DACA beneficiaries from 2012 to 2015.
Felipe De La Hoz is an immigration-focused journalist who has written investigative and analytic articles, explainers, essays, and columns for outlets including the New Republic, The Washington Post, The Intercept, The Baffler, The Appeal, The Daily Beast, The Nation, and Insider. He is a former staff writer at the investigative immigration site Documented, and the co-creator of the weekly immigration policy newsletter, BORDER/LINES.