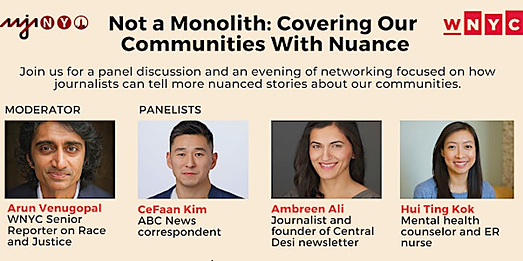 Panel Discussion/Talk
Not a Monolith: Covering Our Communities With Nuance
Wednesday, April 5, 2023
5 – 6PM
The term Asian American has its roots in solidarity and social justice. While that is true, Asians are not a monolith, and the stories we can tell go beyond food or tragedy. How do we think past the headlines in covering AAPI communities? How do we extend coverage beyond AAPI Heritage Month? What are the ways we can showcase positive narratives about our communities and demonstrate that the massive tent of Asian Americans includes people with diverse backgrounds, rich experiences and varying perspectives?
Leading up to AAPI month, join AAJA New York and WNYC in collaboration for a thoughtful and joyful evening of discussion and networking focused on how journalists can tell richer stories that honor AAPI communities and carry their voices with care. The panel will include journalists on the front lines of this work and a mental health expert who can help us reflect on the ways journalism can drive greater understanding and community in society.
After the panel, join us for a brief reception and enjoy drinks and small bites as we connect with fellow media professionals and reflect on the evening's discussion.
Moderator
· Arun Venugopal, WNYC Senior Reporter on the Race & Justice Unit,
Panelists
· CeFaan Kim, ABC News
· Ambreen Ali, journalist and creator of the newsletter Central Desi
· Hui Ting Kok, licensed mental health counselor and Emergency Room nurse