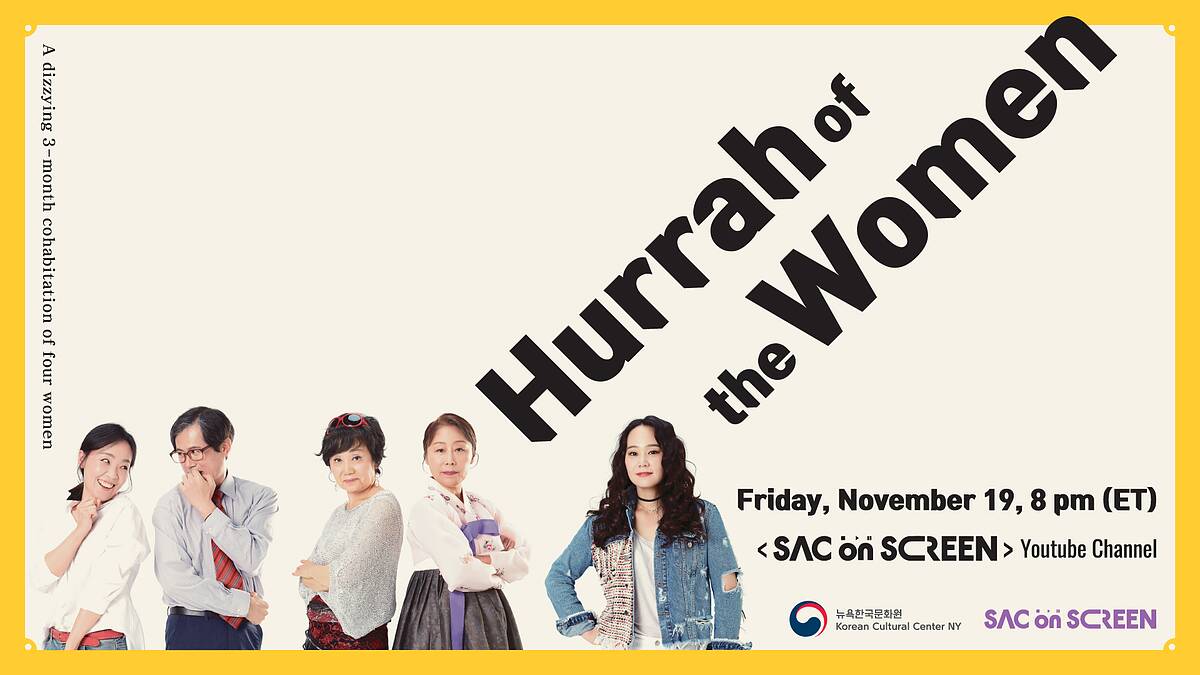 Screening
"Hurrah of the Women" Online Streaming
Friday, November 19, 2021
8 – 9:30PM
Hurrah of the Women Online Streaming
presented with special sponsorship by the Seoul Arts Center
Friday, November 19, 2021, 8 pm (ET)
No Ticket or RSVP Necessary
Performance is in Korean with English subtitles.
WATCH Here: https://www.koreanculture.org/performing-arts/2021/11/19/hurrah-of-the-women
In special sponsorship by the Seoul Arts Center (SAC), the Korean Cultural Center New York presents an online streaming of the play, Hurrah of the Women on November 19th at 8 pm (ET) through YouTube channel of SAC on Screen.
Hurrah of the Women is a play around the dizzying three-month cohabitation of four women: a smart and obedient daughter-in-law Choi Seo-hee; her daughter, Hong Minam, an actress in her 30s who is struggling to find her place in the world; Seo-hee's traditional mother-in-law and lady of the house Hong Manim; and a free-spirited boarder in her 70s, Lee Yeoja.
Hurrah of the Women is a delightful and exhilarating bundle of emotions for all women who are living their lives full of responsibility and sacrifice. Not just a story "for women," but one "with women," the play is full of both laughter and tears as it dives into the true meaning of family and love.