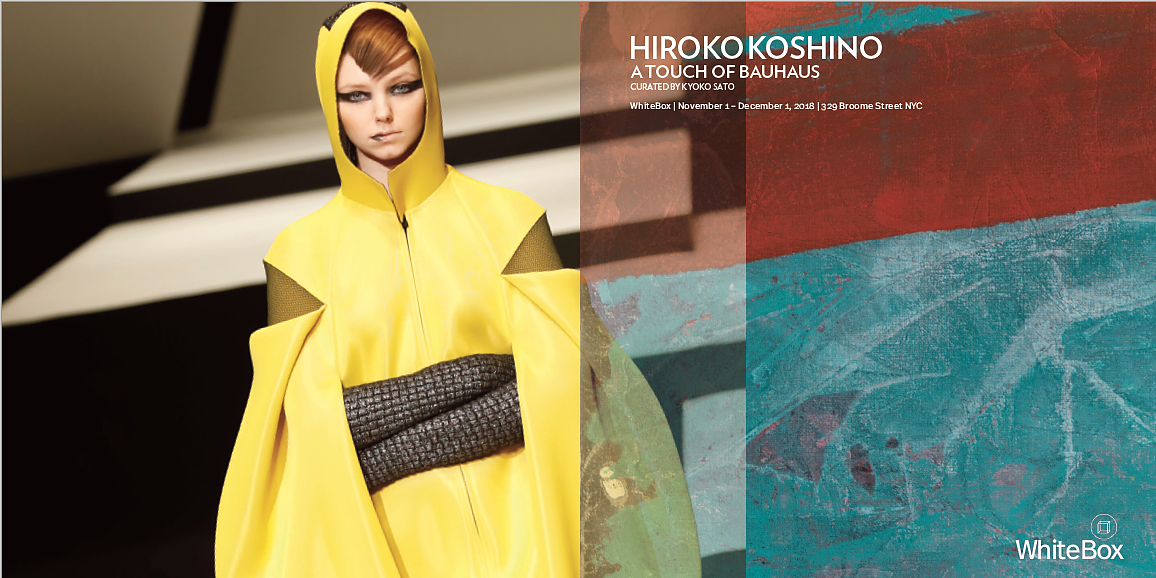 HIROKO KOSHINO: A Touch of BAUHAUS curated by Kyoko Sato
Thursday, November 1, 2018
6PM
Post-World War II Japan found itself in the midst of rapid economic and cultural transformation – one in which growing industries such as technology and fashion shot to the forefront. It was amidst this landscape that a group of young people began rebelling by sporting a preppy, Ivy League look that broke stride with propriety-and time-honored traditions, and celebrated individualism. Known as the "Miyuki Tribe", with Hiroko Koshino at the helm, talented young fashionistas began reinterpreting traditional Japanese artistic elements through a personalized and radical lens.
HIROKO KOSHINO: A Touch of BAUHAUS will, for the first time in New York, reveal how Koshino's visual artworks inform her high fashion designs. Curated by Kyoko Sato at WhiteBox, the exhibition will include Koshino's most inventive runway pieces, side-by- side with her signature abstract paintings and sumi-ink works, including-in WhiteBox's project space-a site-specific eighty- foot-long ink scroll that epitomizes her brilliant combination of art and design as Gesamtkunstwerk, the Bauhaus approach towards a total artwork.
After years of creating riveting artworks inspired by key painters ranging from Jackson Pollock to Gustav Klimt, as well as the Lyrical Abstraction and Tachism movements, Koshino began experimenting with the connection between art and fashion in the serene studio created for her by her colleague, genius architect Tadao Ando, in Ashiya. There she was able to deeply connect with her love for Mother Nature, free from the hustle and bustle demands of Tokyo, while infusing her paintings with a deeply Japanese attitude. Koshino's innovative design techniques, based on painting with sumi-ink directly onto the fabric, were the essence of many of her innovative fashion creations. In an essay on Koshino and her works, critic Anthony Haden-Guest writes, "Hiroko's Sumi-Ink works are wholly beautiful, but not so much so as to overwhelm. They do not exclude, they embrace."
In 1977, Hiroko joined the cutting-edge group "TD6" (Top Designers 6), presenting her fashion collection in Tokyo for the first time. Since, she has been showcasing twice a year. In 1978, she became the first Japanese designer to join Alta Moda in Rome, a sensational show earning her a thirty-page article in the Italian edition of Harper's Bazaar. In 1982 Hiroko Koshino created International Inc., leading the "Designer's Character Brand" boom that turned fashion into a top industry in Japan. Subsequently, she debuted her brand and her signature prêt-àporter collection at the Paris Fashion Week, to great acclaim.
Koshino considers herself an artist since childhood. She got started drawing characters from Manga and Anime, attending Kabuki plays regularly, influenced as well by the Bunraku national puppet theater of Japan. Six decades later, Koshino unabashedly continues her painting career, having created, by now, well over 1,900 paintings using a wide variety of techniques and inventive, unorthodox paint applications.
Her artwork continues as a wellspring of inspiration flowing right into her fashion design. "I can continue designing because I paint," Koshino explains. Indeed, her paintings frequently function as brainstormdrafts for what will later become one of the extraordinary design creations that she refers to as "the architecture of the body", all along carrying as part of her signature, the elemental Japanese sense of sculptural 'high volume' in her couture.
–Kyoko Sato
Special thanks to Nao Takekoshi.
For press inquiries, please contact kiva@thepresshouse.com