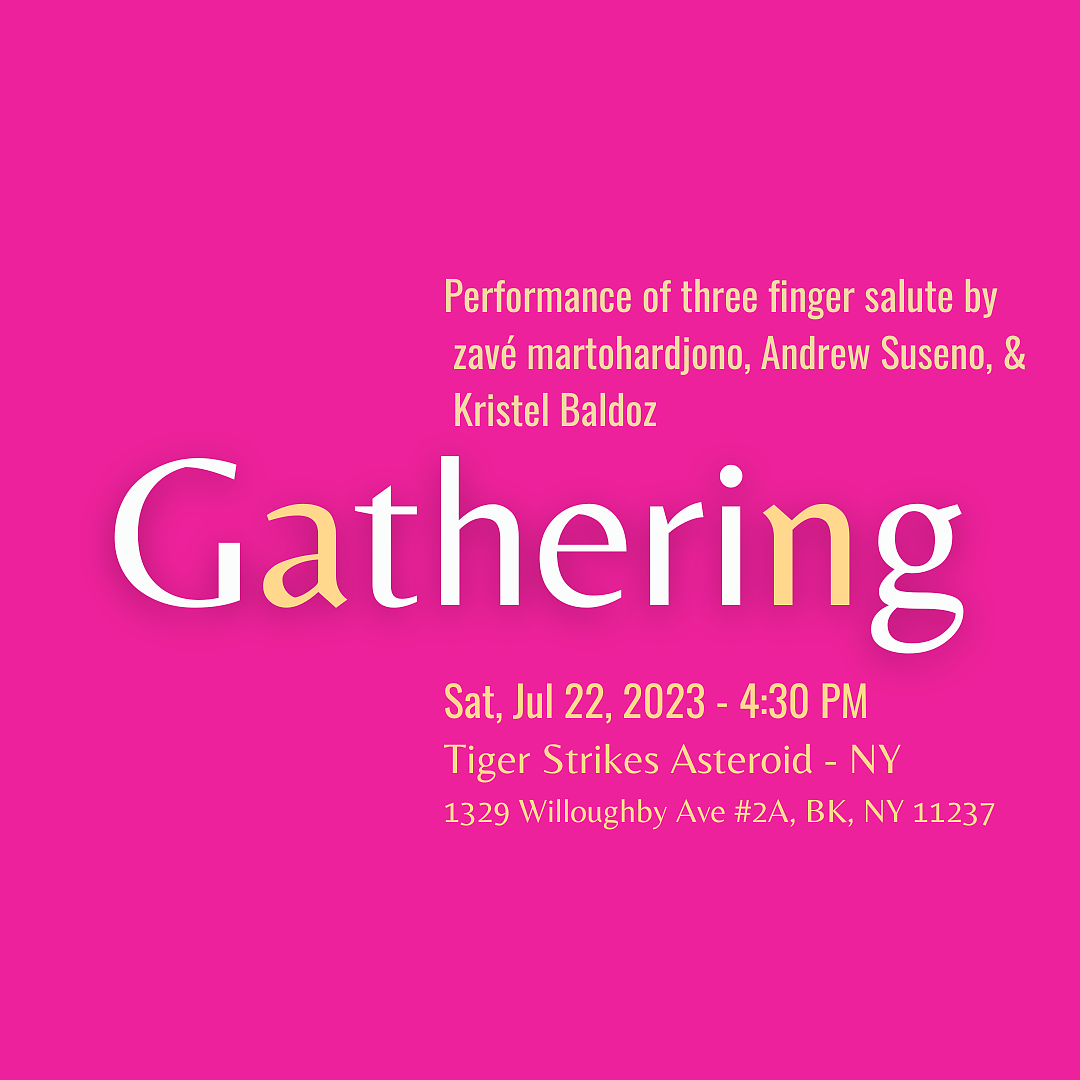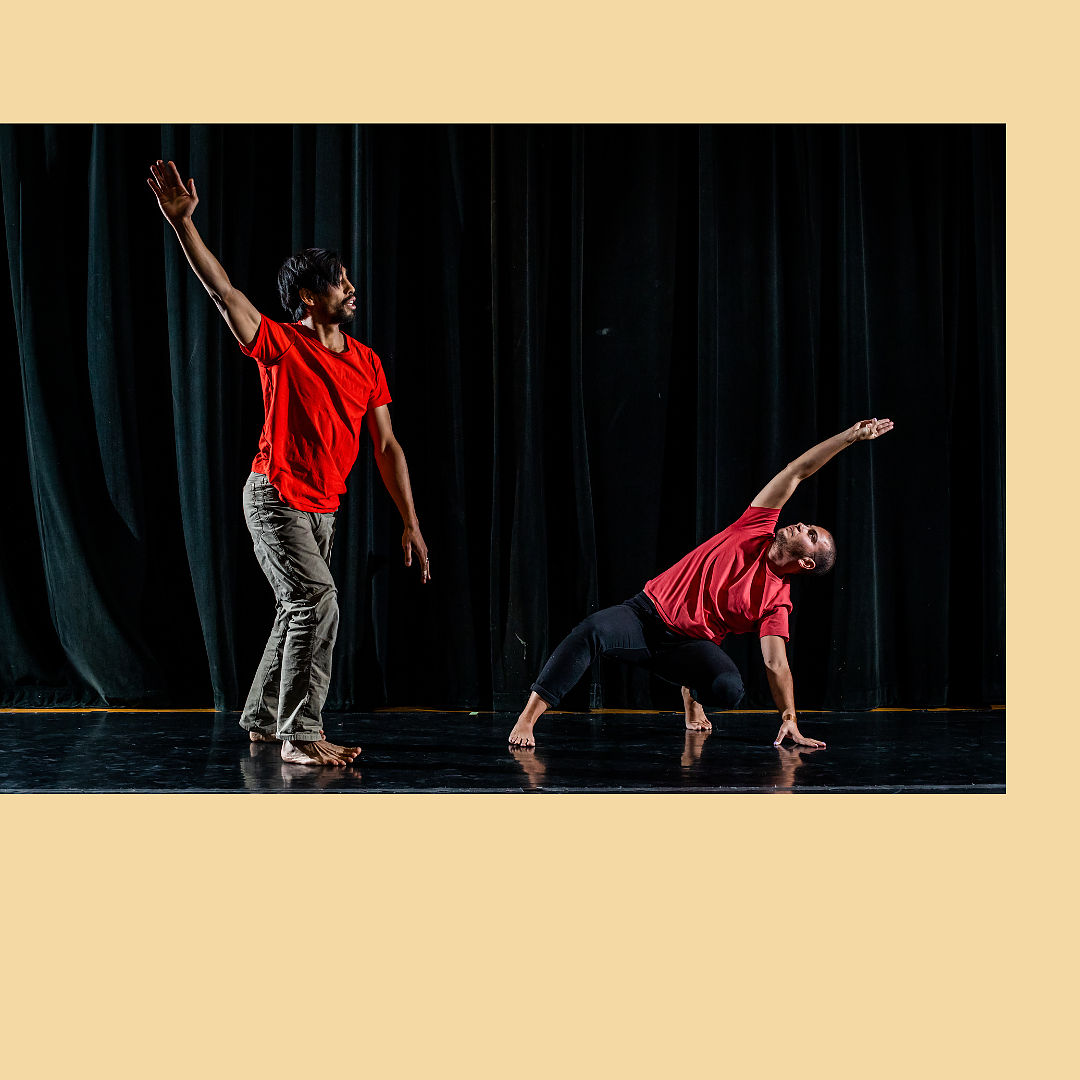 Performance
Gathering - three finger salute
Saturday, July 22, 2023
4:30 – 5PM
Inspired by protest gestures, including the "three finger salute" seen in 2021 anti-military resistance and political protests in Myanmar, zavé martohardjono, Andrew Suseno and Kristel Baldoz perform in and on the sidewalks of Tiger Strikes Asteroid-New York. The protest gesture symbolizes Southeast Asian solidarity. "three finger salute" also remembers martohardjono's fiercely independent Burmese great aunt, Oma Daisy, who passed away in 2021 as protests in Myanmar were erupting.
"three finger salute" is a part of "Gathering," an exhibition highlighting the relationships between forty-five Asianish artist members and their works at Tiger Strikes Asteroid–New York (TSA-NY) in Bushwick (Sat, June 24-Sun, July 30, 2023) and FiveMyles in Crown Heights (Sat, July 8-Sun, August 13, 2023), curated by Cecile Chong and Sophia Ma. Deeply invested in solidarity not only between Asian groups, Asianish works to embed and expand comradery between all BIPOC groups by reaching into the streets of Bushwick with "three finger salute".
Performance development is a long and laborious journey. To that end, the creators of "three finger salute" kindly requests your support: bit.ly/fund3fs
In March 2018, Sara Jimenez, Maia Cruz Palileo, Gabriel de Guzman, and Cecile Chong formed Asianish. The idea of the group came out of their experience after participating in the NYC Creative Salon around the theme "identity." The group is interested in informally sharing and discussing the nuanced and complex Asian identities and experiences in the US art world. The group holds space for these hybridized "Asian-ish" identities that are unique and specific to each member. The community continues to grow and recognize each other as a resource for growth, strength, and wisdom. As of May 2023, the group has 163 members.
The exhibition is sponsored, in part, by the Greater New York Arts Development Fund of the New York City Department of Cultural Affairs, administered by Brooklyn Arts Council (BAC) and the Asian Women Giving Circle, a donor-advised fund of the Ms. Foundation for Women. Tiger Strikes Asteroid's programs are made possible by the New York State Council on the Arts with the support of the Office of the Governor and the New York State Legislature. The co-curators thank the staff of FiveMyles and the artist members of Tiger Strikes Asteroid for their efforts.
Please contact asianishexhibition2023@gmail.com for press inquiries.
Follow us on Instagram @asianish2018.
Photo credit: Ashley Smith/Wide Eyed Studios
Artists Biographies
zavé martohardjono is a 2022 Bessie-nominated performer and multidisciplinary artist working in dance, film, and installation. A queer, trans, Indonesian-American artist, zavé was born in Canada and lives in unceded Lenapehoking aka Brooklyn. Their works dwell in ancestral mythologies, contend with the political histories our bodies carry, and dream up more just futures. zavé has been written about in the New York Times, BOMB Magazine, CultureBot, and Hyperallergic. They have been presented at the 92Y, BAAD!, Boston Center for the Arts, Bronx Museum of the Arts, Center for Performance Research, El Museo del Barrio, Gibney Center, HERE Arts, Issue Project Room, The Kennedy Center, and Storm King Art Center. zavé has exhibited at the Aljira Center for Contemporary Art, Asian Arts Initiative, Bemis Center for Contemporary Arts, Bronx River Art Center Gallery, Glasgow Center for Contemporary Arts, Leonard & Bina Ellen Art Gallery, SOMArts Gallery, and Winslow Garage.
Andrew Suseno is an Indonesian-Chinese American cis-hetero man residing on the unceded land of Lenaphoking. He is committed to challenging patriarchy, racism, and sexual violence in his practice of Contact Improvisation and Somatics. Andrew created Moving Rasa aka Parcon Resilience as a form of site-specific movement improvisation and inquiry that centers his hybrid experiences as a diaspora person of the Global Majority in his integration of 20+ years of CI, somatic practices, and anti-oppressive approaches. Rasa is the Indonesian word for taste or discerning feeling through the heart. Moving Rasa is a dynamic practice connecting to Andrew's Javanese and Indonesian roots inviting participants to bridge to their heart or essence. Moving Rasa LLC is the proud recipient of the two-year capacity grant by the American Rescue Plan Program for Survivors of Sexual Assault. During this time we will develop organizational capacity to provide technical assistance to AAPI community organizations across the country to incorporate Moving Rasa into their approach and programming for survivors and will also develop specific programming to work with Southeast Asian male survivors of Sexual Assault. In order to reduce the incidence of sexual assault the conditions that allow for the abuse of power must be addressed.
Kristel Baldoz is a Filipina-American artist from Delano, California, home to the Table Grape Strike. As a choreographer who works with ceramics, sculpture, film, and storytelling, she develops an aesthetic grounded in the textuality of objects, experimenting with how bodily movements translate into objects and how they become a conduit that materializes colonial relations. She was an EmergeNYC fellow at the Hemispheric Institute, artist-in-residence at the Jonah Bokaer Arts Foundation | Chez Bushwick, and a Brooklyn Art Exchange Space Grant Recipient. Recently, she was an artist-in-residence at Chautauqua Institution School of Visual Art and New York Live Arts Fresh Tracks Program. As a performer, she has worked with Reggie Wilson, Wilmer Wilson IV, and Alex Da Corte.