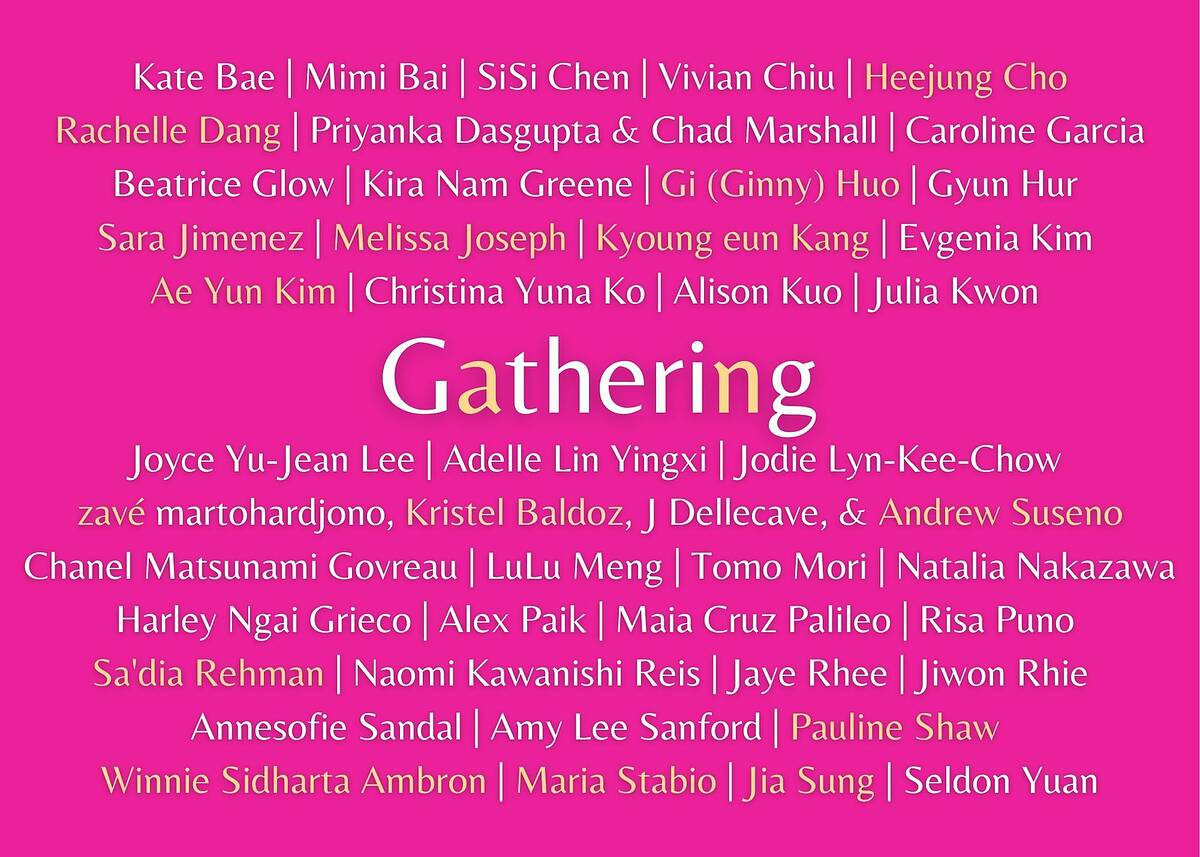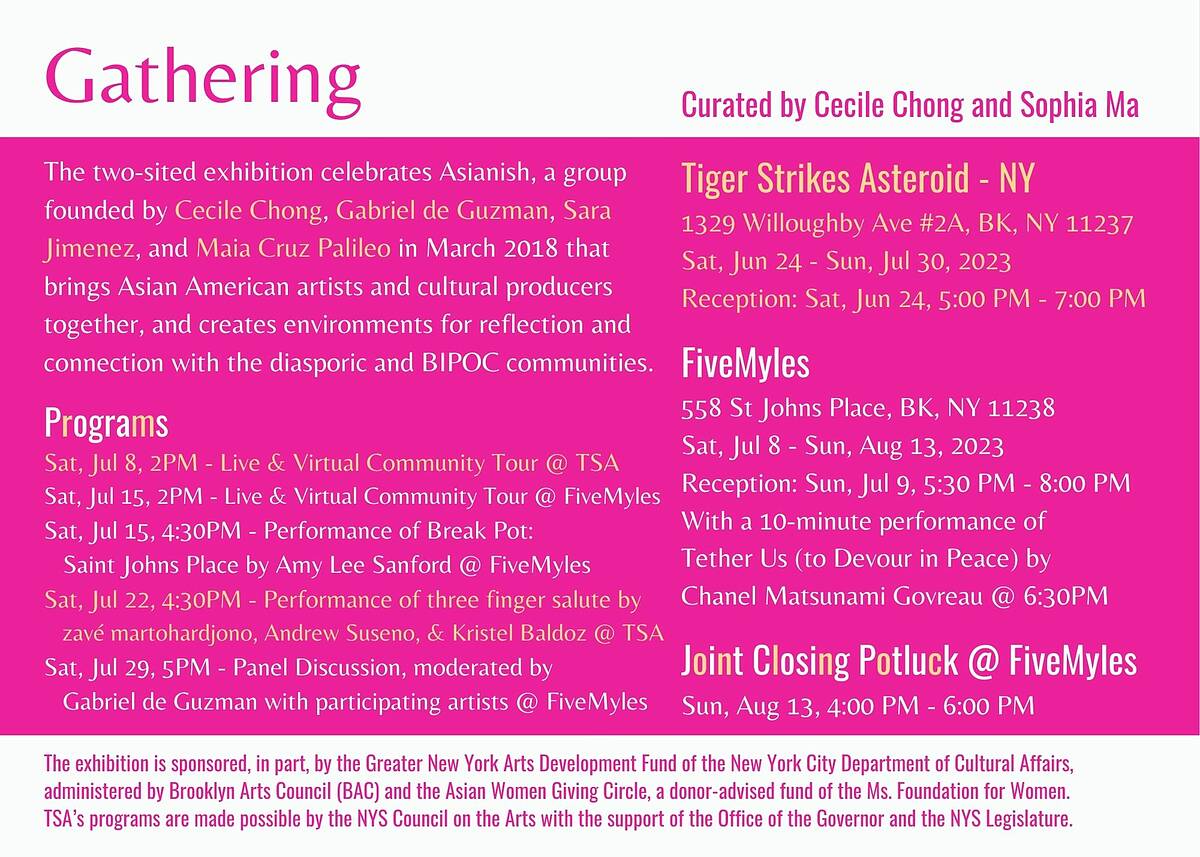 Exhibition
Gathering
June 24 – July 30, 2023
1 – 6PM
Co-curators Cecile Chong and Sophia Ma are proud to present Gathering, an exhibition highlighting the relationships between forty-five Asianish artist members and their works at Tiger Strikes Asteroid–New York (TSA-NY) in Bushwick (Sat, June 24-Sun, July 30, 2023) and FiveMyles in Crown Heights (Sat, July 8-Sun, August 13, 2023).
In March 2018, Chong, Gabriel de Guzman, Sara Jimenez, and Maia Cruz Palileo formed Asianish, an informal group of AAPI artists and art professionals, to create a safe space for a community of varying Asian identities. Since then, they have continued to gather around conversation, art, and food to share vulnerably and openly about code-switching in art contexts and the need for belonging in a country they call home. As members of the group, Chong and Ma wanted to gather the members in a new way and there was no better theme than what the group already does.
Asianish assembles for connection, visibility, and a place for their experiences and voices to be heard. This exhibition reveals the deep friendships between the artists and the intersections in their work. A myriad of subthemes arose, the most prominent of them being:
- Meditation and self and community reflection on COVID feelings. Artists created works that acknowledge and help process anti-Asian hate.
- Familial and cultural hi/stories and folklore as the basis for connection.
- Domestic objects and the illusion of home life as the gathering point.
- Fragmentation and reassembly as the formation of something new.
So gather with us and celebrate the first opening at Tiger Strikes Asteriod on Saturday, June 24, 5-7pm.
Artists included at Tiger Strikes Asteriod are Heejung Cho, Rachelle Dang, Gi (Ginny) Huo, Sara Jimenez, Melissa Joseph, Kyoung eun Kang, Ae Yun Kim, zavé martohardjono, Kristel Baldoz, & Andrew Suseno, Sa'dia Rehman, Pauline Shaw, Winnie Sidharta Ambron, Maria Stabio, and Jia Sung.
The exhibition is sponsored, in part, by the Greater New York Arts Development Fund of the New York City Department of Cultural Affairs, administered by Brooklyn Arts Council (BAC) and the Asian Women Giving Circle, a donor-advised fund of the Ms. Foundation for Women. Tiger Strikes Asteroid's programs are made possible by the New York State Council on the Arts with the support of the Office of the Governor and the New York State Legislature. The co-curators thank the staff of FiveMyles and the artist members of Tiger Strikes Asteroid for their efforts.
Beverages sponsors for Gathering opening receptions are Halmi @drinkhalmi, a bubbly new take on traditional Korean flavors, and Lunar Hard Seltzer @drinklunar, a one-of-a-kind piece of Asian Americana (in a can)!
Please contact asianishexhibition2023@gmail.com for any inquiries.
Follow us on Instagram @asianish2018.