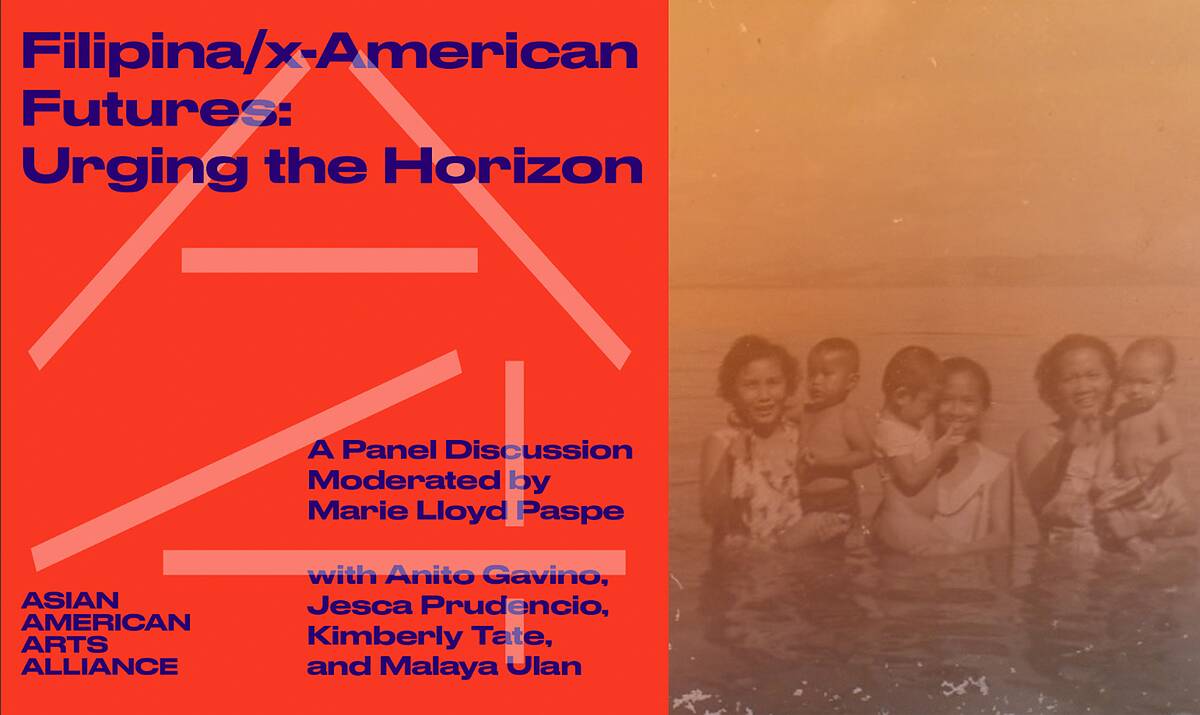 Panel Discussion/Talk
Filipina/x-American Futures: Urging the Horizon
Friday, October 21, 2022
6:30 – 8PM
As we celebrate Filipino American History Month, the Asian American Arts Alliance (A4) is pleased to present a special conversation with Filipina/x creators moderated by our 2022 Jadin Wong Fellow, Marie Lloyd Paspe.
Historically and culturally, Filipina/x creators have led the paths of opportunity and class mobility, yet statistically, there is an egregious lack of Filipina/x directive and creative leadership roles in the performing arts.
In this panel, Marie aims to center women and femme experiences of migration, mobility, sexuality, and ownership across different generations. The panel will excavate the ways American contemporary culture has influenced and challenged the body while igniting creative process and storytelling in white- and male-dominated spaces.
This panel will take place virtually on Zoom and is FREE with RSVP.
Panelists include:
Anito Gavino (she/they) – mother, movement artist, choreographer, educator, multidisciplinary storyteller
Jesca Prudencio (she/her) – director, choreographer, Associate Professor & head of directing at SDSU
Kimberly Tate (she/they/we) – mother, embodied designer, social practice artist, educator
Malaya Ulan (she/her) – daughter, visual artist, actress, dancer, writer, filmmaker
Marie Lloyd Paspe (she/her) – dance and vocal performer, choreographer, educator, culture bearer
About Anito Gavino
Annielille "Anito" Gavino affectionately known as Anito ( meaning "Spirit" in Tagalog) is a Filipinx movement artist, choreographer, educator, writer, cultural worker, and multidisciplinary storyteller native to the island of Panay, Philippines. Since immigrating to the United States in 2000, Gavino has danced professionally with Rod Rodgers Dance Company, Cleo Parker Robinson Dance Ensemble, Dallas Black Dance Theatre, Latin Ballet of Virginia, Kun Yang- Lin/ Dancers, Ananya Dance Theater and has had the honor of working with Katherine Dunham, Eleo Pomare, Donald McKayle, Alonzo King, Diane McIntyre, Milton Myers, Ronald K. Brown, to name a few.
In Philadelphia, she directs her project-based company Ani/Malayaworks where she utilizes dance, film, and literature as vessels for inscription, community engagement, resistance, and spiritual journeys. Her identity as a mother and as a foreign-born immigrant is her driving force for decolonial art activism. Since the conception of Ani/Malayaworks in 2014, she has been supported by the MAPfund, Velocity Fund, Scribe Film Grant, Asian Arts Initiative, Career Transition Award, Dance Place, Fleisher Art Memorial, Barnes Foundation, Bronx Academy of Arts and Dance, Movement Research at the Judson Church, Philadelphia Asian American Film Festival, Dance Place DC, National Performance Network, Small but Mighty Arts, Painted Bride, and was a recipient of the 2021 Leeway Transformation Award. She hopes to continue the work of using dance as a conduit to inquiry and social change. Annielille is a Visiting Assistant Professor at Muhlenberg College, a dance writer for thINKing Dance and an MFA graduate of Hollins University.
About Jesca Prudencio
Jesca Prudencio is a director and choreographer dedicated to developing new theatrical works that humanize issues nationally and internationally. Recent works: King Liz (Geffen Playhouse), Can We Now? (La Jolla Playhouse WoW Fest), It's a Ship Show! (Virgin Voyages), Interstate, a new musical by Kit Yan and Melissa Yi (East West Players), and the award-winning short film American Quartet (Filmelodic, NYC). Other credits include The Great Leap by Lauren Yee (Steppenwolf), Vietgone and Actually (San Diego Rep), Calling (La MaMa ETC), Man of God (East West Players), A&Q (Pineapple Lab, Philippines) and FAN (B-Floor, Thailand). Jesca has developed new work at MCC Theater, Atlantic Theater Company, Cleveland Playhouse, Arena Stage, NAMT, and La MaMa. Up Next: World Premiere of Bald Sisters by Vichet Chum at Steppenwolf). She is a recipient of The Drama League Fellowship and the inaugural Julie Taymor World Theater Fellowship. Jesca is head of directing at San Diego State University where she is an Associate Professor. BFA: NYU Tisch, MFA: UC San Diego. Jescaprudencio.com
About Kimberly Tate
Kimberly Tate (she/they/we) is a Filipinx multidisciplinary embodied truth seeker cultivating a life, family, and community in Lenapehoking (Flatbush, Brooklyn). She is the grandchild of Alfred and Josefina Pacho Tate and Felipe and Rosario Alibadbad Serrano from the Eastern Visayas of the Philippines.
Her work emerges through installation, performance art, care circles, wellness workshops, natural ink making, and village building. A trained dancer and architect, Kimberly creates, teaches, mothers, and performs between disciplinary boundaries to dream, to heal, to make space for grief and joy, to build kinship and belonging, to restore our embodied inheritances, and to recover agency in spheres we inhabit and design.
She is faculty at Parsons School of Design, an educator at the AIANY Center for Architecture, a recipient of a Tischman Environmental Design Center grant, and a 2020 Create Change Fellow with The Laundromat Project. She has presented both internationally and domestically at venues including The Highline, Downtown Brooklyn Arts Festival, Common Field Convening, Brooklyn Wildlife Festival, Judson Church, House Dance International, Women to the Front, and Insitu Site-Specific Dance Festival. She has collaborated and performed with Akim Funk Buddha, Andrew Suseno/Moving Rasa, Walang Hiya NYC, and Jill Sigman Thinkdance, among others.
About Malaya Ulan
Malaya Ulan (Freedom Rain) is a fourteen-year-old Filipino-American international artist. Ulan utilizes mediums such as poetry, dance, film, and visual art to share and empower her voice. She has received awards from Mighty Writers and taken part in Scribe and WHYY programs/internships. Ulan has performed in venues such as the Bronx Academy of Arts and Dance, Movement Research at Judson Dance Theatre, Barnes Foundation, Asian Arts Initiative, Philadelphia Fringe Festival, Outlet Dance Festival, Swarthmore University, Multicultural Education in Counseling through the Arts, and Festive Walk (Philippines). She performs with her mother, Anito Gavino, in their collaborative dance company Ani/Malaya Works Dance. Ulan has also co-produced De-Scribing, a collection of poetry and writings, with her mother. She recently released her solo poetry collection, Ulan-When my Tears Turn into Roses.
About Marie Lloyd Paspe
Marie Lloyd Paspe is a dance and vocal performer, choreographer, movement director, educator, and culture bearer based in Lenapehoking/Brooklyn, NY. Of Filipina descent of Batangas and Iloilo, Philippines, she was born in Singapore, grew up in Mississauga, Canada, migrated to Bellingham, MA in 2000, and received U.S. citizenship in June 2019. Her creative interests excavate Filipinx-American diasporic identity work within spaces of memory, fascia, and time, igniting kapwa (shared identity) in communities and process. Her work to re-root identity with site-specific dance and installation works exist within–yet juxtapose–the experiential, the eurocentric, and the white-dominated space. Her work has been presented internationally in Germany, Israel, and the Philippines, and nationally in NYC, MASS MoCA, and LA. Marie has performed with the Bill T. Jones/Arnie Zane Company since 2018, and is the Asian American Arts Alliance 2022 Jadin Wong Fellow.