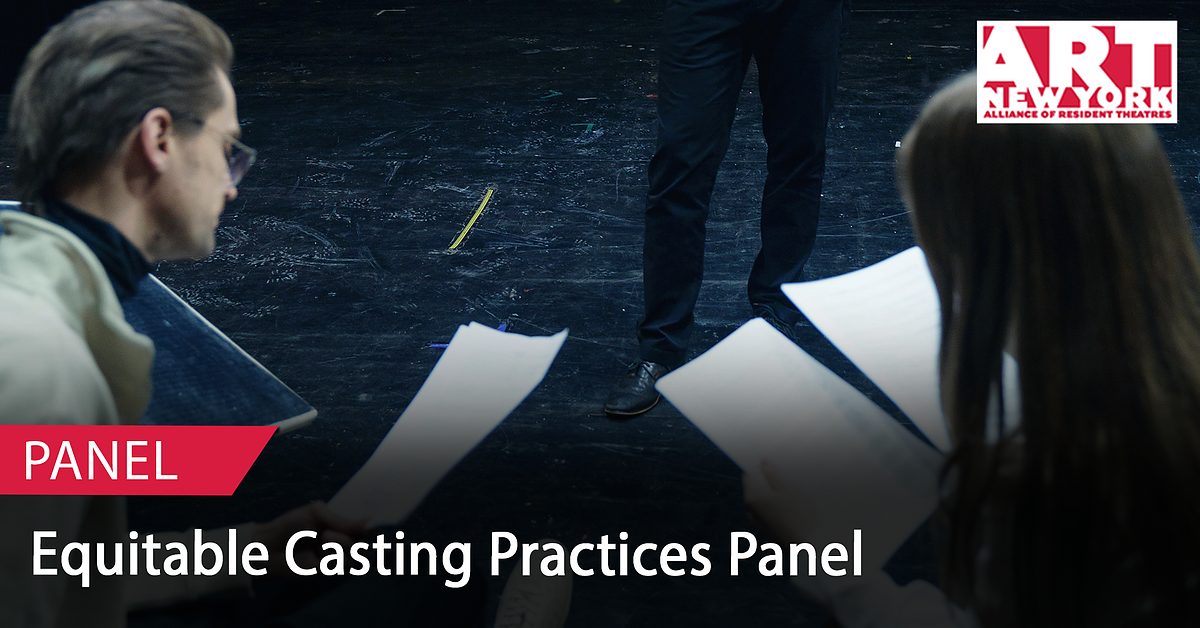 Panel Discussion/Talk
Equitable Casting Practices Panel
Monday, May 9, 2022
6 – 7:30PM
Monday, May 9, 2022
6:00pm - 7:30pm ET
Format: Online
Location: Zoom
Intended Audience: This panel is suitable for any A.R.T./New York member involved in the casting process at their organization.
Participation Level: Low - Moderated panel discussion followed by Audience Q&A
The casting process can often be demoralizing, discriminatory, and tokenizing for people of marginalized identities, but it doesn't have to be this way. By centering anti-racism, anti-ableism, and equity in our casting practices, we can make the experience better for everyone involved, and work towards creating a more equitable job market for all artists. Join A.R.T./New York and a diverse panel of performers and casting professionals for their insights into character breakdowns, audition best practices, and more.
This panel discussion will take place on Zoom and will be recorded. Only those who are spotlighted and/or speaking will be a part of the recording. If you do not wish to be recorded, you are welcome to ask questions via the chat. If you are unable to attend the live discussion, be sure to check out the recording on our YouTube page!
Panelists
Tavia Jefferson is a performer, director and communication specialist. After earning her Communications degree from Chapman University, Tavia returned to the arts, performing in shows including, All Shook Up, Trav'lin, Hairspray, Beehive, HAIR, Little Shop of Horrors, Cirque du Soleil's Michael Jackson ONE, the National Tour of Motown the Musical and Disney Theatricals workshop cast of Aida. During the pandemic, Tavia focused her skills in interpersonal and organizational communication and cultural relations to build the specialized role of Cultural Coordinating, designed to improve cultural competency in artistic spaces. Tavia is currently Cultural Coordinator for multiple regional, touring and Broadway productions, including To Kill a Mockingbird, Company, Hairspray and Other World at Delaware Theatre Company.
Ben Raanan is a disabled theatre maker and advocate originally hailing from Chicago, Illinois. His artistic focus is centralized around creating artistically rigorous theatre with, for, and about the disabled community. Currently, Ben is the Artistic Director at Phamaly Theatre Company, the longest running theatre company with a disabled aesthetic in the United States. Ben received his BFA from Drake University with a concentration in directing/musical theatre, and his MFA in directing from DePaul. Some of his favorite directing credits include: Macbeth (Spectrum Shakespeare), Antigone: Born Against, Eleemosynary, Bob: A Life In Five Acts, Crumble: Lay Me Down Justin Timberlake (Ensemble Theatre Cincinnati) Mockingbird (Falcon Theatre) Falling, King Oedipus, I & You (The Theatre School at DePaul University.)
Gama Valle (él/him/his) is a New York based casting director, director, playwright, screenwriter and children's book author. He holds an M.F.A in Directing from The New School and a B.A. in Drama from University of Puerto Rico. Gama is a proud member of New Light Theater Project. His Spanish languge debut picture book was published in December 2021 by Editorial Destellos (Puerto Rico). For more information regarding his casting work, please visit www.bassvallecasting.com.