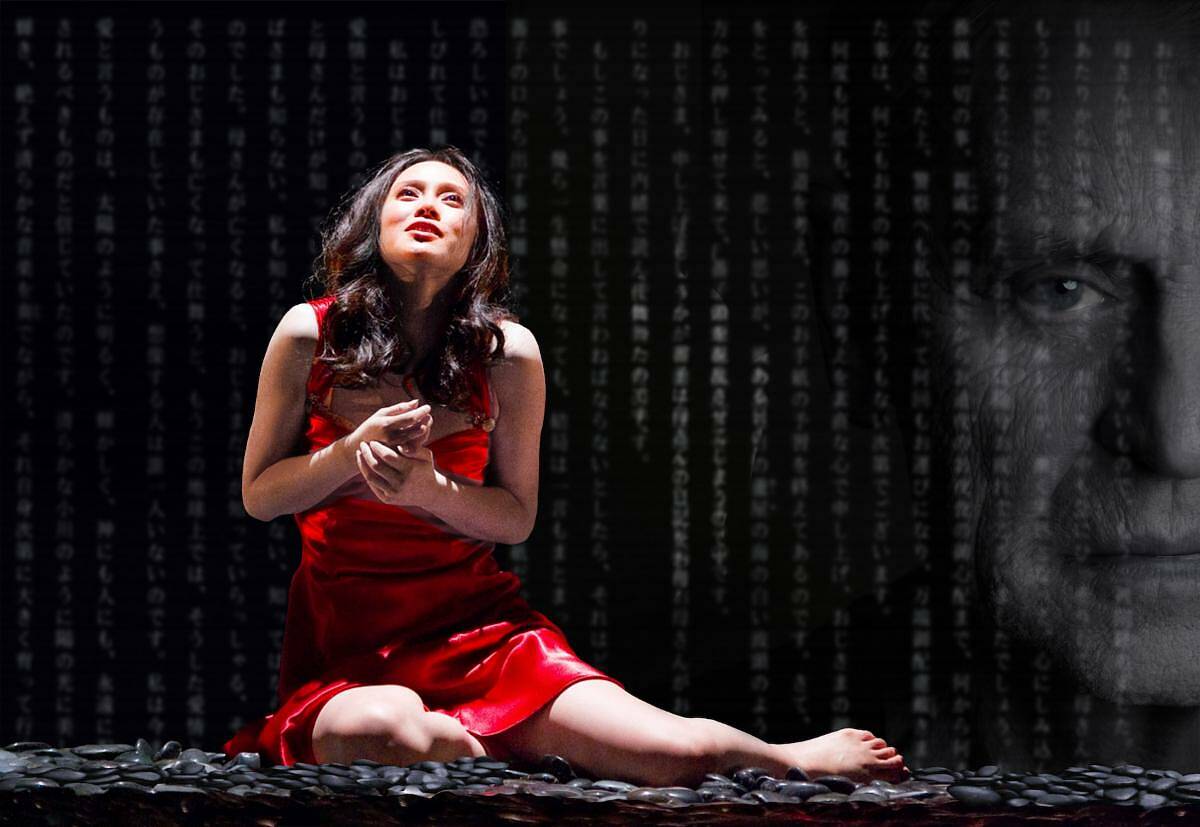 Performance
Emanuela Barilla presents the United States Premiere of Yasushi Inoue's The Hunting Gun with Miki Nakatani and Mikhail Baryshnikov, directed by François Girard
March 16 – April 15, 2023
7:30 – 9PM
Emanuela Barilla presents the U.S. premiere of Yasushi Inoue's The Hunting Gun from March 16 - April 15, 2023 (Tuesday through Saturday at 7:30pm, Sunday at 2pm) at Baryshnikov Arts Center, Jerome Robbins Theater, 450 W. 37th Street, NYC. Adapted for the stage by Serge Lamothe and directed by François Girard, The Hunting Gun is a two-hander starring Miki Nakatani as Shoko, Midori, and Saiko and Mikhail Baryshnikov as Josuke Misugi. Tickets are $35, $70, $100 & $150. For more information or to purchase tickets, visit http://www.thehuntinggun.org/.
Three letters.
One tragedy.
Josuke Misugi receives three letters from different women: his wife, his mistress and her daughter. The first is from young Shoko, who just discovered her mother's affair through the reading of her diary. The second is from his wife Midori, revealing she's known about the infidelity from the start. And the third is a farewell from Saiko, his lover of thirteen years: "By the time you read this, I will no longer be among the living."
Weaving these three viewpoints with consummate skill, one of Japan's most celebrated authors Yarushi Inoue gives universal resonance to Misugi's demise. He turns what could have been the mundane account of adultery into a compelling love story that is considered a classic of world literature.
This stage adaptation is a monologue for three voices, and a single actress embodies all three women, transforming before our eyes. At the end of her letter, Shoko drops her school uniform to reveal Midori's exuberant outfit who, in turn, undresses to slip into Saiko's funeral kimono.
Behind a scrim presenting fragments of letters, the increasingly tormented hunter Josuke Misugi cleans his gun. He seems to exist in a different time space. The simple action he performs, which would normally take only a few minutes, is stretched through the entire duration of the play: piking up his gun in ultra-slow-motion, inspecting it, meticulously cleaning its barrels and finally standing to aim at his wife's back.
Borrowing from Japanese Zen aesthetics, the set's floor is successively draped with three fundamental elements: water, stone, and wood. After Shoko wanders in a lily pond, the waters withdraw to reveal a terrain of smooth black stones. Then, at the climax of Midori's rage, the stones magically vanish to expose a wooden deck on which Saiko recites her suicide letter.
Adapted for the stage by Serge Lamothe
With Miki Nakatani & Mikhail Baryshnikov
Directed by François Girard
Producer Cath Brittan
Creative Producers David Finn & François Girard
Co-Producer Misaki Mouri
Set François Séguin
Lighting David Finn
Costumes Renée April
Music Alexander MacSween
The Hunting Gun was originally produced by Parco Theatre, Tokyo and Danièle de Fontenay (Usine C, Montreal). It received three Yumiori Awards and two Kinokunya Awards, including two for Best Theatre Production and two for Best Actress.
About the Artists:

Born in Riga, Latvia and living in New York City, Mikhail Baryshnikov has distinguished himself as an extraordinary dancer and performer in theater, television and film. In a career spanning more than 50 years, he has worked with George Balanchine, Jerome Robbins, and many other illustrious choreographers and directors. From 1979-1989 he was artistic director of American Ballet Theater where, for the next decade, he introduced a new generation of dancers and choreographers. From 1990-2002, Mr. Baryshnikov was director and principal dancer of the White Oak Dance Project, co-founded with choreographer Mark Morris.
Film: The Turning Point (directed by Herbert Ross), Broadway: Metamorphosis (dir. Steven Berkoff), Off-Broadway: Beckett Shorts (dir. JoAnne Akalaitis). National and international tours: Forbidden Christmas or The Doctor and the Patient (dir. Rezo Gabriadze), In Paris (dir. Dimitry Krymov), Man in a Case (dir. Annie B. Parson and Paul Lazar), The Old Woman (dir. Robert Wilson), Letter to a Man (dir. Robert Wilson), Brodsky/Baryshnikov (dir. Alvis Hermanis), and The White Helicopter (dir. Alvis Hermanis). Recent projects include 
NOT ONCE., a cinematic installation developed in collaboration with Jan Fabre and Phil Griffin, and The Orchard, a theatrical production with director Igor Golyak based on Chekhov's masterpiece The Cherry Orchard.
In 2005, he opened the Baryshnikov Arts Center (BAC), a creative space designed to support multidisciplinary artists from around the globe. Mr. Baryshnikov's many awards include the Kennedy Center Honors, the National Medal of Arts, the rank of Officer of the Legion of Honor of France, Japan's prestigious Praemium Imperiale International Arts Award in Theatre/Film, and most recently the Royal Academy of Dance 's Queen Elizabeth II Coronation Award.
 
Miki Nakatani was born in Tokyo in January 1976 and started her career in 1993. She has won six Japan Academy Prizes for her work: Best Supporting Actress for When the Last Sword Is Drawn (2003, directed by Yojiro Takita), Best Leading Actress for Memories of Matsuko (2006, directed by Tetsuya Nakajima), Best Leading Actress for Jigyaku NoUta (2007, directed by Yukihiko Tsutsumi), Best Supporting Actress for Zero Focus (2009, directed by Isshin Inudo), Best Actress Award for Hankyu Railway -A 15 Minute Miracle (2011, directed by Yoshishige Miyake), and Best Supporting Actress in a Leading Role for Ask This of Rikyu (2013, directed by Mitsutoshi Tanaka). Appearances in foreign productions include Silk (2007, directed by François Girard) and FOUJITA (2015, directed by Kohei Oguri). In 2011, she made her debut as a stage actress in The Hunting Gun at USINEC, Montreal. In the same year, she staged a return performance in Japan, winning the Kinokuniya Theatre Award Actress of the Year and the Yomiuri Theatre Awards for Best Actress. The following year, she won the Yomiuri Theatre Award for Best Actress for her performance in Lost in Yonkers by Neil Simon.
François Girard was born in 1963 in Lac St-Jean, Quebec. He gained notoriety as much for his filmmaking as for his staging of operas and theater. In 1993, his feature film Thirty Two Short Films About Glenn Gould would go on to garner international success. Five years later The Red Violin, which received an Academy Award for the best original score, enshrines Girard on the international movie scene. Followed Silk in 2007, Boychoir in 2014 and Hochelaga, Land ofSouls in 2018. His latest film The Song of Names was released in 2019. Let's also mention Peter Gabriel's Secret World which earned him a Grammy Award for the best concert film in 1995. In 1997, Girard made his opera directorial debut with Oedipus Rex/Symphony of Psalms. His other opera credits include Lost Objects, Siegfried, Seven Deadly Sins/ Lindbergflug and Émilie. He also signed Parsifal and Der Fliegende Hollander at the Metropolitan Opera in New York and just premiered Lohengrin at the Bolshoi Theatre in Moscow. For the stage, he directed Alessandro Baricco's Novecento, Franz Kafka's Trial, Yasushi Inoue's Hunting Gun, Samuel Beckett's Waiting for Godot and Glen Berger's Underneath the Lintel. Cirque du Soleil's commissioned Girard to write and direct Zed, their first permanent show in Tokyo and Zarkanawhich opened at Radio City Music Hall, played at the Kremlin Theatre became a resident show in Las Vegas. To date, François Girard's works have earned over one hundred international awards and public acclaim the world over.
François Séguin, who makes his home in Montreal, is an acclaimed designer of feature films, television series, and live theatrical stage productions around the world. He has won five Genie Awards for Achievement in Art Direction from the Canadian Academy of Film and Television and has been nominated twice more. Séguin has collaborated with director François Girard on films such as Hochelaga, Land of Souls, Red Violin, and Silk, as well as on the Cirque du Soleil show, Zed, in Japan. He designed Cirque du Soleil's Las Vegas show Michael Jackson: One, before travelling to China to design Dragon's production of The Han Show. Feature film credits include John Crowley's Academy Award-nominated Brooklyn, which earned Séguin numerous accolades, including a Jutra Award (aka, Prix Iris) from Québec Cinéma and a Critics Choice Award nomination. Other notable credits include Lucky Number Slevin and Push for director Paul McGuigan; Billy Ray's Shattered Glass; The Karate Kid; The Mortal Instruments: City of Bones, for director Harald Zwart; and the Denys Arcand directed Jesus de Montreal and Les Invasions Barbares. Séguin also designed the acclaimed Showtime television series, The Borgias, for director Neil Jordan, which earned an Emmy Award nomination for Outstanding Art Direction. He recently designed the upcoming fantasy series, Carnival Row, for Amazon Studios, starring Orlando Bloom, Cara Delevingne, and Jared Harris.
David Finn's professional career began at age 16, working for puppeteer Burr Tillstrom.   As a lighting designer, his work with such choreographers as Twyla Tharp, Paul Taylor, Jose Limon, Liam Scarlett, Yuri Possokhov, Sasha Waltz, and James Kudelka has been seen at the Paris Opera Ballet, Royal Ballet, Joffrey Ballet, National Ballet of Canada, San Francisco Ballet, Sasha Waltz & Guests, Australian Ballet, and the White Oak Dance Project, amongst others.  Opera work includes productions for The Metropolitan Opera, La Scala Milan, Salzburg Festival, Paris Opera, Royal Opera, Australian Opera, Het Musiektheater, Staatsoper Berlin, New York City Opera, San Francisco Opera and Canadian Opera Company.  Awards include the 2011 Yomiuri Award for Outstanding Lighting Design for The Hunting Gun (Tokyo), three Dora Mavor Moore Awards (Canadian Opera Company) and a Knight of Illumination Award (Royal Ballet). David's work with Cirque du Soleil includes Michael Jackson One, Zed, and R.U.N..  Recent and upcoming projects include: Cinderella for The Royal Ballet, Antony & Cleopatra for The San Francisco Opera, Lohengrin for The Metropolitan Opera, The Ring Cycle for director Sir David McVicar at La Scala, Summer & Smoke for The Houston Ballet, and the North American Tour for The Chicks.  David is currently designing the lighting for Rockefeller Center's new rooftop experience to open in 2024.
Renée April is a costume designer and leader in her field. She has worked on more than 50 Hollywood and television productions, including The Red Violin, Grey Owl, Blindness, Night at the Museum, Arrival and Blade Runner 2049. She is one of the artisans raising Canada's international profile in the film industry. She is known as a mentor in the field, guiding designers, tailors and props managers. Her creations have earned her several nomination and industry awards, notably Gemini and Genie awards. She has also designed costumes for theatre and Cirque du Soleil's show Zed.
 
A composer, musician and sound designer, Alexander MacSween has traversed several musical genres and participated in numerous dance, theatre and film projects. Notable collaborations include productions with Marie Brassard, Alonso King LINES Ballet, Robert Lepage, and The Stratford Festival. Alexander collaborated previously with François Girard on his 2020 production, Zebrina. He is active as a drummer and multi-instrumentalist in the fields of rock, electronic and improvised music. Notable groups include Bionic, Detention, Foodsoon and The Nils. Alexander performs as a solo artist, creates sound installations and teaches workshops in live sound processing for the performing arts in diverse institutions around the globe. He was a finalist for the 2018 Siminovitch Prize in Theatre. He lives in Montreal, Canada, city of his birth.
Serge Lamothe is a novelist, poet and dramatist. As a close associate of François Girard, his literary expertise has led him to work for opera, theater, circus and film. For Cirque du Soleil: Zed (Tokyo, 2008) and Zarkana (Radio City, 2011). For the Opera of Lyon, France: The Seven Deadly Sins and Lindbergh's flight (Weil & Brecht, 2006), Emilie (Kaija Saariaho, 2010). For the Metropolitan Opéra of New York: Richard Wagner's Parsifal (2013), Der fliegende Holländer (2020) and Lohengrin (2023). Apart from Yasushi Inoue's The Hunting Gun, his many theatrical adaptations include: The Trial (by Franz Kafka, TNM, Montreal, 2004) and The temple of the golden pavilion (by Yukio Mishima, directed by Amon Miyamoto, Kanagawa Arts Theater, Japan, (2011-2014). His literary works include the novels Oshima (2019), Mektoub (2016), Les enfants lumière (2012), The Baldwins (2006), and many others.
Cath Brittan is originally from Manchester, England. She lived in Vienna for many years and was a producer for the Vienna Festival. She has worked as production manager and producer in theaters and opera houses around the world including English National Opera, London; The Bolshoi, Moscow; Teatro Real, Madrid; The National Theater of Finland, Opera de Comique, Paris; Grand Théâtre de Genève, Geneva, and many more. Recent and up-coming productions include Aci, Galatea e Polifemo (dir. Christopher Alden) and Glass Handel (2018 & 2019, BBC Proms 2022), Comet Poppea (dir. Yuval Sharon), Bandwagon (New York Philharmonic), Amadigi de Gaula (dir. Louisa Muller) all with Anthony Roth Costanzo; Das Paradies und die Peri, Los Angeles Philharmonic and Peter Sellars; 2018/19 and 19/20 Soundbox Season, Kronos Quartet; San Francisco Symphony; Orphic Moments (dir. Zack Winokur) with The Master Voices; Abraham In Flames (composer Aleksandra Vrebalov); Perle Noir (Tyshawn Sorey & Julia Bullock at The Met Museum); Arkhipov(composer Peter Knell); Birds in the Moon (composer Mark Grey); Ihpigenia (Wayne Shorter & Esperanza Spalding) and UnRavelled (dir. James Bonas). Cath is also the producer for AMOC* (American Modern Opera Company).
Misaki Mouri is a Japan-based producer who has worked as a producer at PARCO Theatre and as programming director at Kanagawa Arts Theatre. She has produced everything from plays to musicals and contemporary dance, and her work expands beyond Japan to Europe. Representative and recent productions include Shintoku Maru directed by Yukio Ninagawa at Theater Cocoon in Tokyo and the Barbican Theater in UK; the world premiere of Nijinsky directed by John Tillinger; the world premiere of The Roman Spring of Mrs. Stone directed by Robert Allan Ackerman; Candide directed by Amon Miyamoto, conducted by David Charles Abell; Pacific Overtures directed by Amon Miyamoto; Sunday in the Park with George directed by Amon Miyamoto; Take Flight directed by Amon Miyamoto, conducted by David Charles Abell; The Temple of the Golden Pavilion directed by Amon Miyamoto at Kanagawa Arts Theatre and the 2011 Lincoln Center Festival; Mary Stuart directed by Max Webster; The Sea of Fertility directed by Max Webster; The Soldiers Tales directed by Will Tuckett, a re-production of the Royal Opera House in UK; Every Good Boy Deserves Favour directed by Will Tuckett; The Royal Hunt of the Sun directed by Will Tuckett, starring Ken Watanabe; Singin' in the Rain directed by Jonathan Church, choreographed by Andrew Wright, a co-production with Jonathan Church and Chichester Festival Theatre. Misaki was one of the producers for the original production of The Hunting Gun, which won a number of theatre awards in Japan.