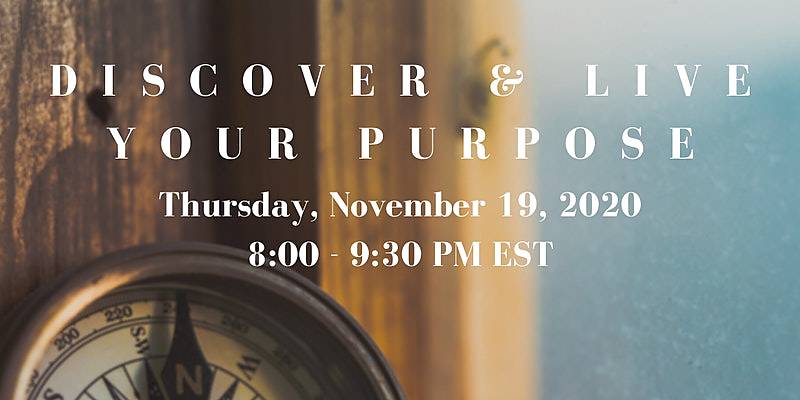 Workshop
Discover & Live Your Purpose
Thursday, November 19, 2020
8 – 9:30PM
Are you feeling stuck or lost? Do you have a feeling that you're meant to do more with your life? Are you trying to figure out your purpose?
About this Event
If you answered yes to any of these questions, this workshop is for you!
There is only one YOU – you have unique perspectives, gifts and talents that you bring to the world. You are meant to find your purpose and fulfill it. You were put on Earth to make a difference.
During this 90 minute workshop, you'll learn what it means to live your purpose and how it feels when you're living in alignment with your purpose. We'll also discuss the 3 roadblocks that prevent people from tuning into their purpose and how to address them. Lastly, we'll delve into the 3 questions that you can ask yourself in order to uncover your purpose so that you can have the life you've always wanted.
Sliding Scale Pricing: $15-$30. A $30 dollar "Angel" ticket opens a seat for someone in financial need.
~
About Angela:
Angela is an International Life Purpose and Career Coach. She helps driven professionals who feel stuck and unfulfilled to discover their purpose so that they can have both the impact and income that they want. Additionally, Angela completed her 200-hour Yoga Teacher Training in India and approaches coaching from the belief that it is our birthright to lead happy and joyous lives. Previously, she hosted monthly workshops for professionals working at Rockefeller Center to engage in various discussions and exercises pertaining to personal and professional development. Sign up for her FREE guide, 6 Steps to Living Your Purpose and learn more about her work at www.angelachoi.co.