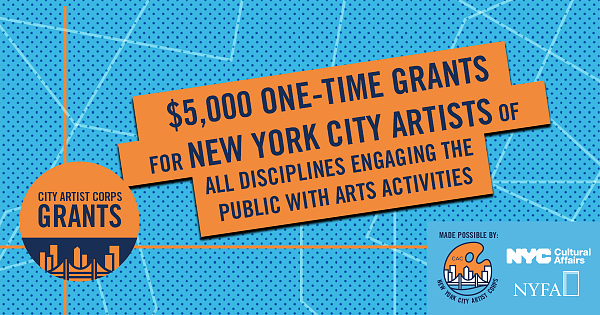 Workshop
Dance/NYC's One-on-One City Artist Corps Application Assistance
July 9 – August 23, 2021

Dance/NYC will hold virtual one-on-one technical assistance sessions via Zoom in English and Spanish for application Cycles 2 and 3.
Cycle 2 One-on-One Sessions:
Friday, July 9, 2021 through July 20, 2021.
Cycle 3 One-on-One Sessions:
Thursday, July 29, 2021 through Tuesday, August 10, 2021.
Registration for one-on-one sessions will open on Tuesday, July 27, 2021.
Registration will be on a first-come, first-served basis. Applicants will be able to register for one:
One (1) 20-minute session to receive one-on-one support, including but not limited to answering questions about eligibility, required materials, etc. Register here for 20-minute session.
OR
One (1) 40-minute session assisting with the completion of the application on Submittable. Priority for 40-minute sessions will be given to disabled applicants and/or applicants who do not have access to Wi-Fi and/or a computer for the purposes of submitting an application. Register here for 40-minute session.
ASL interpretation and Closed Captioning will be available upon request at the time of registration.
For additional support, or if you have further questions, you can visit Frequently Asked Questions, Technical Assistance Schedule, and/or Translated Information.
Applicants may also submit questions not already addressed on the FAQ page by email: cityartistcorps@dance.nyc. As appropriate, received applicant questions will be shared with NYFA to be added to the FAQ page.