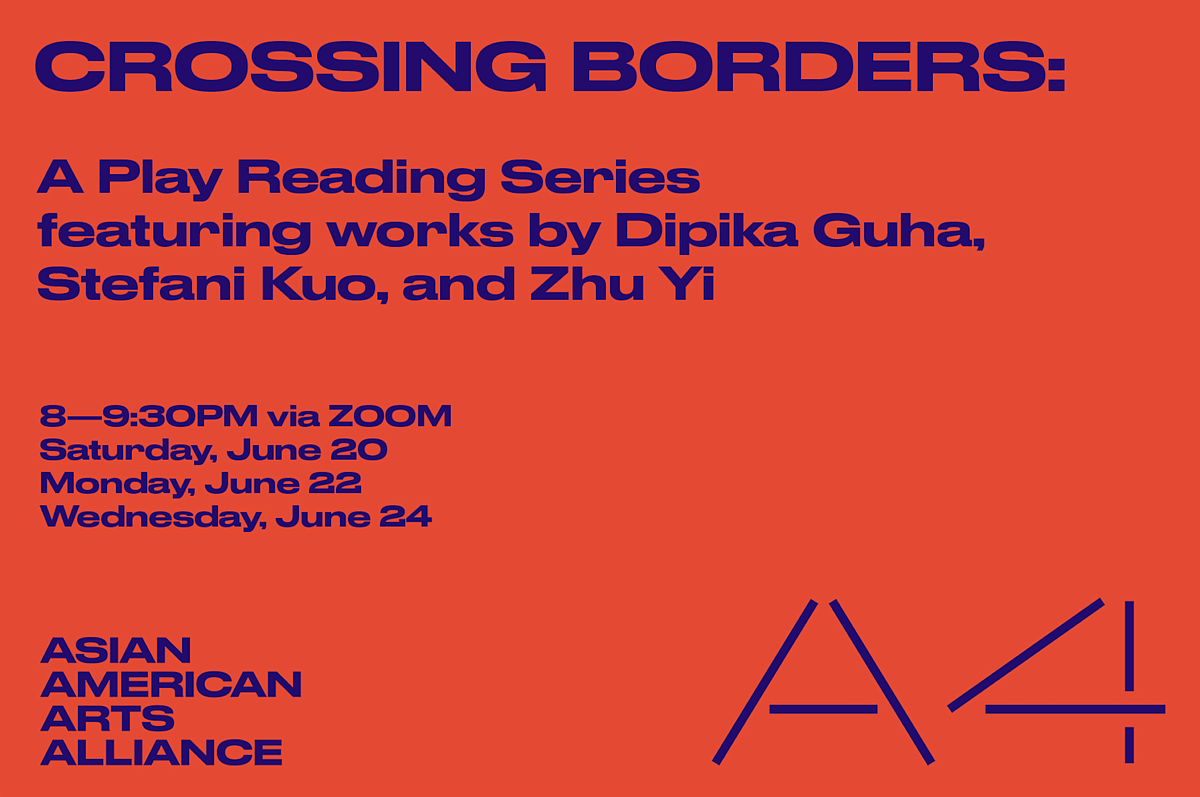 ConversAAtions
Crossing Borders: A Play Reading Series Featuring Work By Stefani Kuo
Monday, June 22, 2020
8 – 9:30PM
Over the past decade, more immigrants have migrated to the United States from Asia than from any other region in the world, making Asians the country's fastest-growing immigrant population. In celebration of the Immigrant Heritage Month, American Dream Redux and Asian American Arts Alliance (A4) co-present Crossing Borders, a play-reading series dedicated to showcasing the works of Asian immigrant playwrights in New York City.
Crossing Borders showcases the work of three Asian immigrant playwrights, Dipika Guha, Stefani Kuo, and Zhu Yi, whose work explores the shared yet complex immigrant experiences through theater. The plays are directed by Seonjae Kim, Ryan Dobrin, and Nicholas Polonio.
This event is free and open to the public. RSVP required. We'll send the Zoom meeting link to all registered attendees.
---
ABOUT THIS PLAY
Crossing Borders presents China Dreams, or the Conservation of Parity written by Stefani Kuo and directed by Nicholas Polonio. The play explores the life and work of physicist Wu Chien-Shiung, who was the only Chinese woman that helped create the atomic bomb in America.
---
STEFANI KUO
Stefani Kuo is a native of Hong Kong and a member of writers groups Interstate 73 with Page 73 and Speakers Corner with Gingold Theatrical Group. She has been a finalist for the National Playwrights Conference, Jerome Fellowship at Lanesboro Arts Centre, Jerome Fellowship at Playwrights' Center, Van Lier New Voices Fellowship at the Lark, Normal Ave's NAPseries, and the Dennis & Victoria Ross Foundation's Playwrights Program.
NICHOLAS POLONIO
Nicholas Polonio is a Filipino-sourced, American-born, Chinese-bred theater director based in Brooklyn, New York. He has adapted and directed works including Late Fame: A History Play, A Phoenix Too Frequent, We are Wombats!, and The 100 Most Beautiful Names of Todd. As an independent assistant director, he has worked on and off-Broadway, regionally and internationally, for directors including Robert O'Hara, Tatiana Mallarino, and Bill Buckhurst.
AMERICAN DREAM REDUX
American Dream Redux is an innovative event series dedicated to celebrating and showcasing the works of Asian immigrant artists, in reflection of America's history as a country of immigrants. The series pays homage to the contributions of Asian immigrants in America's communities and vibrant diversity while encouraging greater cross-cultural understanding and community-building.