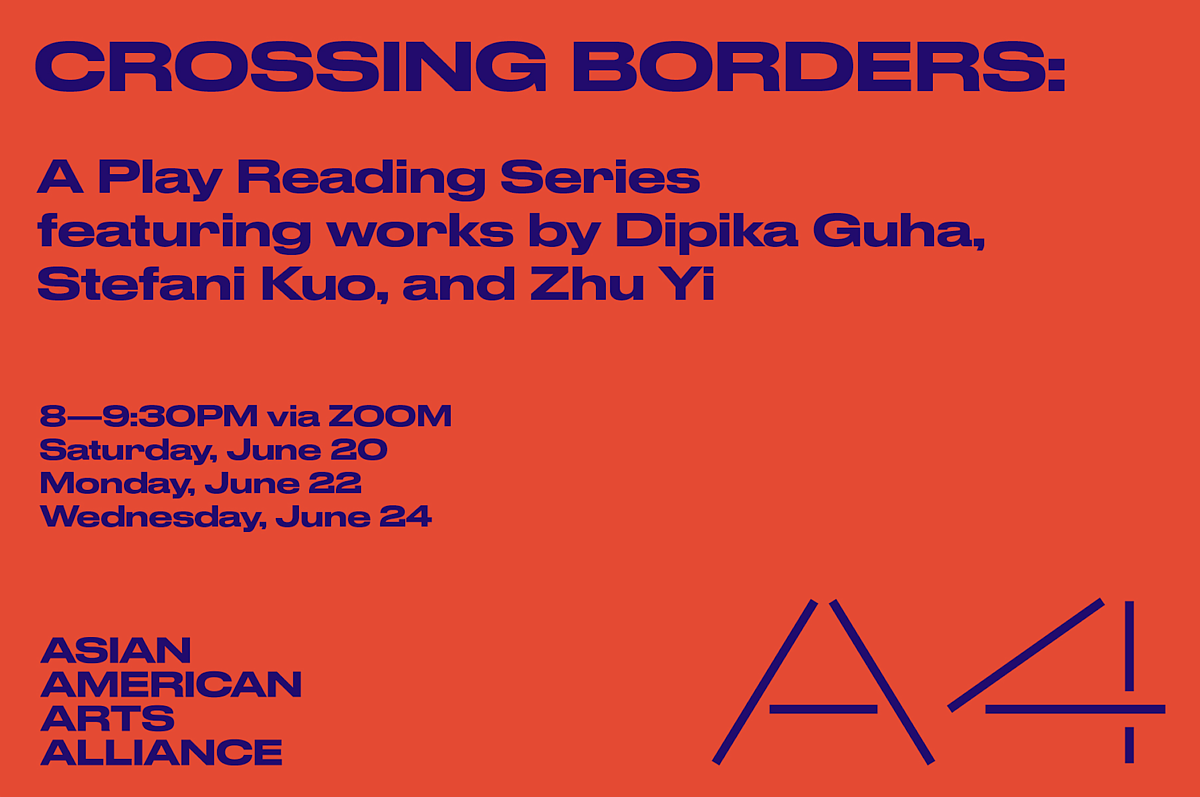 ConversAAtions
Crossing Borders: A Play Reading Series Featuring Work by Dipika Guha
Wednesday, June 24, 2020
8 – 9:30PM
Over the past decade, more immigrants have migrated to the United States from Asia than from any other region in the world, making Asians the country's fastest-growing immigrant population. In celebration of the Immigrant Heritage Month, American Dream Redux and Asian American Arts Alliance (A4) co-present Crossing Borders, a play-reading series dedicated to showcasing the works of Asian immigrant playwrights in New York City.
Crossing Borders showcases the work of three Asian immigrant playwrights, Dipika Guha, Stefani Kuo, and Zhu Yi, whose work explores the shared yet complex immigrant experiences through theater. The plays are directed by Seonjae Kim, Ryan Dobrin, and Nicholas Polonio.
This event is free and open to the public. RSVP required. We'll send the Zoom meeting link to all registered attendees.
---
ABOUT THIS PLAY
Crossing Borders presents two short plays, A Brief History of America and In the Red, White and Blue, written by Dipika Guha and directed by Ryan Dobrin.
A Brief History of America follows one character's journey through the prism of her relationships in a small unnamed town in rural America. It's a play about immigration, love, loss, and the true meaning of home.
In the Red, White and Blue, a mother and daughter meet on a cold winter's night for the first time in two years to fight for the survival of their relationship.
---
DIPIKA GUHA
Dipika Guha was born in Calcutta and raised in India, England, and Russia. She is under commission from South Coast Rep, Manhattan Theatre Club/Sloan, and Barrington Stage Company; she was also a recent Hodder Fellow at Princeton University and a winner of the Lark's Venturous Theatre Award.
RYAN DOBRIN
Ryan Dobrin is a New York-based director and producer. He is the Associate Producing Artistic Leader of ObieAward-winning Movement Theatre Company, a 2019-2020 Directing Fellow at Playwrights Horizons and Manhattan Theatre Club, director of performance-making collective Those Guilty Creatures, and currently a Resident Artist at Access Theater. He previously served as the Artistic Fellow at Ars Nova and was part of the Directing Observership program at National Alliance for Musical Theatre.
AMERICAN DREAM REDUX
American Dream Redux is an innovative event series dedicated to celebrating and showcasing the works of Asian immigrant artists, in reflection of America's history as a country of immigrants. The series pays homage to the contributions of Asian immigrants in America's communities and vibrant diversity while encouraging greater cross-cultural understanding and community-building.