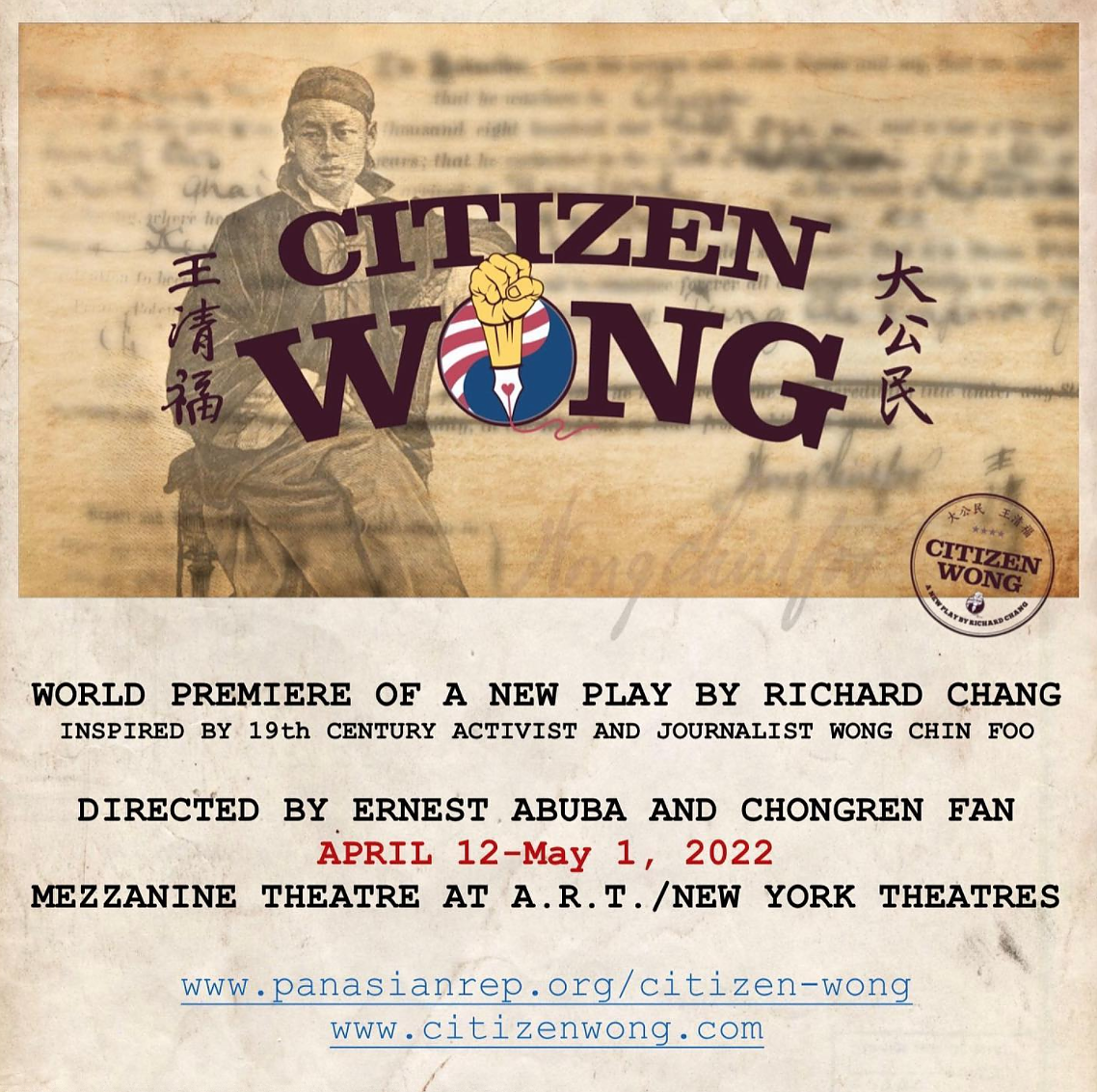 Performance
Citizen Wong
April 12 – May 1, 2022
7 – 2:30PM
BY RICHARD CHANG
DIRECTED BY ERNEST ABUBA & CHONGREN FAN
A Gilded Age pioneer wields pen and pulpit to fight the first U.S. law to ban any race from the country, and claim the rightful place for Chinese-Americans in "a more perfect union"
Inspired by Wong Chin Foo - 19th century activist and journalist fighting against the "Chinese Exclusion Act"
Discount code for friends of A4
$25 tickets with code ACW25 for the following shows:
Tues, April 12, at 7:00pm,
Wed, April 13, at 7:00pm, or
Wed, April 20, at 2:30pm
ABOUT THE PLAYWRIGHT
Richard Chang (Playwright) blends genres based on solid research to tell neglected stories, reflecting his background as a journalist and performer in Asian and Western Theater, dance and opera; puppetry and improv comedy. His solo comedy, Goy Vey! Adventures of a Dim Sun in Search of his Wanton Father debuted at Pan Asian Repertory Theatre. At the Leeds (UK) International Jewish Performing Arts Festival, the Leeds Jewish Telegraph declared Goy Vey! as the "Greatest Show in Festival's History". Other works include: Ah Chew! Drama of a Diva Mama, and News to a Muse: A Farcedy of Terrors. Richard co-wrote and co-directed Chinese Theatre Works' (CTW) Climbing the Gold Mountain at Abron Arts Center. As an actor, he has also appeared in other productions by Pan Asian Rep, CTW, Goodwin Theatre (Hartford, CT), NY Fringe Festival and Midtown Theatre Festival. Screen roles include: New York, I Love You, Windhorse, Saving Face, Never Forever, Chasing America, Return to Paradise; Cantonese Style, No Menus Please, and NBC-TV series Kidnapped. Richard has received awards from the Queens Council on the Arts and Puffin Foundation, and has been an Urban Artist Initiative/New York City fellowship recipient.