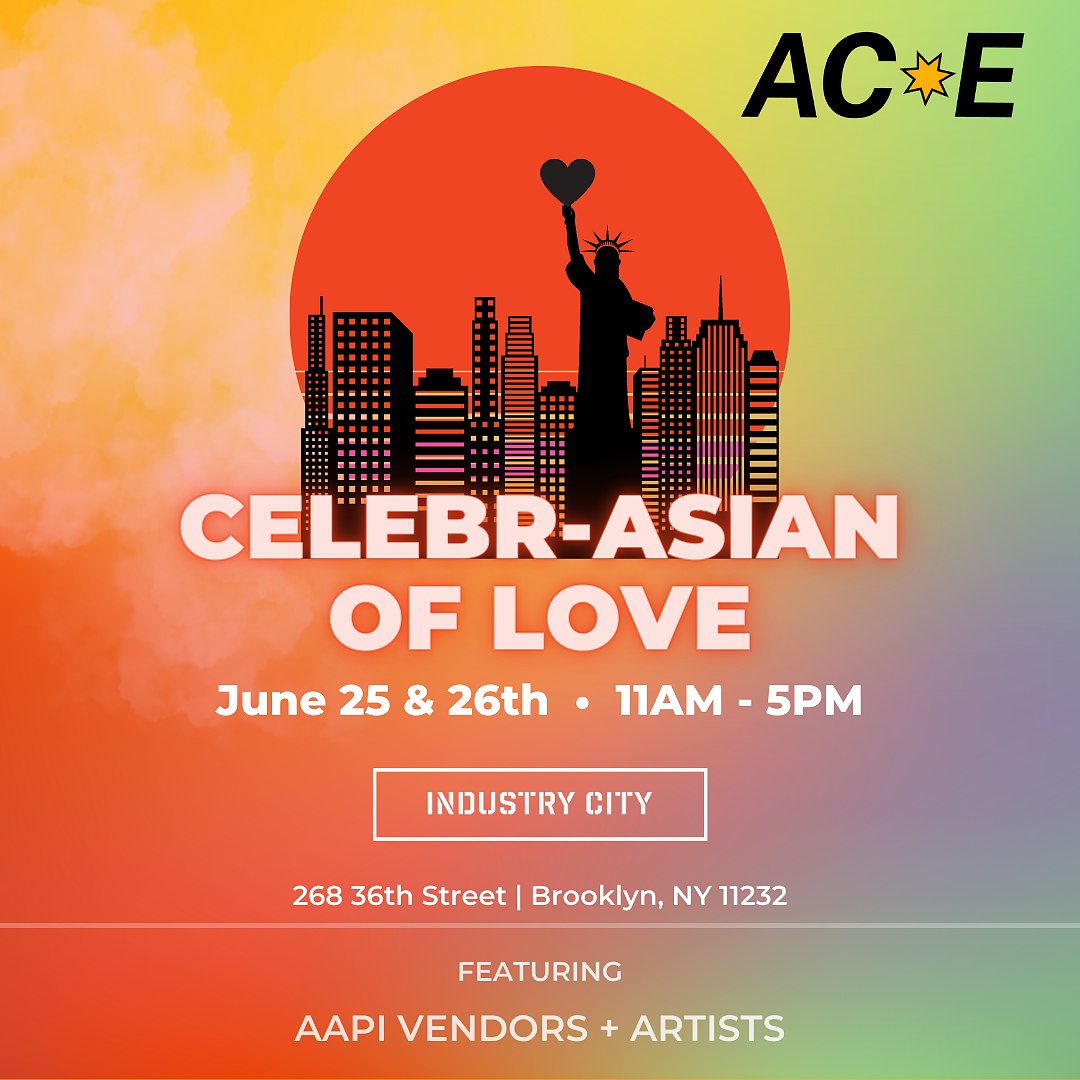 Fair or Festival
Celebr-asian of Love
June 25 – June 26, 2022
11 – 5PM
A free summer pop-up market showcasing 40+ AAPI artists and small businesses.
This is a FREE event open to EVERYONE, but a suggested donation of $5 is highly encouraged.
ACE (AAPI Creatives & Entrepreneurs) is a collective connecting independent creatives and consumers with an emphasis on supporting emerging AAPI creatives and small businesses. Join us on June 25th & 26th for ACE's "Celebr-Asian of Love" Pop Up Event at Industry City, Brooklyn! We invite you to eat, drink, shop, & celebrate with us!
ACE's Celebr-Asian of Love is our third pop-up and marks our one-year anniversary! Our theme aims to spread joy and kindness by highlighting the diversity of our community, cultures, and changemakers by creating a physical space for everyone to experience authentic stories about the AAPI identity.
We'll be featuring a special two-day program of AAPI artists, musicians, performers, and community supporters to showcase their talents.
ACE is focused on community building. All donations will benefit our non-profit partner, Asian American Arts Alliance. Since 1983, the Asian American Arts Alliance has sought to unify, promote, and represent the artistic and cultural producers of one of New York City's fastest-growing populations. They are the only service organization in the country dedicated to the professional development of Asian American artists in all disciplines.
Thank you to our partners,
Industry City
Asian American Arts Alliance
Heart of Dinner
Thank you to our sponsors,
Accent
Art by RU
Sunshine Creative
Check-out our Vendors!
Accessories
Carry Kismet: Artisan handcrafted tote bags
CuKimber: Colorful jewelry including chain earrings and necklaces
Fleurenz: Gold-filled jewelry that is hypoallergenic and tarnish-free
Goldyn Specs: Sunglasses made for traveling
Inclusive Jewelry: Jewelry collections based on various themes
Ippo Design: Cute stationery and jewelry including dangly earrings
Knotty Girl Nation: Hair accessories including clips and scrunchies
Sad Boiz Co: Artwork, unique acrylic jewelry & dorm decor
Soni Studio: Handcrafted jewelry including glass earrings
Beauty & Wellness
Calm Better Days: Wellness products featuring Women & BIPOS owned CBD brands
Mumu Bath: Clean & Natural beauty and bath soaps
Fashion & Apparel
Cali & Dana: Curvy petite denim, locally made dresses, handmade throws & totes
Divinity NYC: Unique fashion including one of one hand-painted & cropped jacket, statement pieces
Manila Diesel: Malakas - strength inspired clothing
Self First Club: Self-love promoted apparel
Smith + Parka: Handmade, laser-cut & 3d knitted products, including sling crossbody bags
Food & Beverage
Amboy Eats: Modern Filipino eats!
Daniel Corpuz Chocolatier: Handcrafted Filipino-American inspired chocolates
Food Craft Cooking: DIY kits for food and drink
Kaylee Corner: Trio empanada & ensaymada (sweet brioche)
Keyks World: Artisanal Keyks & Childhood Nostalgic Treats
Luv Tea: Tournament grade Oolong and black teas from family-owned tea farms in Taiwan
Maivino: Vegan wines packaged to stay fresh for 30 days after opening
The Boiis Co: Mochi based desserts
Gifts & Novelty
Alice Tsui: Music inspired children's book
Haute Hero: 1/6 scale toy accessories inspired by streetwear
Dokino Art: Enamel pins & textile designs
Gone to the Dogs: Pet goods including apparel, accessories, furniture, toys
Lumpia for Lunch: Food and culture inspired children's book
The Simple Stuffs: Handmade one of a kind plush toys
What a Cutie: Pet collars and leashes
Home & Decor
Akin BK: Ceramics including mugs, vases, and planters
Aroma De Merrie: Scented soy candles handmade in NYC
Boldwinged: Resin/plaster/concrete and 3D printed vases, sculptures, and art
Boundless Nest: Sustainable Hand-rolled Incense & Mindful Living
Plant Corner: Woman-and-minority-owned small business specializing in rare plants.
PyberBleu Collective: Products of all kinds, for all creatures, bringing a bit of whimsy to the mind, body, and home.
Rootin' Tootin': Rugs & accessories bringing joy
Tender: Floral worlds that heighten the world around us
Scented by Dash: 100% Soy-based candles
Artists / Artwork
Art by RU: Art for self-made women
Jerry Ma: Artwork and merchandise inspired by comics and pop culture
Hungry Artist NY: Food illustrations and merchandise, on a mission to support NYC businesses
Miiasoey: Paintings and illustrations featuring people, nature, and various inspirations
Milkbox: Artwork and merchandise inspired by pets and toys
Ocean Take Flight: Fashion inspired artwork and custom illustration services
Panda Cub Stories: Panda comics about Chinese culture, Sichuan food, and living with ADHD
Peach Tao: Brooklyn-based illustrator, muralist, and printmaking artist
Sweet Art
The Giving Canvas: Art for charity nonprofit to bring about positive social change
The Third Lab: Creative Studio
Follow us on IG @acepopup for all the details on the vendors, partners, and sponsors.
Learn how you can get involved at www.acepopup.com