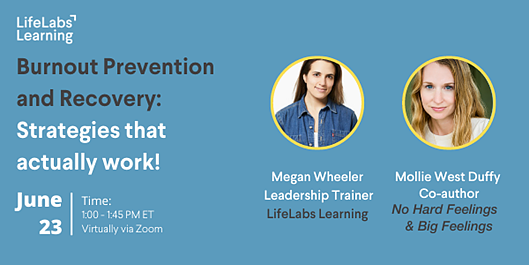 Community Event
Burnout Prevention and Recovery: Strategies that actually work!
Thursday, June 23, 2022
1 – 1:45PM
To overcome burnout, you first need to pinpoint exactly what's driving it. LifeLabs Learning is teaming up with Mollie West Duffy, one of the co-authors ofBig Feelings: How to Be Okay When Things Are Not Okay. We'll share practical tips to help individuals, teams, and managers better prevent and recover from burnout. Our expert speakers will discuss:
The three biggest myths about burnout
How to navigate your individual burnout profile
What individuals, teams, and managers can do to combat burnout
Participants will also take Liz and Mollie's Burnout Profile Assessment and receive LifeLabs Learning's Energy Audit + Burnout Buffering Tool to help managers have better conversations about burnout with their direct reports.