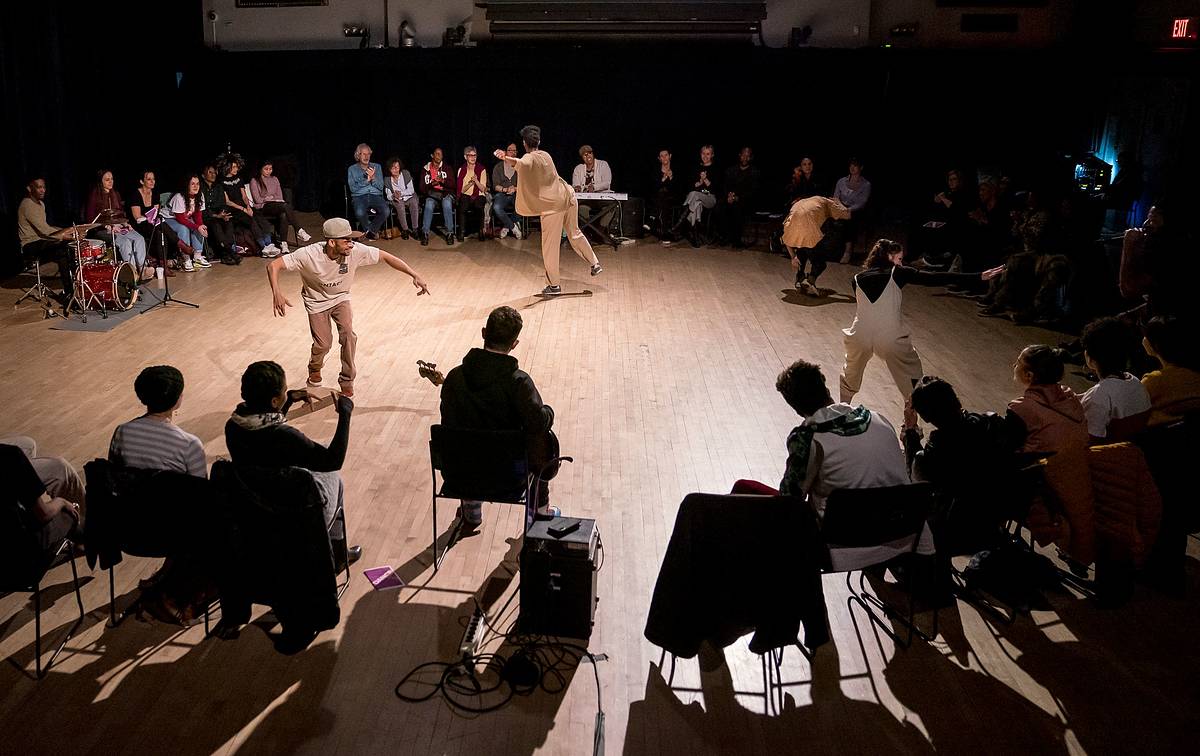 Concert
Bridge Street Theatre presents SWITCH by the LayeRhythm Experiment, with Mai Lê Hô
Thursday, February 11, 2021
7 – 9PM
SWITCH by the LayeRhythm Experiment, with Mai Lê Hô
February 1 - 12
Digital performance excerpt showing on February 11, 7pm
 "An occasional brew of partying and performing that unfolds as a series of interactive sessions in which suggestions from the crowd beget songs and steps. […] imagine a musicians' jam session where the band is compelled to keep the dancers' pace instead of the other way around." - The New York Times
 
Created in 2015 in NYC by French-Vietnamese dance artist Mai Lê Hô, LayeRhythm is a cutting-edge jam session that creatively layers live musicians and vocalists with freestyle dancers. Now in its 5th year, the project has taken its club roots to the stage with performances at Jacob's Pillow and 92Y. The LayeRhythm Experiment ( LE) company features prominent dancers who have won world-class competitions in breaking, hip-hop, popping, and house dance. They are accompanied by musicians and vocalists at the forefront of NYC's funk, hip hop, jazz, and soul scenes. The LE usually generates approximately 90% new content each performance. The audience is muse. At each show, audience ideas are collected by LE's MCs. Performers instantaneously draw from personal experiences and artistic knowledge to turn those ideas into movements, sounds and improvised lyrics. Commonly in western dance, artists rest on recorded or rehearsed music to create movement. With the LE, musicians, dancers and the MC stretch artistic boundaries and "take turns" conducting the rest of the ensemble. This call and response culture is intrinsic to many generations and genres of African-American and Latin based street and social dance forms.
During the Bridge Street Theater residency, SWITCH will be developed, exploring further the leader/follower dynamics between music and dance. Dancers will research alternative leadership models by reversing roles not only while improvising on stage, but in the creative writing process as well.
The residency will culminate in a virtual performance excerpt showing of section 1 (out of 5) of this new evening-length show. The remaining sections are mostly freestyle based and ready to be performed/transformed with each new audience. Dancers will explore the meaning of "routine" and of "switching roles" on personal, societal, artistic, mind-body levels.
Mai Lê Hô aka Mai Lê Grooves is a French-Vietnamese dance performer/choreographer/educator, dj and curator who relocated to NYC in 2009. Mai Lê has been a lead dancer in the pioneering street dance theater company Rennie Harris PureMovement since 2013, and in the emerging Passion Fruit dance company since 2016. Mai Lê also toured Europe as a co-choreographer and dancer with seminal Detroit house music producer Theo Parrish and his live band, in festivals/venues such as Worldwide Festival (Sete, FR), London's Barbican, Barcelona's Sala Apolo. In 2015 Mai Lê founded LayeRhythm, a monthly jam session that brings live musicians to collaborate with street/club dancers (flexN, litefeet, house dance, Detroit jit, locking…).The New York Times described LayeRhythm… "Imagine an improv comedy show where dancing, not laughs, is the currency. Then imagine a musicians' jam session where the band is compelled to keep the dancers' pace instead of the other way around." Since 2019, the project has been taking its club roots to the stage with the LayeRhythm Experiment company, performing at 92Y and Jacob's Pillow and offering online educational programs for emcees, musicians and dancers. From 2017 to 2019, Mai Lê was the Program Director of It's Showtime NYC!, a program that celebrates NYC street culture and provides performance and professional development opportunities to street and subway dancers. Mai Lê teaches weekly in NYC at Gibney and EXPG NYC, and has taught dance workshops in Brazil, Vietnam, Japan, DRC, Canada, France, the Netherlands, and throughout the US.  IG: @MaiLeGrooves / @LayeRhythm. www.LayeRhythm.org