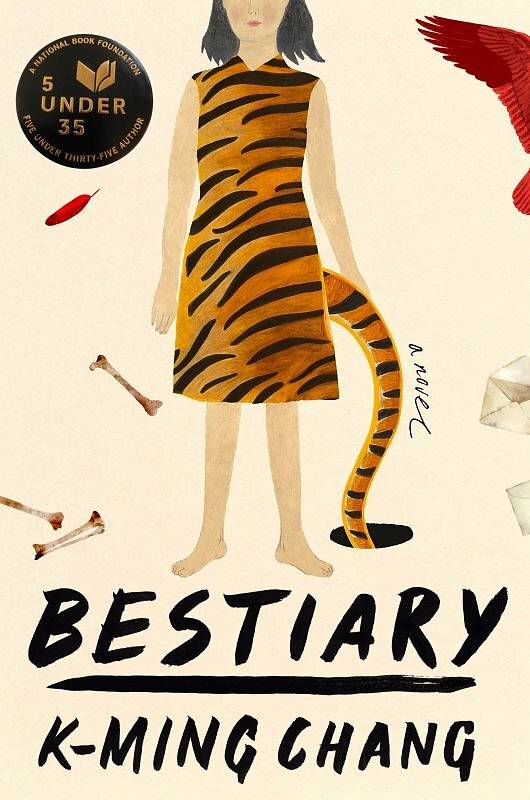 Panel Discussion/Talk
Bestiary: K-Ming Chang with Charles Yu
Monday, October 5, 2020
8 – 9PM
Discover the hypnotic debut novel and its tale of migration, violence, family, secrets, queer love, letter-delivering holes in the ground, and toe-eating tigers.
In K-Ming Chang's first novel, three generations of Taiwanese American women are haunted by the myths of their home and the truths they have buried. Shortly after Mother tells Daughter a story about a tiger spirit who lived in a woman's body and hungered for children's toes, Daughter awakes with a tiger tail. More mysterious events follow: holes in the backyard spit up letters from her grandmother; a visiting aunt arrives with snakes in her belly; a brother tests the possibility of flight. All the while, Daughter is falling for Ben, a neighborhood girl with strange powers of her own. As the two young lovers translate the grandmother's letters, Daughter begins to understand that each woman in her family embodies a myth, and that she will have to bring her family secrets to light to change their destiny.
Bestiary traces one family's history from Taiwan to America, from Arkansas to California. K-Ming Chang speaks with Charles Yu about her electrifying, visceral, singular debut novel.
ABOUT THE SPEAKERS
K-Ming Chang was born in the year of the tiger. She is a Kundiman Fellow and a Lambda Literary Award finalist in poetry. Her poems have been anthologized in Ink Knows No Borders, Best New Poets 2018, Bettering American Poetry Vol. 3, the 2019 Pushcart Prize Anthology, and elsewhere. Raised in California, she now lives in New York.
Charles Yu is the author of three books, including the novels Interior Chinatown (longlisted for the National Book Award) and How to Live Safely in a Science Fictional Universe (a New York Times Notable Book and a Time magazine best book of the year). He received the National Book Foundation's 5 Under 35 Award and was nominated for two Writers Guild of America Awards for his work on the HBO series, Westworld. He has also written for shows on FX, AMC, and HBO. His fiction and nonfiction have appeared in The New Yorker, The New York Times, The Wall Street Journal, and Wired, among other publications.
LIVE from NYPL is made possible by the support of Library patrons and friends, as well as by the continuing generosity of Celeste Bartos, Mahnaz Ispahani Bartos and Adam Bartos, and the Margaret and Herman Sokol Public Education Endowment Fund.