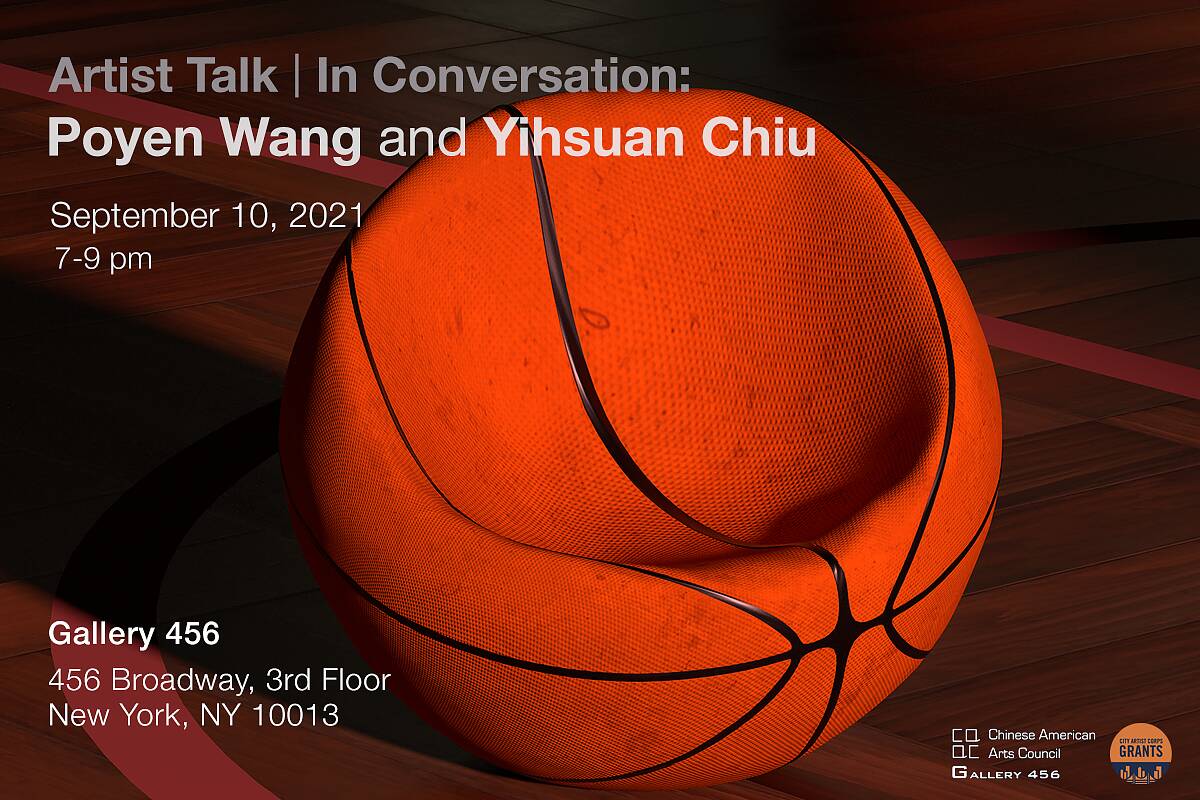 City Artist Corps
Artist Talk | In Conversation: Poyen Wang and Yihsuan Chiu
Friday, September 10, 2021

Artist Talk | In Conversation: Poyen Wang and Yihsuan Chiu
Friday, September 10, 7-9 pm
Gallery 456
456 Broadway, 3rd Floor, New York, NY 10013
(elevator available)
Please join us for a conversation between artist Poyen Wang and curator Yihsuan Chiu about Wang's current body of works. The conversation will start with an artist talk to introduce Wang's practice for the New York audience, followed by an open conversation and Q&A with Chiu. This event corresponds with Wang's participation in the upcoming group show, Bronx Calling: The AIM Biennial, opening October 20, 2021 at the Bronx Museum of the Arts.
In Wang's recent practice, he deals with themes of otherness, sexuality and the development of subjectivity which are informed by psychological theories such as abjection. The motivation of his practice stems from experiences coping with struggle and confusion associated with identity both as an individual and collectively as part of a community. Drawing on literature, art cinema and pop culture as his inspiration, Wang uses world building and reenactment with the elasticity of 3D computer graphics to create suspended narratives, blurring the boundaries between reality, memories and fantasy. The confessional nature in his work comes from the psychoanalytic tradition, delving into shame and desire as a way to examine and emancipate repressed emotions. He sees his creation as a portal into intimate spaces of the mind exploring vulnerability and tenderness in response to existential questions and the remnants of patriarchy.
Poyen Wang is a visual artist based in New York. His recent solo exhibitions include The Black Sun, Taipei Digital Art Center, Taiwan, 2020 and An Obscure Silhouette, Flux Factory, New York, 2018. He has done residency programs at Bamboo Curtain Studio in Taipei in 2019; 18th Street Arts Center in Los Angeles and Flux Factory in New York in 2018. He completed the AIM program at the Bronx Museum of the Arts in 2018.
Yihsuan Chiu is a curator and researcher based in New York. She holds a B.A. in history from National Taiwan University and an M.A. from Center for Curatorial Studies at Bard College (CCS Bard). Her current work centers the historical and material dimensions of political movements; documentary and art cinema; and East Asian film histories.
This event is generously sponsored by the City Artist Corps Grants and CAAC.