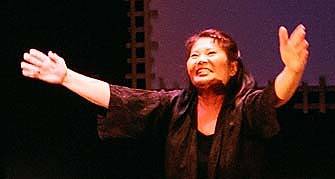 An evening with theater actor and activist Jude Narita
Sunday, May 12, 2013
7:30 – 9PM
Cobi Narita Presents for Asian Heritage month
Award-Winning Theater Artist and Activist
Jude Narita
Sunday May 12 at 7:30 PM at Zeb's
Celebrate Mother's Day - Your mom gets in free!
Jude performs a multitude of Mothers and daughters in a wonderful evening of theater.
After you take your mom out to a fancy restaurant (cause I know you're not going to make her cook for you!;-), bring her to some theater that she will love! And she gets in free!
Award-Winning Theater Artist and Activist JUDE NARITA, whose plays have celebrated Asian women while exploding stereotypes, will perform some of the women she has created. For over two decades, Narita has brought Asian and Asian American women to the front of the stage with humor, courage, and fearless celebration. Narita explores then transcends Asian issues—celebrating our differences, while illuminating the universal humanity of us all. "In an astonishing solo performance, Jude Narita, a versatile actress and fearless writer, sheds an authentic, humorous and deeply moving light on the dilemma of the Asian American woman." --Critic's Choice / L.A. Reader.
SourceURL:file://localhost/Users/Jude/Desktop/NYC%20show%20April%2020,%202013/Press%20release%20-%20rough2%20may%2012%20&%2019
"Jude Narita's inspiring show traverses the broad scope of Asian American women's experiences here in the United States. From a polished news broadcaster to a new Cambodian immigrant stunned by the plenty at her local supermarket to a Japanese picture bride from the early 1900s, these vividly portrayed women show us the vibrant diversity of an Asian American experience that has been too often ignored. The writing is tender, hilarious, and always spot on. This heartfelt–and sometimes heartbreaking–performance by Ms. Narita shows all of us the power that the stage has to change the world." Andrea Louie, Executive Director, Asian American Arts Alliance 4/20/2013
Zeb's
223 W. 28th St. NYC
(bet. 7th & 8th Ave) 2nd floor walk-up
Tickets: general $15
Students, seniors, 4A, Cobi's, and Zeb's members $10
Pay at door. Reservations 516-922-2010.
More info on Jude and her work: www.judenarita.com
Tags
Organized by
Cobi Narita
Contact
Judenarita@gmail.com