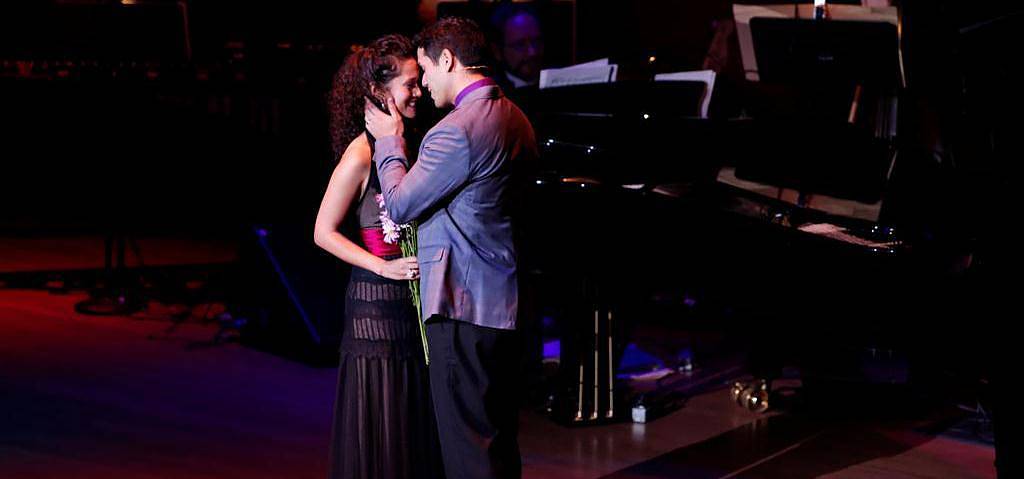 Ali Ewoldt & Adam Jacobs to Star in A HEART FULL OF LOVE
Saturday, February 23, 2013
8 – 10PM
New York, January 24, 2013 – Broadway's "Les Miserables" alumni Adam Jacobs, last seen as Simba in Disney's "The Lion King," and Ali Ewoldt, last seen as Tuptim in Baayork Lee's production of Rodgers and Hammerstein's "The King and I," are poised to reunite on stage in A HEART FULL OF LOVE, a concert at The Town Hall on 43rd Street on Saturday, February 23 at 8 p.m.
Conceived by Victor Lirio ("Suites by Sondheim," "Two Rooms"), featuring direction by Adam Fitzgerald ("Friends and Relations," "Killing Women") and musical direction by David Dabbon ("Secondary Impact," "She Loves Me"), A HEART FULL OF LOVE, will showcase Jacobs and Ewoldt, both of Filipino descent, singing an array of musical theater favorites, including selections from "Les Miserables," "West Side Story," and "The Lion King"; a sampling of contemporary pop songs and kundiman (traditional Filipino love songs); and an inspiring repertoire of new works by emerging musical theater writers and composers.
In a press statement, Jacobs said, "The last time Ali and I sang together on a concert stage was at a tribute show for musical theater legend Stephen Sondheim at Lincoln Center ['Suites by Sondheim,' directed by Lirio] two years ago. We sang 'One Hand, One Heart' from 'West Side Story,' and that was it. But for our show at The Town Hall, not only will we have the chance to perform excerpts from 'Les Miserables' for the first time since our Broadway debuts; but we also will have the opportunity to do other popular tunes from shows we haven't done yet (which reminds us that Jacobs has been wanting to do the male lead role in 'The Light in the Piazza'; could 'Love to Me' be part of the concert program?)"
Via email, Jacobs told BroadwayWorld.com that featured guest artists at The Town Hall concert will be announced shortly.
Proceeds from A HEART FULL OF LOVE will go to the 3rd The Outstanding Filipino Americans in New York (TOFA-NY) Awards, an annual award ceremony that recognizes exemplary Filipino-Americans in the New York Tri-State held in October; and to Mindoro Healthcare Consulting's current research to find a cure for multiple sclerosis, an autoimmune disease that affects the brain and spinal cord.
Elton Lugay of TOFA-NY and Jona Jane Tajonera of Mindoro Healthcare Consulting, LLC, together with media partners GMA Pinoy TV, GMA Life TV, and The Filipino Reporter, are producing this Valentine's month concert.
For tickets ($40-$100), visit Ticketmaster.com.
Photos by Carlo Damocles, Oliver Oliveros