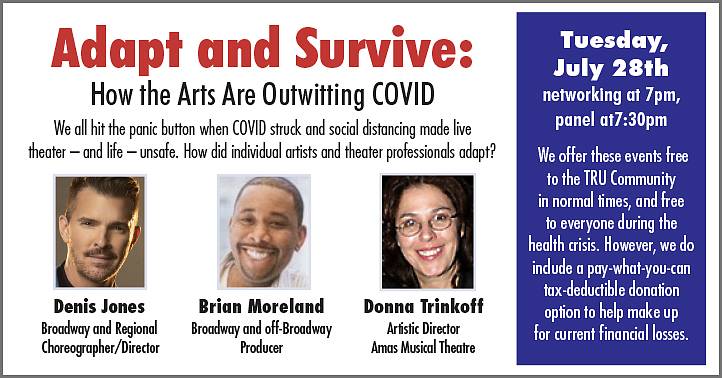 Panel Discussion/Talk
Adapt and Survive: How the Arts Are Outwitting COVID
Tuesday, July 28, 2020
7 – 8:30PM
Theater Resources Unlimited (TRU) presents the July Panel Adapt and Survive: How the Arts Are Outwitting COVID on Tuesday, July 28, 2020 via Zoom. Networking begins at 7pm and the panel starts at 7:30pm. Reserve a spot on the event page at truonline.org/events/adapt-and-survive or by emailing TRUStaff1@gmail.com and you will be put on a list to receive the Zoom link.
With guest speakers: choreographer/director Denis Jones (Tony nominations for Tootise and Holiday Inn, also Honeymoon in Vegas), producer Brian Moreland (The Sound Inside, The Lifespan of a Fact, Sea Wall/A Life; upcoming: American Buffalo with Laurence Fishburne, Blue with Leslie Uggams); artistic producer Donna Trinkoff of Amas Musical Theatre (Romeo & Bernadette: A Tale of Verona and Brooklyn, The Other Josh Cohen, Wanda's World, Zanna Don't, Lone Star Love).
 
We all hit the panic button when COVID struck and social distancing made live theater – and life – unsafe. How did individual artists and theater professionals adapt to this new normal? Was it a slow process or did they manage to pivot right away? What were the steps that led them from hopelessness and helplessness to some form of  action and productivity, and what have they learned along the way? And what are the best guesses about a timeframe for returning to theater as we know it, and what might be the long-term impact of this period of isolated performance on our business?   
Zoom room opens at 7:00pm for networking and roundtable introductions of attendees - come prepared with your best 20-second summary of who you are, and what you need. Panel starts at 7:30pm. Free for TRU members; pay what you can, everyone else - to keep TRU up and running (and yes, you may click the button for a free ticket). Please use the bright red reservation box on our web page, or email TRUStaff1@gmail.com to be put on the invite list. (Note: Zoom space is limited so RSVP early.)