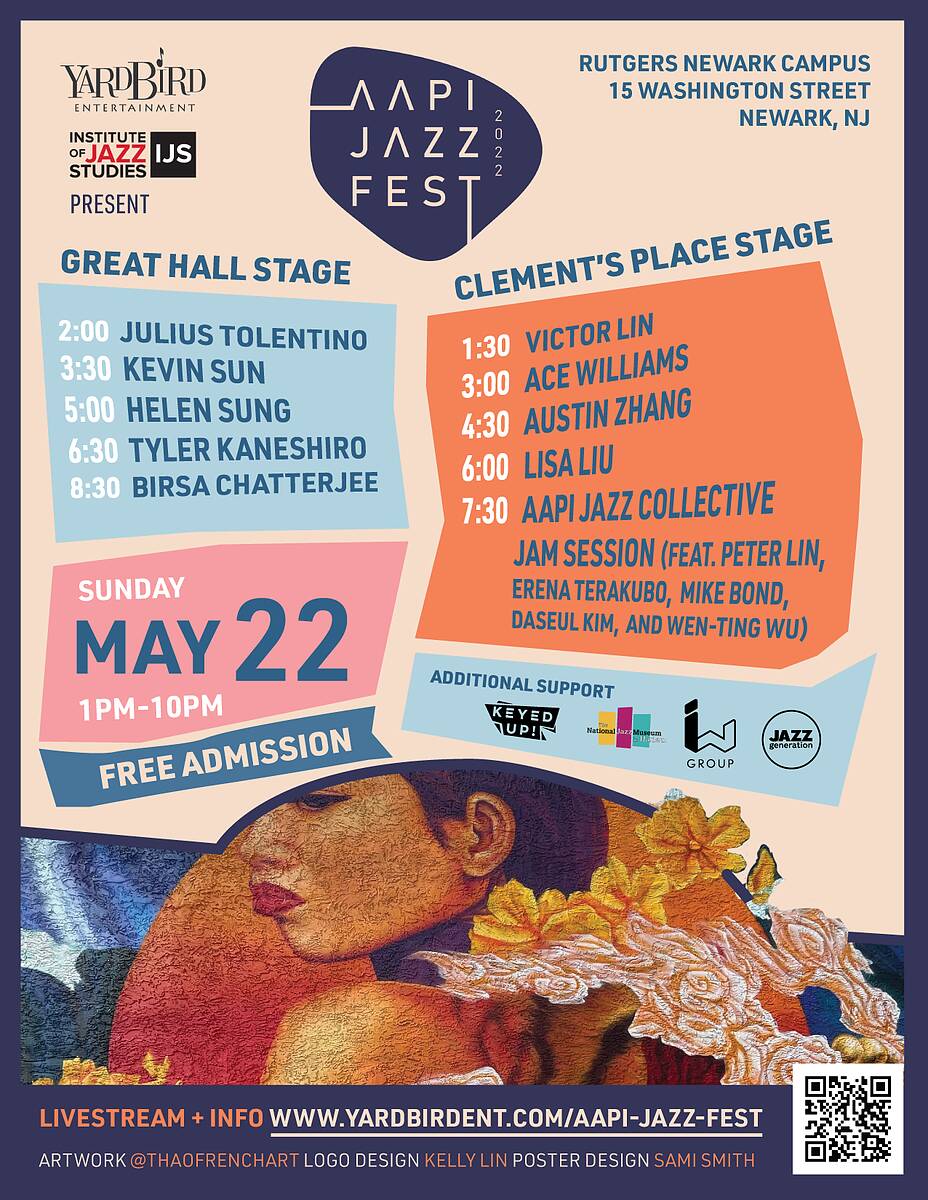 Fair or Festival
AAPI Jazz Fest
Sunday, May 22, 2022
1 – 10PM
The AAPI Jazz Fest celebrates the pan-Asian jazz community and its ongoing, vital presence in the music world. We seek to honor the past, present, and future, highlighting the depth and breadth of the varied Asian American artists and communities that are committed to expressing themselves through this unique art form and its derivations.
The inaugural 2022 AAPI Jazz Festival is the first of its kind on the East Coast and a timely celebration that will coincide with AAPI Heritage Month each May. This FREE indoor festival will feature a unique intersection of distinctive, multigenerational AAPI artists of varying jazz styles. Livestream option available! Please visit www.yardbirdent.com/aapi-jazz-fest for more info.
Festival Lineup:
Helen Sung
Ron Jackson
Lisa Liu
Kevin Sun
Victor Lin
AAPI Jazz Collective
Austin Zhang
Tyler Kaneshiro
Birsa Chatterjee
Ace Williams
Festival Extensions Include:
Main Event Stage (Great Hall)
Second Performance Stage (Clement's Place)
Panel discussions throughout the day highlighting important AAPI issues and topics
Networking opportunities for young professionals
Covid Policy:
Either proof of vaccine or a negative PCR test (within 72 hours) are required to enter the building
Please RSVP if you're interested in attending!
Follow us on social media!
Sponsors:
IW Group Inc.
National Jazz Museum in Harlem
Keyed Up
Jazz Generation
Quartet+ is made possible with support from The NYC Women's Fund for Media, Music and Theatre by the City of New York Mayor's Office of Media and Entertainment in association with The New York Foundation for the Arts, the Aaron Copland Fund for Music, the Queens Council on the Arts with public funds from the New York City Department of Cultural Affairs in partnership with the City Council, and with the support of the Jazz Coalition Commission Fund. Helen Sung Group is a sponsored project of Fractured Atlas, a non-profit arts service organization.