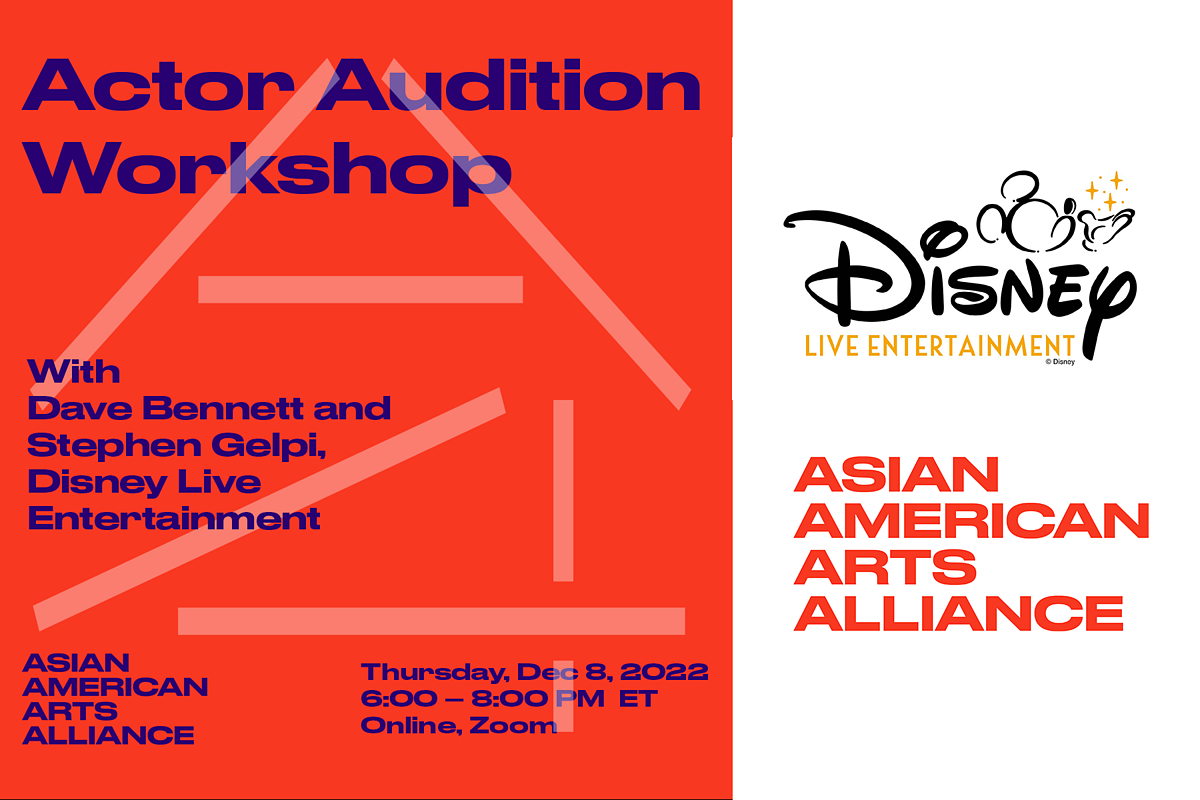 Workshop
AAPI Actor Audition Workshop
Thursday, December 8, 2022
6 – 8PM
Join Casting Directors from Disney Live Entertainment for an interactive discussion on auditioning for theme parks and cruise lines around the world. During the workshop, we will discuss best practices and open the space for questions to better position yourself for success next time you walk into any audition room.
Later in the workshop, pre-selected participants will have the opportunity to put up work for the group. Disney Live Entertainment's Dave Bennett and Stephen Gelpi will host the workshop to share perspective and knowledge developed from years of being in the room. Please find their bios below.
Audition Portion:
If you would like to be considered for the audition portion of the workshop, please send your headshot and resume to jlee@aaartsalliance.org with subject line: "Actor Audition Workshop – DLE" by Thursday, December 1 at 11:59 pm ET. A4 will select and notify 3-5 participants by Monday, December 5. Selected participants are invited to present an up to 2-minute monologue during the workshop followed by feedback from DLE Casting Directors.
About Dave Bennett:
Dave Bennett is the Casting Director the Shanghai Disney Resort. His team has the honour of casting the entertainment program for the newest member of the Disney Parks family.
Dave came to Disney from a successful two decade career as a talent agent. He represented actors for film, television and theatre, and directors, choreographers, music directors, writers and composers for theatre. In 1999, he opened a Manhattan talent office for a Canadian agency. Here he represented not only American talent but was also known for bringing the best of Canada to Broadway. He placed clients in supporting roles in TV and Film, and in leading/supporting roles in over three dozen Broadway and National Touring Companies (including Book of Mormon, Chicago, Jersey Boys, Les Miz, Lion King, Mamma Mia, Mary Poppins, Once, Phantom of the Opera, Rent, and Wicked).
Dave is a proud member of the Casting Society and is graduate of the Broadway Commercial Theatre Institute's "Producing for the Commercial Theatre Intensive Program" (NYC), and is a former leader of TAMAC (Talent Agents and Managers Association of Canada).
About Stephen Gelpi:
As Manager, Talent Casting Strategy & Initiatives, Stephen supports the processes and systems which maximize inclusive recruitment and retention efforts of world-class talent for a global team of Casting Directors. Stephen joined The Walt Disney Company in 2015 as a Talent Casting Director at the Disneyland Resort, supporting in-park entertainment offerings as well as resort-wide special events. In 2017 he transferred to Orlando to serve in the same capacity casting projects for the Walt Disney World Resort and Tokyo Disney Resort sites. Prior to his time with the company, Stephen was the Talent Operations Manager at SeaWorld San Diego where his primary responsibilities centered around the casting, training and daily operational support of the live entertainment team.
Though he has lived in nearly every corner of the country, Stephen is originally from Miami where he attended The University of Miami majoring in Music and Theatre.
Tags
Organized by
Justine Lee
Contact
jlee@aaartsalliance.org