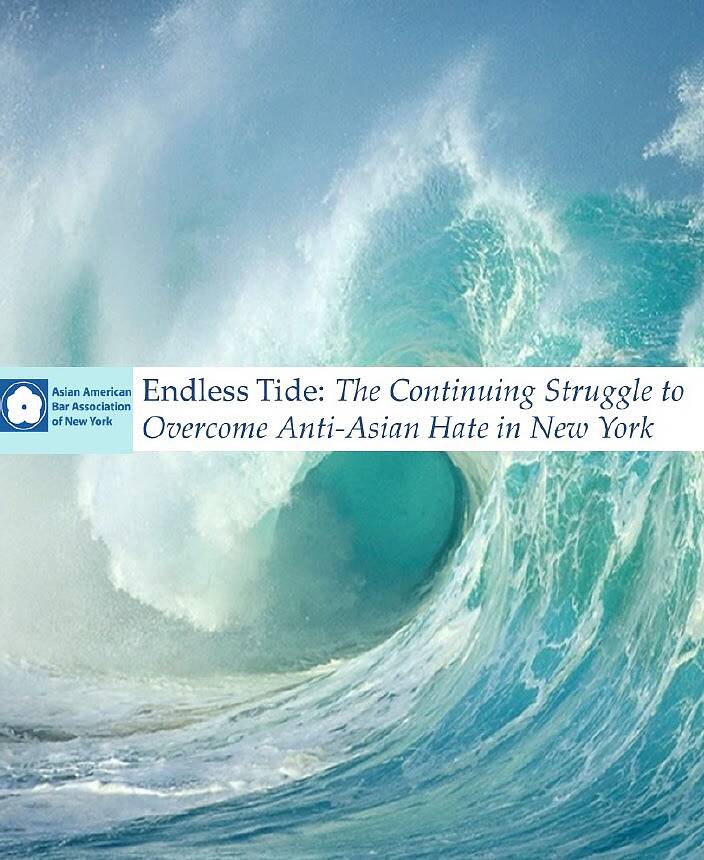 Panel Discussion/Talk
AAARI Lecture Series
Friday, June 10, 2022
5:30 – 7PM
Please join the Asian American / Asian Research Institute for a talk on, Endless Tide: The Continuing Struggle to Overcome Anti-Asian Hate in New York, by Christopher M. Kwok, Elaine M. Chiu, Megan L. Gao & JiLon Li, on Friday, June 10, 2022, from 5:30pm to 7pm. This will be a live online discussion, open to the general public via Zoom and RSVP is required to attend.
In 2021, the Asian American Bar Association of New York (AABANY) published their report, "A Rising Tide of Hate and Violence against Asian Americans in New York during COVID-19: Impact, Causes, Solutions" to address the rise in hate and violence directed toward the Asian American Pacific Islander (AAPI) community since the onset of the COVID-19 pandemic in the United States. One year later, the New York AAPI community remains under attack, with no foreseeable relief or end in sight.
AABANY's new report, "Endless Tide," continues to examine of the rise of anti-Asian hate and violence during the COVID-19 pandemic, by chronicling the efforts made in the past year and assessing their impacts through detailed data collection and analysis of anti-Asian incidents in New York City. Co-executive and associate editors of "Endless Tide" will discuss the failings of the current legal framework and raise a call to action by elected officials, law enforcement, and community organizations to keep the AAPI community safe in America.
Christopher M. Kwok is a mediator and arbitrator with JAMS, specializing in Labor & Employment law. He was previously the Alternative Dispute Resolution (ADR) Coordinator at the U.S. Equal Employment Commission in the New York District office.
Elaine M. Chiu is a member of the full-time faculty and Faculty Director of The Ronald H. Brown Center of Civil Rights at St. John's University. She is a respected scholar who has written about some of the most difficult issues in contemporary criminal justice.
Megan L. Gao is an Associate litigator at Paul, Weiss, Rifkind, Wharton & Garrison LLP, and vice chair of the Asian American Bar Association of New York's Pro Bono & Community Service Committee.
JiLon Li is an associate at Morvillo Abramowitz Grand Iason & Anello PC, and a member of the Asian American Bar Association of New York's Anti-Asian Violence Task Force (AAVTF).
If you miss this talk, the video and podcast will be available online the following Monday afternoon. Enjoy your the rest of your weekend and we look forward to sharing our latest lecture with you!