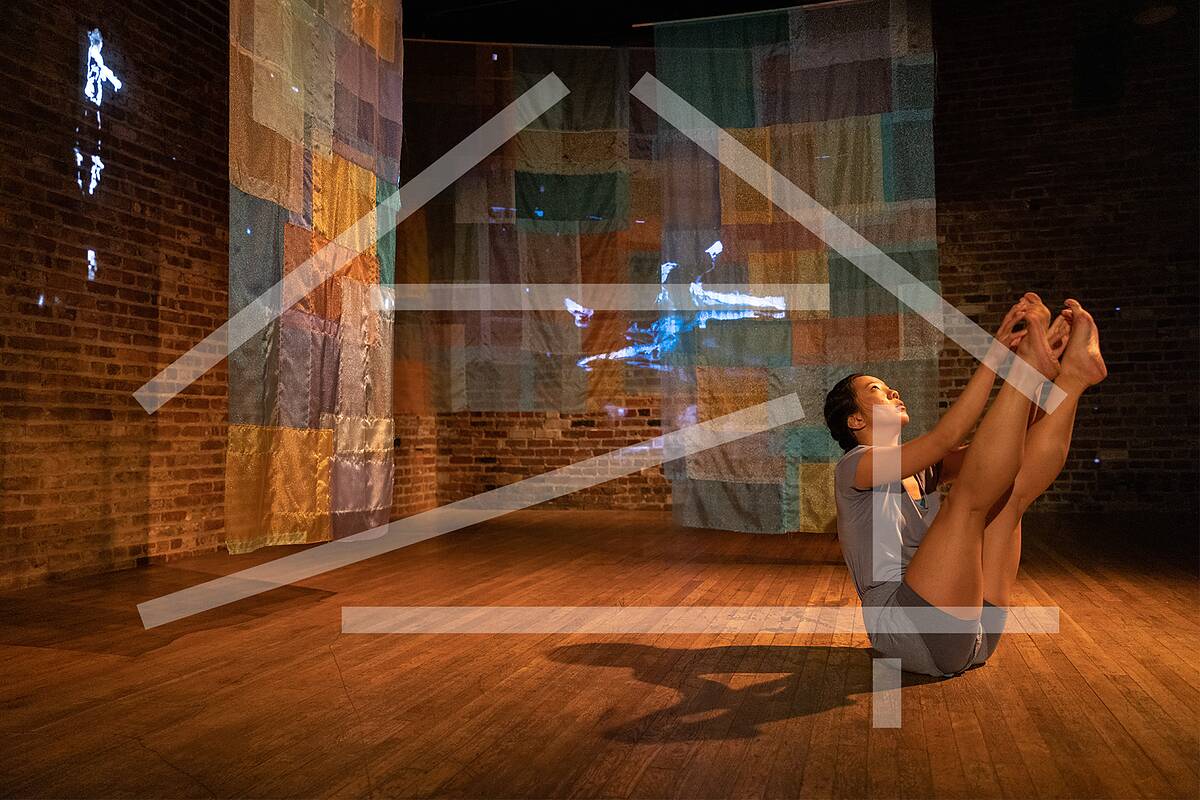 ConversAAtions
Memory & Movement
Tuesday, January 25, 2022
6 – 7PM
The Asian American Arts Alliance (A4) invites you to a virtual ConversAAtion with A4's 2021 Jadin Wong Fellow, Annie Heath and projection artist Shannon Brooks on their collaboration on Heath's newest multi-disciplinary work, Departure Study of Mother/land Fabric.
Heath's solo performance seams pieces of movement, textile, text and projection installations of images and letters, exposing fantasies of an unknown mother. As a transracial adoptee, Heath expresses the loss of roots, summoning subconscious and fabricated memories of mother/child, land/home using repeated long-form cellular improvisations of prenatal developmental pathways.
This ConversAAtion will feature an exclusive 15-minute excerpt of Departure Study followed by a discussion between Annie Heath and Shannon Brooks on their creative collaboration, use of archival materials, and creating dialogue between space and time, past and present to help get at the root of Heath's questions, "Was forgetting a calculated effort?" or "How can you hold onto what you cannot recall?", with audience Q&A to follow.
If you need any accommodations, please email pson@aaartsalliance.org at least 1 week prior to the event.
ABOUT ANNIE HEATH
Annie Heath is a choreographer and dancer based in Brooklyn, New York. She received a BA in Dance and BS in Environmental Science at University of Massachusetts Amherst. Her work has been presented at New York Live Arts, ISSUE Project Room, New Dance Alliance, Laguardia Performing Arts Center, Movement Research at the Judson Church, Chen Dance Center, Access Theater, Center for Performance Research, Dixon Place, TADA! Youth Theater, Triskelion Arts, Brooklyn Arts Exchange, West End Theater, and Alchemical Laboratory. She has performed original works by RoseAnne Spradlin, Doug LeCours, Gabriella Carmichael, and Pavel Machuca-Zavarzin. Heath was a resident artist at La Escuela Profesional de Danza de Mazatlán (Mazatlán, Mexico) and is currently a 2019-2021 Fresh Tracks resident artist at New York Live Arts.
ABOUT SHANNON BROOKS
Shannon Brooks is a multidisciplinary artist. Shannon layers fragments of diverse media including dance, video, improvisation, and found or archival footage to experiment with perception and our experience of the world. Their work is often repeated and different each time it is interacted with, moving from the personal to the universal and allowing investigations to linger.
Shannon facilitates and programs creative, collaborative experiences that practice radical accessibility. Radical accessibility centers the perspectives of Disabled people and alters an environment or structure based on the people's needs. This idea was developed by and has its roots in Disability Justice. Shannon is the recipient of an 2021 Art for Change Grant from the Leeway Foundation and is founding member of Hook&Loop, an accessible collective and network led by Disabled and chronically ill artists in Philadelphia.
ABOUT THE JADIN WONG FELLOWSHIP
The Jadin Wong Fellowship recognizes an emerging Asian American dance artist whose work shows strong potential for greater achievement and who hopes to make a significant impact on the Asian American and New York City artistic community as a whole. The fellowship aims to recognize exemplary work that will continue to inspire young artists and the Asian American community for years to come.
This award is a tribute to the life and work of renowned Chinese American actress, dancer, and comedienne Jadin Wong (1913–2010), a pioneer and innovator of Asian American performing arts. The award is made possible by the Jadin Wong Educational Fund at the New York Community Trust, established to continue her dream of supporting aspiring artists, musicians, and and dancers of Asian descent.
The 2022 Jadin Wong Fellowship application will open on February 1, 2022.