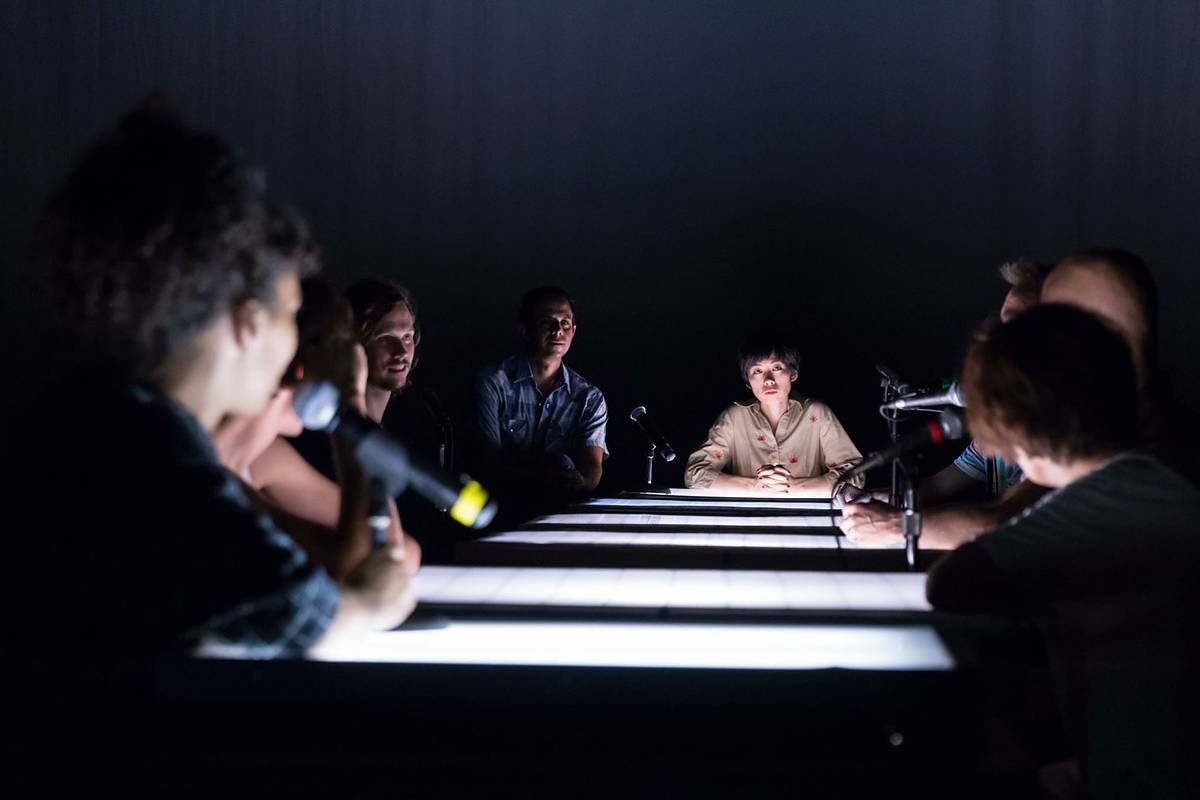 π=3.14…First Reading with Three Actresses
Friday, November 20, 2015
9 – 10PM
CRS (Center for Remembering & Sharing) presents a new play with video by Yoshiko Chuma & the School of Hard Knocks in the White Room at CRS. The text is taken from the π=3.14 series of works that journeyed from 2000 – 2015 through Sarajevo, Macedonia, Manipur, Romania, Fukushima, Ramallah, Amman, Kabul, Berlin and New York.
Design, Direction and Concept/Dry Tech: Yoshiko ChumaCast: Miriam Parker, Saori Tsukada and Heather LitteerLive Video Painting: Kit FitzgeraldUnfinished Series Film and Documentation: Megumi Eda
Designed by Clouds AO, winners of the recent NASA competition to design the first inhabitable structure to be built on Mars, and opened in June of this year, the White Room at CRS was named by Homes to Love as one of nine studios around the world to "achieve design nirvana." This performance will be the first theatrical event to be held in the space.
Performances will take place on Friday & Saturday, November 20 & 21, 2015 at 7:30 pm and 9 pm. The performance is 70′ in duration. Tickets are $20 ($15 for students and seniors), and there are only 12 seats available for each performance.
Yoshiko Chuma, artistic director of The School of Hard Knocks (SOHK), has been a creative force in postmodern performance, traveling and interacting with artists in relatively isolated parts of the world since the 1980's. She has assembled her newest project, π=3.14…First Reading with Three Actresses, through a creative process called "Dry Tech" that emphasizes verbal communication between the artists. Dry Tech traditionally refers to a theatrical rehearsal without the performers, in which the design and technical staff run through the operation of all the technical elements of production, stopping and starting to make adjustments. In contrast, the Chuma-style Dry Tech consists of a meeting, usually not in the performance space, that includes the entire team including performers wherein Chuma leads the team exclusively through the verbal calling out of the technical cues and action and extensive discussion of the work. The method—often interview style—investigates the artists' perspectives and stories—both artistic and personal. This creative process mines material from the team members' sharing about how they understand the work and how they view themselves in the context of making the work. Elements of this material may then be incorporated into the production, enabling a multiplicity of distinct and at times conflicting voices and viewpoints to emerge and co-exist.
Tags
Organized by
Center for Remembering & Sharing
Contact
info@crsny.org