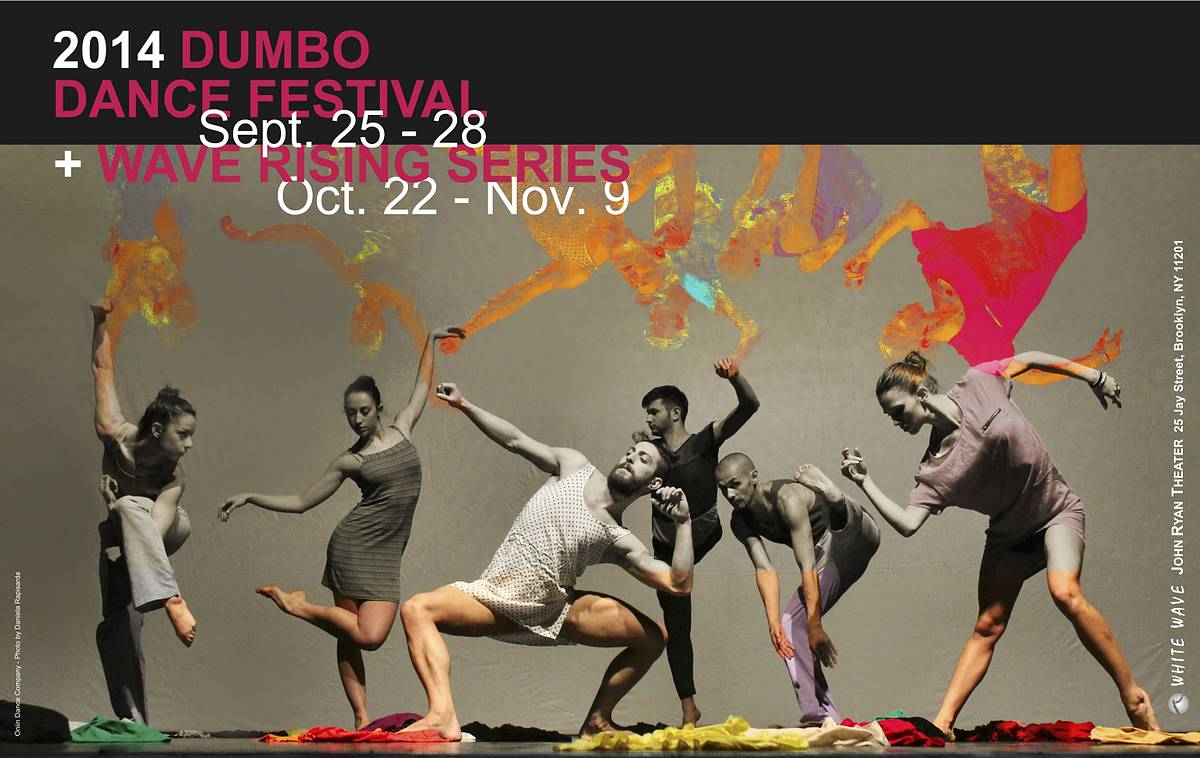 2014 DUMBO Dance Festival
September 25 – September 28, 2014
7 – 9:30PM
For the 14th consecutive year, WHITE WAVE will produce and present our annual DUMBO DANCE FESTIVAL: a four day marathon showcase of cutting-edge contemporary dance featuring both emerging and eminent dancemakers.
The 2014 DUMBO DANCE FESTIVAL held at WHITE WAVE's John Ryan Theater will feature over 70 companies with 350 performing artists. Aside from WHITE WAVE's Opening Night GALA fundraiser taking place on September 25th, all performances in our 3-day dance extravaganza will be presented free of charge to the public. This year's festival also features a special family friendly program on Sunday and a free dance class for kids!
The 2014 DUMBO DANCE FESTIVAL will present an extraordinarily diverse group of contemporary dance works, both in style and spirit. Up to 7 companies are presented in every hour of programming, hailing from New York City's vibrant contemporary dance scene as well as from across the United States and Mexico.
The 2014 DUMBO DANCE FESTIVAL runs concurrently with the DUMBO Arts Festival, which transforms our distinctive waterfront neighborhood into the single largest forum for experimental art in the United States. The grand scale of the 2014 DDF, the diverse artist participation, and vast interdisciplinary variety distinguishes this event from its peers. Just one train stop from downtown Manhattan, the WHITE WAVE John Ryan Theater provides a vital showcase for the latest in cutting edge, contemporary dance.
For more information, visit whitewavedance.com. Also, join us at the Opening Night Gala Celebration on Thursday, Sept. 25th!
Tags
Organized by
WHITE WAVE Young Soon Kim Dance
Contact
wwyskdc@gmail.com