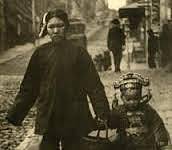 Chinese American: Exclusion/Inclusion
September 26, 2014 – April 19, 2015
10 – 6PM
The Chinese experience in America has too rarely been told as a story at the center of American history until now, with the New-York Historical Society's landmark exhibition Chinese American: Exclusion/Inclusion, on view September 26, 2014 - April 19, 2015.
The exhibition begins in the 18th century with tea imported from China at the heart of "The Boston Tea Party". Today, more than 700,000 Chinese Americans call the greater New York region home, and throughout the Untied States, Chinese Americans are one of the fasted growing ethnic groups.
To illustrate the New-York Historical Society's exhibition, the stories of the lives, achievements, culture, and rich diversity of Chinese Americans are being highlighted. You are invited to share your experience with a personal story and photo. Some of your submissions may be featured in the exhibition and online.
Organized by
a4 - Network Admin