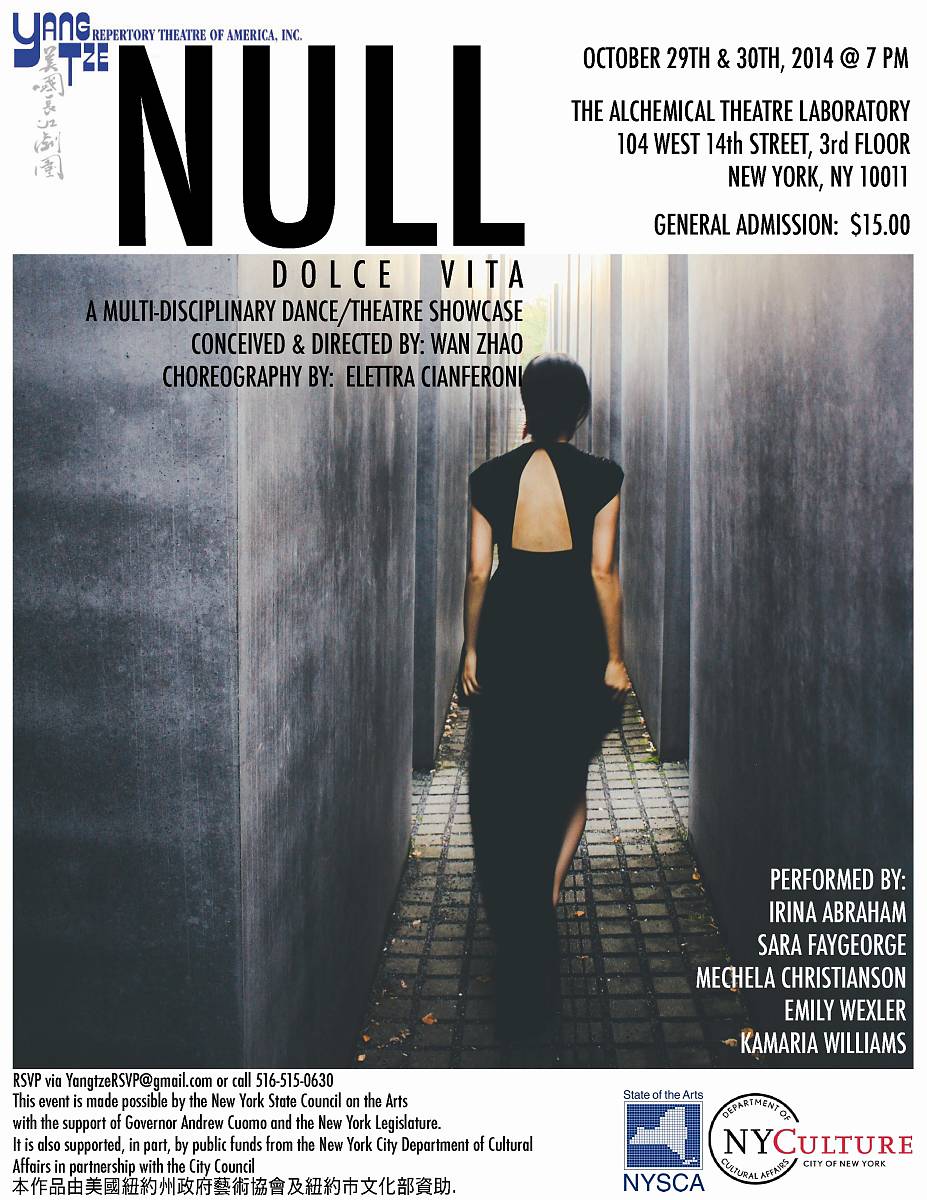 Yangtze Rep Theatre Presents "Dolce Vita NULL"
October 29 – October 30, 2014
7 – 8:30PM
Yangtze Repertory Theatre presents "Dolce Vita Null" - a Mulch-Disciplinary Dance Theatre Showcase.
Conceived & Director by Wan Zhao
Choreography by: Elettra Ciannferoni
Performance by: Irina Abraham, Sara Fay George, Kamaria Williams and Emily Wexler.
Featuring: Michela Christianson
When and Where
October 29th and 30th, 2014 at 7:00PM
Door opens at 6:40PM.
Location:
Alchemical Theatre Laboratory
104 West 14th Street, 3rd Floor
New York, NY 1001
General Admission: $15.00
Reserve by email: YangtzeRSVP@gmail.com or call (516) 515-0630
"Tell me, what is it you plan to do with your one wild and precious life?"
Tell me, is everyone having a Dolce Vita except me?
Tell me, does everyone know the meaning of Dolce Vita except me?
I question, how do their pursuit a Dolce Vita?
In NULL, six actresses question forms of Dolce Vita and the concepts of women living in New York City today 2014. Images composed of complicated stories, purely physical movements and nature sounds in a gallery. Actresses tell the young women's beauties, exquisite, sensitive, instinctive, powerlessness, chaotic and chic. A dance theater project against the concept of "storytelling has to make sense in theater" from Wan Zhao, Yang Tze Rep Theatre Guest Artist Director, initiated by women's true stories from her generation.
Organized by
Wayne Chang
Contact
YangtzeRSVP@gmail.com