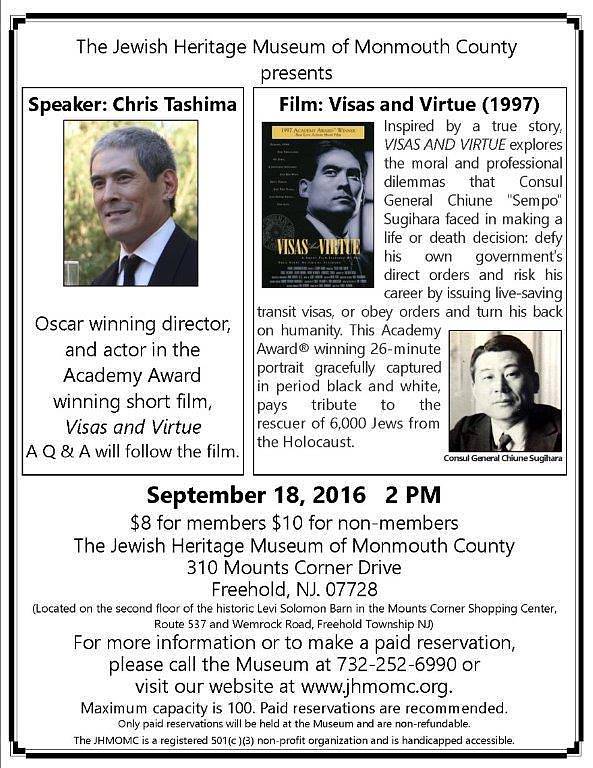 Visas and Virtue
Sunday, September 18, 2016
2 – 3PM
Freehold, NJ. August 12, 2016. The Jewish Heritage Museum of Monmouth County welcomes Chris Tashima, Academy Award winning director, and actor of Visas and Virtue, on Sunday, September 18, 2016 at 2 p.m. Admission is $10 non-members, $8 members. There will be a Question & Answer session after the film screening.
Haunted by the sight of hundreds of Jewish refugees outside the consulate gates, the Japanese diplomat Chiune "Sempo" Sugihara and his wife, stationed in Kaunas, Lithuania at the beginning of World War II, must decide how much they are willing to risk. Inspired by a true story, Visas and Virtue explores the moral and professional dilemmas that the Consul General faces in making a life or death decision: defy his own government's direct orders and risk his career, by issuing live-saving transit visas, or obey orders and turn his back on humanity.
This Academy Award winning 26-minute portrait, gracefully captured in period black and white by noted cinematographer Hiro Narita, poignantly pays tribute to the rescuer of 6,000 Jews from the Holocaust.
Chris Tashima is a Los Angeles-based actor and filmmaker. He co-wrote and directed Visas and Virtue, for which he received the Live Action Short Film Academy Award, in 1998. He also portrays the Humanitarian diplomat, Sugihara, onscreen. Tashima also directed, co-wrote, and starred in the award-winning short film, Day of Independence, which depicts the life of Japanese Americans imprisoned in internment camps during World War II. He has appeared in numerous independent feature films, most recently Under the Blood Red Sun, a screen adaptation of the award-winning young adult novel by Graham Salisbury.
For more information or to make a paid reservation (non-refundable), call the Museum at 732-252-6990, or visit www.jhmomc.org. The Jewish Heritage Museum is located in the Mounts Corner Shopping Center, at 310 Mounts Corner Drive Freehold, NJ, at the corner of Route 537 and Wemrock Road (between the CentraState Medical Center and Freehold Raceway Mall). It is on the second floor of the historic Levi Solomon Barn. The JHMOMC is a tax-exempt organization under Section 501 ©(3) of the Internal Revenue Code and is handicapped accessible.
Organized by
a4 - Network Admin